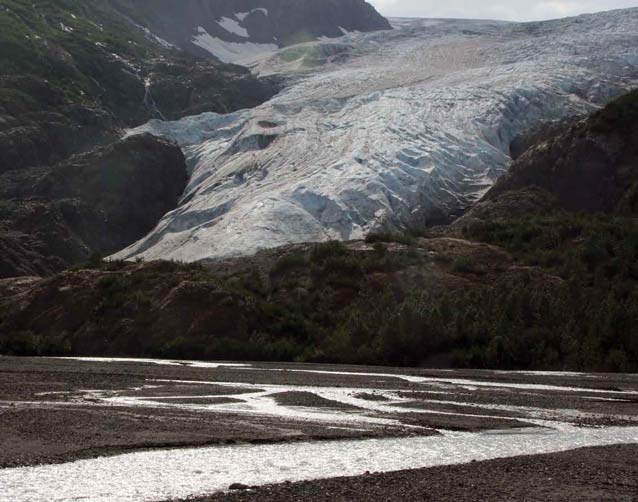 Glaciers are distributed globally, covering about 10% of the Earth's surface and storing about 75% of the world's freshwater. Hence, glaciers contribute significantly to river flow and water resources across the globe (Fleming and Clarke 2005), and provide important ecosystem services for society in terms of hydro-power, agriculture, and water supply (Barnett et al. 2005). This is particularly the case in Alaska where approximately 35% of the runoff is from glaciers (Mayo 1986) and glacial runoff can have a marked effect on yearly, seasonal, and daily river discharge fluctuations where glacierization (glacier landcover) in a basin exceeds 5%. Much of this runoff originates from glaciers within Alaska national parks. Climatic conditions determine the total annual runoff from and the net storage of perennial snow and ice within the basin; hence inter-annual stream flow variations reflect glacier mass-balance fluctuations. Seasonally glacial rivers in the northern hemisphere typically have very low or no discharge in winter; flows begin increasing in early May as solar radiation increases to reach a summer peak at maximum glacier melt. Discharge then declines gradually until freeze-up in November and December. Glacierized environments are demonstrably one of the most vulnerable to climate change because of interconnections between atmospheric forcing, snowpacks/ glacier mass-balance, stream flow, water quality, and hydrogeomorphology (physico-chemical habitat), and river ecology (McGregor et al. 1995).
Not only are most glaciers shrinking (i.e. both thinning and retreating, see Figure 2), but that the rate at which they are changing has accelerated over the last 2-3 decades (Haeberli et al. 2007). Over the last century, mid-latitude and arctic glaciers have generally been shrinking (including most in Alaska), while some in marginal environments have disappeared (Meier et al. 2003). Measurements of glacier mass-balance outside polar regions are mainly negative, with a few exceptions e.g. Scandanavia.
Glaciers play a major role influencing river flow regimes with peak glacier-melt occurring during mid-late summer following retreat of the transient snowline (Hannah et al. 2005). The hydrological behavior of basins with as low as 10 % ice cover are strongly influenced by the balance between accumulation (gain) and ablation (loss) of glacier mass (Fountain and Tangborn 1985). Glaciers can maintain stream flow during the summer dry season when rivers in non-glacierized basins display low flow (Hannah et al. 2005). Rivers with meltwater inputs provide habitat for fisheries (Richardson and Milner 2004) and a number of rare and endemic macroinvertebrate species (Brown et al. 2007).