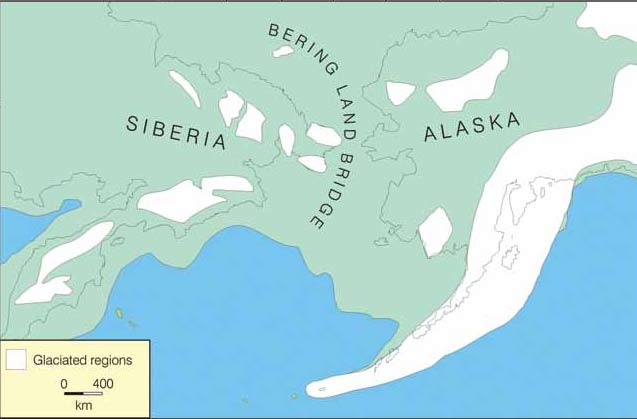 The Bering Land Bridge formed during the glacial periods of the last 2.5 million years. Every time an ice age began, a large proportion of the world's water got locked up in massive continental ice sheets.
This draw-down of the world's liquid water supply caused major drops in sea level: up to 328' (100 m) or more. Because the basins beneath the Chukchi and Bering seas are relatively shallow, they became dry land during glacial intervals. For perhaps 80% of the last million years, Alaska has been joined to Siberia by this land bridge.
The land bridge did more than link the two continents. It also ushered in a new climatic regime to the entire Beringian region by blocking Pacific moisture from entering the interior regions of both Alaska and north-eastern Siberia. Thus these regions became much drier than they are today. In fact they became so dry that their lowlands remained ice-free, even during the coldest climatic episodes of the ice ages. While virtually all of the rest of Canada, parts of western Siberia, and much of northern Europe were buried ice during glaciations, Beringia remained ice-free, except for the mountain regions that managed to catch enough moisture to build up a heavy snowpack. This made Beringia unique: a high northern region without ice cover. It could therefore serve as a refuge for arctic plants and animals, and in fact many arctic species did survive the ice ages in this refuge.