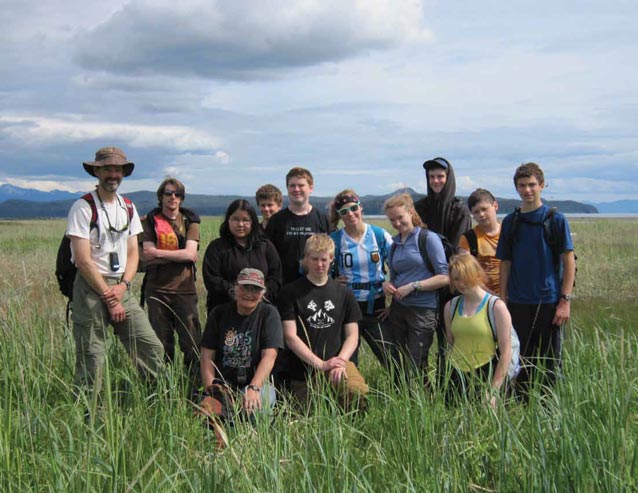 By Cathy L. Connor, Clay Good, Riley Woodford, and Michael L. Hekkers
The Gulf of Alaska's rugged Pacific seacoast is characterized by extreme topographic relief that has been sculpted by glacier erosion in a rapidly uplifting landscape. Along this tectonically deforming plate margin, Alaska's changing climate, powered by solar energy, drives the intense geochemical and mechanical weathering that disintegrates the rapidly uplifting bedrock. Deep geothermally-driven crustal dynamics along the Juan de Fuca spreading ridge far to the south ultimately results in extreme deformation along the shorelines of Glacier Bay National Park and Preserve. Over geologic timescales these tectonic forces deliver fresh rock to the surface, where it has been elevated into extreme topography like the 15,325' (4,671 m) Mt. Fairweather located only 12 mi (20 km) from the sea. Training young Alaskans to observe as well as to understand how these earth processes have left their record in local landscapes, can inspire lifelong learning interests in the sciences (Whitmeyer et al. 2009).
For four summers, between 2008 and 2011, the Alaska Summer Research Academy (ASRA) at University Alaska Fairbanks and the Design Discover Research (DDR) program at University Alaska Southeast provided authentic field experiences in Glacier Bay National Park in northern Southeast Alaska for homegrown high school students.