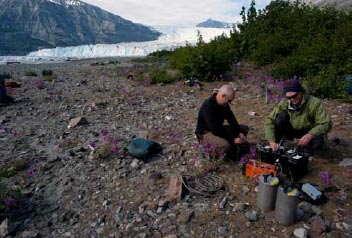 Most visitors to Alaska's National Parks are by now familiar with the fact that the state's many glaciers are changing. Many glaciers are shrinking, and "retreat" of the glacier terminus is usually the most obvious manifestation of that change.

But while some glaciers (like the Yahtse Glacier in Wrangell-St. Elias National Park and Preserve, Figure 2) have experienced dramatic retreat over the last century or so, others appear surprisingly stable. And a handful of glaciers are actually advancing. Given this complexity, and the importance of glacier changes for issues ranging from road maintenance to global sea level, it may surprise many visitors to find out that until recently, NPS lacked the most basic tool for understanding these changes: a comprehensive inventory of the glaciers in its parks.
Prior to the work we describe here, many of Alaska's glaciers had not been remapped since the US Geological Survey made its original topographic maps in the 1950s and 1960s—maps that modern backcountry travelers still use, but have learned to view with some skepticism when navigating through glaciated terrain.

Figure 2 provides a striking example: according to the USGS topographic map for western Icy Bay, the scientists on that rocky beach should be under at least 175 meters of ice. That map, based on 1957 aerial photography but still available to the public, shows the Yahtse Glacier terminus over 5 miles (8 km) downstream of its position in this 2011 photo.
The outdated glacier boundaries and surface elevations from old maps have challenged scientists, too: lacking even the most basic information on the current extent of glaciers, Alaskan geologists and ecologists had no basis for inferring trends over time or the relationship of these trends to climatic changes.

Modern tools like satellite imagery, laser altimetry, and high-accuracy differential GPS have enabled some academic and NPS researchers to accurately map modern glacier extents within the limited scope of individual research projects, but this work was initiated to address the outstanding need to comprehensively and consistently document glacier extent throughout the glaciated national park lands in Alaska (Figure 3).
Our project, which began in 2010 and is scheduled for completion in December 2013, relies primarily on existing data to assess glacier status and trends in three ways: 1) map glacier extents for all glaciers, 2) assess changes in glacier volume for a smaller subset of glaciers, and 3) write interpretive summaries of glacier change for 1-3 "focus glaciers" per park. The scope of the project is further summarized in Table 1; here, we present some preliminary results and discuss their implications.