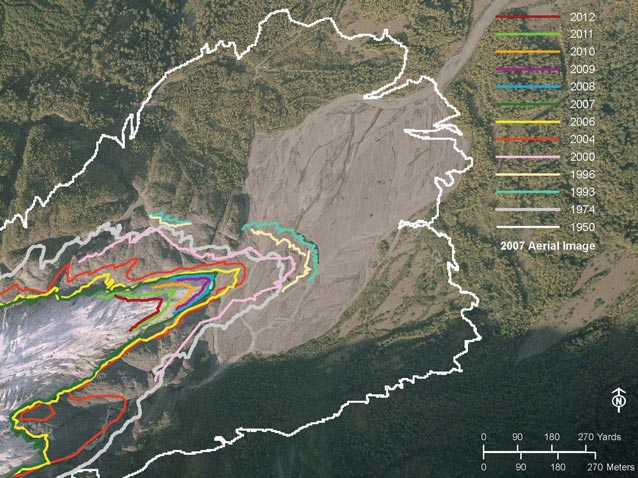 Until fairly recently, most National Park Service (NPS) planners, engineers, and architects had not factored climate change into their designs for projects in Alaska. Planners relied on the Environmental Atlas of Alaska (Hartman and Johnson 1978) as an important reference for 35 years, but the book is now out-of-date and out-of-print. Conditions in Alaska are not static. Fortunately, permafrost thaw was a major consideration for the design and construction of the Trans-Alaska Pipeline System (built in 1974-77), but planning based on past environmental conditions created problems for other facilities and infrastructure projects that were constructed both before and after the pipeline project. For examples, roads, residences and other structures in the Fairbanks, Alaska area have tilted or buckled where permafrost thawed beneath them. The U.S. Forest Service visitor center at Portage Lake originally featured views of Portage Glacier calving into the lake, but the glacier has since retreated from view. Visitors come to Exit Glacier in Kenai Fjords National Park for up-close iconic views of the glacier, but the glacier terminus has thawed back rapidly in recent years, causing NPS to chase the retreating glacier (Figures 1 and 2) with trail extensions. Planners and designers have previously assumed a somewhat static environment, but as these and other examples show, such is not the case today.
Rapidly changing conditions in the Arctic are due largely to sea ice retreat and reduced albedo in summer (Comiso et al. 2008, http://www.nasa.gov/topics/earth/features/2012-seaicemin.htmlreferences), which feeds back to accelerate melting of snow, ice, and permafrost in the area. Climate-induced changes in Southcentral and Southwestern Alaska have slowed in recent years, presumably because of a switch in the Pacific Decadal Oscillation (PDO) from a warm phase, from about 1976 to about 2006, to the cold phase of the PDO in recent years (Wendler et al. 2012). Though winters and summers have been cooler in the southern parts of Alaska in recent years, glaciers have continued to retreat overall from previous decades (Molnia 2008, Molnia and Puckett 2008, and McKittrick et al. 2011). Increased precipitation in the southern half of the state onto recently deglaciated terrain and unvegetated barrens with reduced water storage has resulted in increased potential for flashy hydrological conditions (http://en.wikipedia.org/wiki/Retreat_of_glaciers_since_1850#Alaska, http://www.wunderground.com/climate/Glaciers.asp#Header1_6).
In the southern half of the state, the NPS has been contending with higher risks of flooding or other effects from glacial retreat. In coastal areas storm surges on top of sea level rise, tidal fluxes, and permafrost thaw, which has been monitored across the Alaska for a few decades (Romanovsky et al. 2012 and Ostercamp 2008), have increased risks to natural and cultural resources and infrastructure in these areas.
Increased incidence of beetle-killed trees, presumably resulting from warmer winters (Juday and Marler 1997, Juday et al. 1997, http://www.cgc.uaf.edu/newsletter/gg6_1/beetles.html, http://e360.yale.edu/feature/whats_killing_the_great_forests_of_the_american_west/2252/, http://www.usgcrp.gov/usgcrp/nacc/education/alaska/ak-edu-refs.htm) and dry warm summers have resulted in massive wildland fires in Interior and Southcentral Alaska. Two of the three largest fires seasons on record occurred in 2004 and 2005, burning about six million and 4 million acres, respectively.