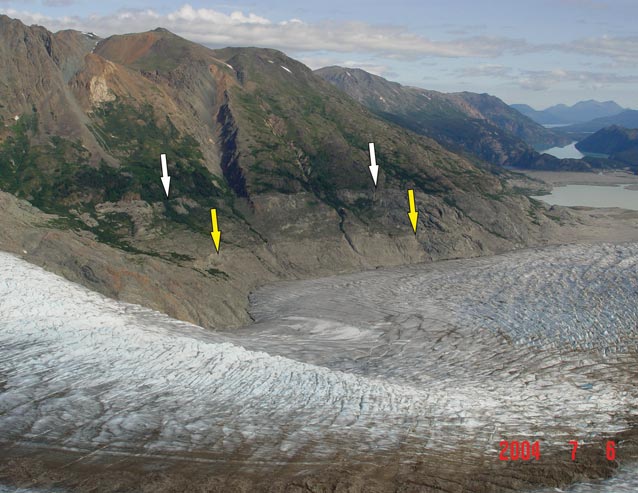 Alaska's Southeast parks are among the most impressive in the world. Cold lofty peaks, valley glaciers, and ice fields back verdant Sitka spruce forests along the fjord-incised coast, with forests of the smaller white spruce inland. The parks are situated on the Pacific Rim of Fire, a necklace of volcanoes and earthquake-prone ground at the margin of the Pacific Plate. Earthquakes, active volcanoes, and steep slopes are the ingredients for large landslides, and river floods and tsunami are frequent in this landscape. The coastal region is battered by Pacific storms, which further act on these slopes, priming and conditioning them for failure over decades, centuries, and millennia.
Although climatically diverse, Alaska is likely to experience an overall increase in temperatures through this century, especially in winter, and winters are likely to become wetter and summers drier (USGRP 2009). Landscape responses to these climate changes will be complex. Increased snow loads can influence glacier dynamics, trigger landslides during rapid melt, and cause flooding. Intense rainstorms can trigger shallow landslides.
Two longer term consequences of climate warming that will affect slope stability are glacier thinning and permafrost degradation. Changes to glaciers are easy to recognize. Trim lines and lateral moraines benchmark the limits of previous larger extents (Figure 1). Time lapse photography and spectacular videos of calving glaciers into tidewater attest to the dynamic nature of glaciers as slow rivers of ice. Permafrost degradation is less obvious, but more insidious. You cannot tell just by looking at a steep rock face whether or not permafrost is present.