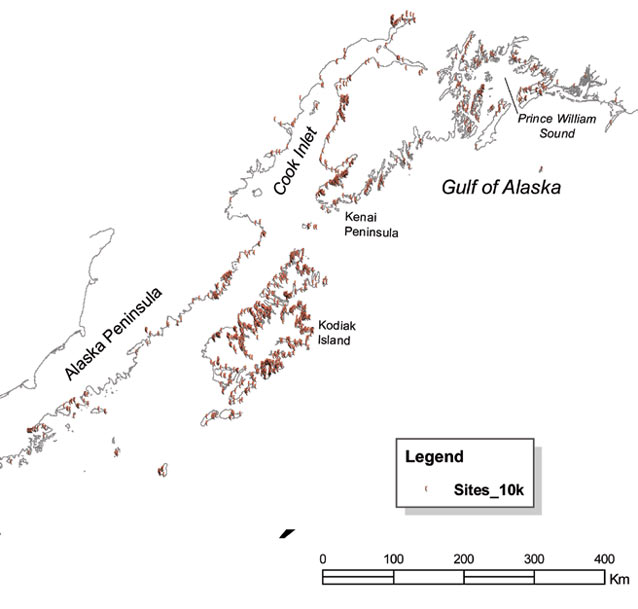 This paper summarizes preliminary results of a regional Geographic Information System (GIS) study of the spatial relationships between coastal archaeological sites and maritime subsistence resources in the central Gulf of Alaska.

Two modes of variability are relevant to the model – the uneven geographic distributions of key subsistence resources and temporal cycles in the climate and marine ecosystem (Crowell et al. 2003). The latter include the annual seasonal cycle, the 20 to 50 year intervals of the Pacific Decadal Oscillation (PDO), and multi-century trends including the Medieval Warm Period (~A.D. 1000-1400) and Little Ice Age (~A.D. 1400-1900). Salmon increase during warmer PDO phases, while colder phases yield increases in forage fish and shrimp that in turn support larger numbers of the seals, sea lions, and seabirds who consume these prey (Benson and Trites 2002, Finney et al. 2002, McGowan et al. 1998). We propose that indigenous hunting and fishing peoples of the Gulf of Alaska settled primarily in areas with the highest numbers and diversity of marine fish, mammal, and bird harvesting locales in order to increase harvesting efficiency and to buffer the risk of individual species declines due to climate and marine ecosystem change.
Data and Methods of Analysis
The study area spans 10,560 mi (17,000 km) of mainland and island shoreline including the Alaska Peninsula, Cook Inlet, the Kodiak Island archipelago, Kenai Peninsula, and Prince William Sound, a region that encompasses the traditional territories of the Sugpiaq (Alutiiq) and coastal Dena'ina. The sample includes 1,959 known coastal archaeological sites: 41% are estimated from radiocarbon dates, artifacts, and features to have been occupied since A.D. 900; 10% are older than A.D. 900; and 49% are of indeterminate age (Figure 1). For each of the 6,800 shoreline segments (1.6 mi/2.5 km in length) we computed the number of archaeological sites present as well as the number of locally accessible harvest locales for each of 24 different fish, bird, and sea mammal species (Figure 4).

Harvest locales for offshore subsistence species (e.g. seal concentrations, bird rookeries, and pelagic fishing areas) were counted as accessible if located within a 6.2 mi (10 km) kayak travel radius from any point on the shoreline segment. Access to anadromous fish streams was computed using a 0.6 mi (1 km) pedestrian radius, reflecting the ethnohistoric pattern of establishing fishing camps at these locations. Statistical analysis utilized simple "richness" scores – the total number of resource access locales (all species) for each segment – as well as multivariate correspondences between site occur-rence and the availability of various species groups.