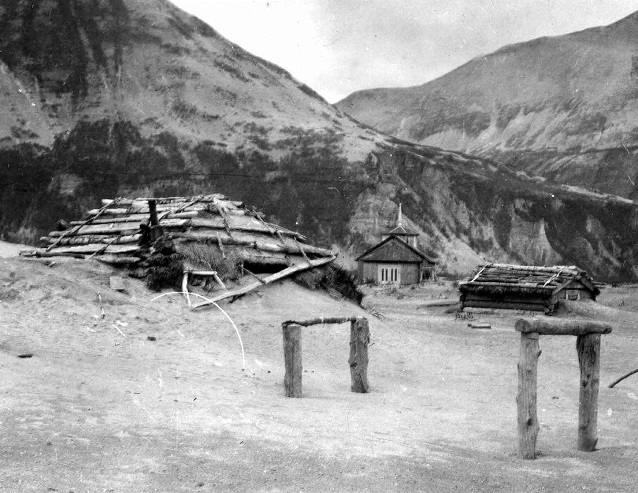 The eruption of Novarupta Volcano near Katmai on June 6, 1912 was a well-documented disaster that destroyed the villages of Katmai (Figure 1), Douglas, and Savonoski, as well as a number of fish camps on the Alaska Peninsula and a commercial salmon saltery at Kaflia Bay. To the inhabitants, the eruption marked an abrupt end to the old way of life. To anthropologists, actions taken in response to the eruption exposed and tested the resilience of the local culture and society.
This article discusses the explosion and its aftermath in the context of the anthropological theory of disaster. According to this theory, geological events happen to the earth, disasters to its inhabitants. The former is a natural occurrence while the latter entails destruction of human life and belongings, disruption of the social fabric, and interruption of customary commerce and government. Anthropologists Oliver-Smith and Hoffman explain:
The conjunction of a human population and a potentially destructive agent does not inevitably produce a disaster. A disaster becomes unavoidable in the context of a historically produced pattern of "vulnerability," evidenced in the location, infrastructure, sociopolitical organization, production and distribution systems, and ideology of a society (Oliver-Smith and Hoffman 2002).