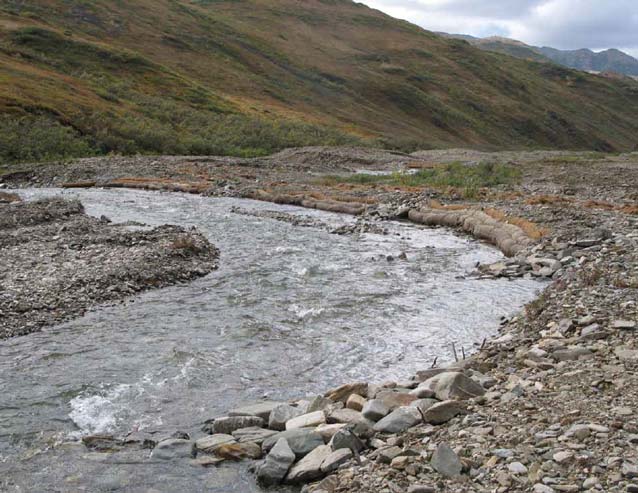 The Kantishna district of Denali National Park and Preserve (Denali) has a history of mining dating to an early stampede of fortune seekers (c. 1905). The initial rush subsided quickly, but mining continued there through 1985. Miners sought ore in many different ways, including manual placer mining, excavation of hard rock mines, and use of heavy equipment to scour stream beds. Some miners restored their claims and removed their camps upon completion of mining, while others did not.
At the time, the mining claims in the Kantishna Hills were outside the boundaries of the park. When the park tripled in size in 1980, Kantishna's mining claims became included in Denali, making the claims subject to the Mining in the Parks Act of 1976.
Some claims later acquired by the NPS included abandoned hazardous materials, abandoned camp infrastructure and mining equipment, non-functional floodplains, tailing piles, and exposure of streams to heavy metals. Reclamation efforts were necessary to mitigate the impacts of mining on the stream ecosystems in the park.
The goal of restoration activities in Kantishna is to restore damaged streams to some semblance of healthy stream function, including improved water quality, riparian habitat (vegetation), and aquatic life.
Reclamation activities in Kantishna began in 1989 and have continued sporadically until 2008, including substantial activities on lower Glen Creek, Red Top Mine, Eureka Creek, and Moose Creek. To address the remaining large-scale restoration need in Kantishna, the park received NPS funds for work in 2008-2010.
Primary efforts focused on Glen Creek (2009), Caribou Creek (2010), and Slate Creek (2010). Slate Creek and Caribou Creek were classified as impaired waterways under the Clean Water Act at the beginning of this effort based on their high turbidity and compromised water quality.
Restoration activities included removing hazardous materials, contaminated soils, and abandoned equipment; reconstructing floodplain and stream channel structure; stabilizing stream banks from erosion; and revegetating the site. Success is measured through stream channel and floodplain character, water quality, and re-vegetation success.