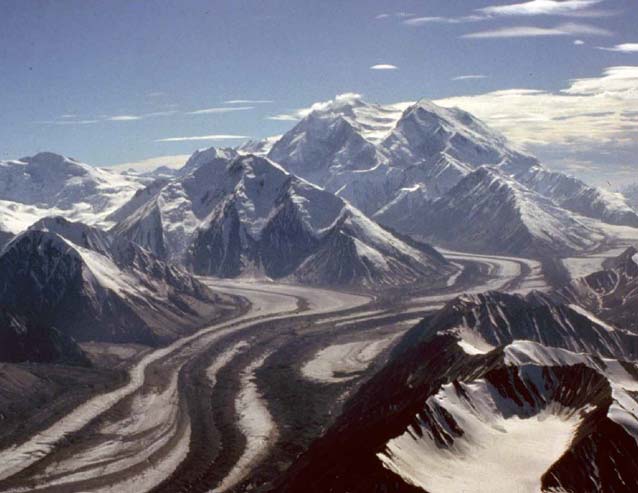 Explorers and adventurers – with varying degrees of success – have been attempting to climb North America's highest mountain for more than a century. In recent years, the slopes of Denali have witnessed a small army of invaders each spring as more than a thousand climbers make the valiant attempt to climb the 20,320-foot summit of the mountain's South Peak.
During the first 60 years of the mountain's climbing history, by contrast, a climb up the mountain's slopes was a far more singular feat, and through this period numerous climbs sought to showcase Denali as a scientific laboratory. Thus scientists, as well as adventurers, made their mark in learning about North America's highest peak and the conditions that prevail there.
During the nineteenth century, the area around Denali beckoned to the adventurous, and after 1880, both miners and U.S. Geological Survey expeditions reached ever closer to the mountain massif. In 1903, a group led by Fairbanks Judge James Wickersham made the first summit attempt; they were followed, in short order, by similar parties who aimed for the summit in 1906, 1910, and again in 1912. All failed.
Success was finally attained on the afternoon of June 7, 1913, when Harry Karstens, Hudson Stuck, Walter Harper, and Robert Tatum reached the top (Figure 2). Upon summiting the peak, Stuck, who combined scientific curiosity with a love of adventure, set up an "instrument tent" and proceeded to take measurements with a thermometer, a mercurial barometer, a boiling-point hypsometer, and a prismatic compass. Indeed, he devoted an entire chapter in his book, The Ascent of Denali, to his various attempts to determine the mountain's height (Stuck 1914).