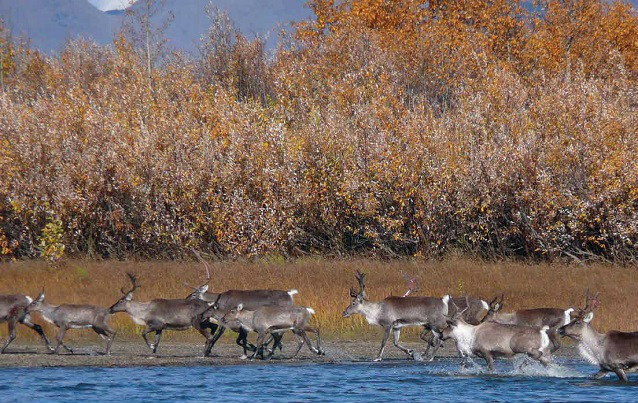 Vast, migrating herds of caribou are an iconic image of the North. Yet, there is concern that a changing climate may drive this magnificent species the way of the Great Plains bison. The complexity that characterizes the ecology of caribou includes their extreme interconnectedness with other ecosystem components, including thousands of years of interactions with humans.
Numbers of caribou naturally oscillate in dramatic fashion on the time-scale of decades (Gunn 2003). Key influences driving population dynamics include climate, habitat, predation, parasites, insects and diseases, human influences, invasive species, competition, stochastic events, and the caribou themselves (Figure 1). The relative influence of each factor varies throughout the vast range of the genus Rangifer (both reindeer and caribou, hereafter referred to as caribou). Humans affect caribou through hunting, disturbance, industrial pollution, facilitating invasive species and reindeer grazing. While human influence is increasing in the Arctic, it is much greater in the southern areas of caribou distribution.
The southern extent is where populations have been extirpated and most endangered populations reside (Hebblewhite et al. 2010). Our goal is to explain, within the limits of our present understanding, how the changing climate can be expected to influence caribou populations through its affect on these primary influences.