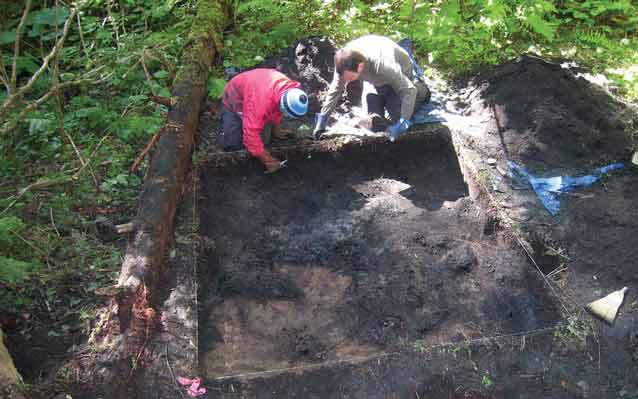 Environment
Baranof Island is a mist-shrouded land of impenetrable mountains and deep fjords sculpted by eons of uplift, subsidence, and erosion. Although the island is ancient, the park lands are relatively young, the oldest portion only emerging from the ocean about 5,500 years ago. Over time, the lands of Sitka continued to rise until about AD 1250 when the park's characteristic boot-shaped peninsula was fully in place (Chaney et al. 1995).

The island's rugged landscape and mild, wet environment combine to generate a wealth of ecological niches. Park habitats include temperate rainforest, open meadow, estuary, anadromous river, and marine intertidal shore. The bulk of the park is a temperate rainforest of Sitka spruce/western hemlock and dense understory of devil's club, skunk cabbage, salmonberry, and other shrubs (Krieckhaus et al. 1993, McNab and Avers 1994). The only large mammals are brown bears and Sitka deer. Birds, particularly seabirds, are abundant and aquatic life occurs in profusion where the Indian River, tidal flats, and deep oceanic waters meet (Sitka National Historical Park 2008, Sitka Tribe of Alaska Kayaani Commission 2006, Thornton and Hope 1998).


History
The earliest known human occupation on Baranof Island occurs on the northeastern shore at the Hidden Falls site. In the 1980s, archeological investigations demonstrated people were here by at least 8,000-8,600 years ago (Davis 1989). Tlingit oral history places people in Sitka Sound during an eruption of Mt. Edgecumbe, a stratovolcano on the sound's west shore. Edgecumbe's last eruption occurred 2500-2900 BC, placing the Tlingit here for at least 4,500 years ago (Thornton and Hope 1998). Oral histories of the Tlingit Kiks.ádi clan, traditional owners of resources in the park, place themselves at Sitka from that time through the present.

The course of this long occupation was altered in 1798 with the arrival of Russians who, in search of fur riches, lusted for Tlingit lands. In 1804, a force of Russian traders, their Aleut allies, and the Russian navy attacked. Anticipating Russian naval bombardment, the Tlingit had taken refuge in Shis'ki-Noow, a unique fortification constructed on flatlands west of the Indian River. The short confrontation ended when the Tlingit, out of gunpowder, were forced to withdraw to Chatham Strait. The Russians then built Novo Arkhangelsk (later called Sitka) on the site of the Tlingit winter village as their colonial capital and headquarters of the Russian American Company. Within a short time, the Tlingit returned and continued to use park lands in many of the traditional ways (Lisiansky 1814; 2008).


Sitka Archeological Project
Given the park's environmental diversity, its complex physical and cultural histories, and difficulties of working in dense rain forest, several investigative techniques were used to identify the archeological resources. These included metal detection, geophysical surveys, as well as typical archeological methods of shovel testing and small-scale test excavations.