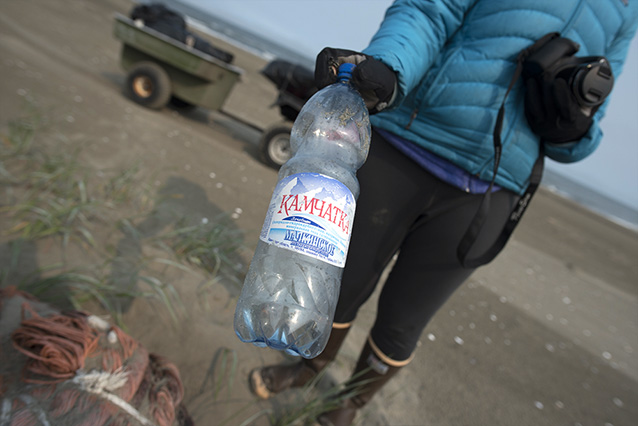 Reaching next-generation scientists, policy makers, teachers, storytellers, and resource stewards is critical to resource conservation and an important National Park Service (NPS) mission. It is imperative that our children value resource stewardship to "preserve unimpaired the natural and cultural resources of our parks...for the enjoyment, education, and inspiration of this and future generations." To foster this sense of stewardship and scientific scholarship in youth, we provide diverse park experiences that create deep connections between the younger generation and parks. In collaboration with education partners, we hope to create new generations of citizen scientists and future stewards (NPS 2015).
We added youth-related initiatives to three science projects in western Arctic parks: (1) Yellow-billed Loon youth videography (2013, 2014), (2) shorebird migration at Sarichef/Shishmaref (2015); and (3) marine debris clean-up (2015). In doing so, we provided opportunities for Alaska youth to participate in NPS science, promoted cultural and social exchanges between rural and urban youth, shared their story through digital media, and removed marine debris scattered along the coasts of Bering Land Bridge National Preserve and Cape Krusenstern National Monument. We relied heavily on our committed collaborators to make these experiences happen: Wildlife Conservation Society, Alaska Geographic, Alaska Teen Media Institute, Shishmaref School, Effie Kokrine Early College Charter School, and Student Conservation Association.
Yellow-billed Loon Conservation Through Videography
In 2013 and 2014, we brought together youth from rural and urban Alaska and a Student Conservation Association Media Intern to (1) experience firsthand the conservation efforts and scientific research on yellow-billed loons (Gavia adamsii) in northern Alaska and (2) use digital media—the hallmark of today's youth—to share their experience. The group produced two videos that are available on the AlaskaNPS YouTube channel. Alaska's Yellow-billed Loons highlights the long-term monitoring of the species, including conservation issues and concerns, and Telling a Loon story: An Alaskan Youth Filming Expedition in Bering Land Bridge National Preserve (2013, http://youtu.be/EbRmNLWNvAc) depicts the students' experiences. Both videos were shown in 2015, the first in January on the Alaska Ocean Observing System website and the second in February at the Alaska Forum on the Environment Film Festival. A third video, Filming Alaska's Yellow-billed Loons: A Youth Experience, about the 2014 outing, is also available on the AlaskaNPS YouTube channel.