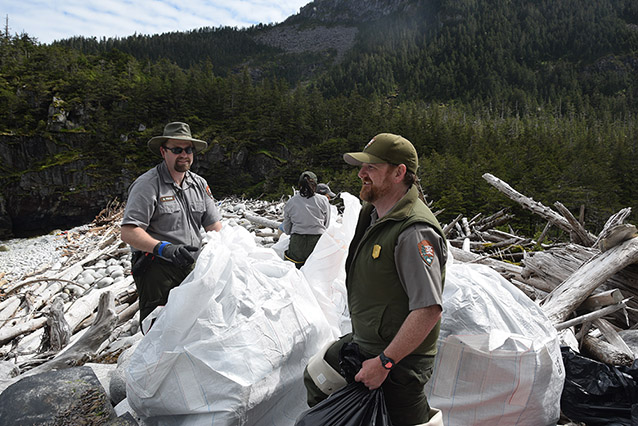 Remote coastal beaches in Alaska wilderness surrounded by high, scenic mountains or vast coastal plains are often the last places that visitors expect to find man-made materials and trash. However, many of these remote beaches receive significant accumulations of marine debris due to ocean currents, vessel traffic, and storm surges (Howell et al. 2012).
For example, the deadly March 2011 Tōhoku earthquake resulted in a tsunami in Japan that generated approximately 1.5 million tons of floating debris. This detritus was transported across the North Pacific on ocean currents (Government of Japan 2012; NOAA 2013) and has been found on the west coast of North America, including Alaska (NOAA 2013). The arrival of the tsunami rubble brought immediate attention to the persistent marine debris issue in Alaska and across the United States. For the Northwest Arctic, marine debris concerns are also heightened by the decreasing extent of sea ice, which allows for more vessel traffic and increases the open-water period for debris to move into and throughout Arctic waters (Arctic Council 2009).
Under the 2006 Marine Debris Research, Prevention, and Reduction Act, marine debris is officially defined as "any persistent solid material that is manufactured or processed and directly or indirectly, intentionally or unintentionally, disposed of or abandoned into the marine environment" (33 USC 1951 et seq. as amended by Title VI of Public Law 112-213). Marine debris includes fishing gear, plastic materials, building materials, and any other non-natural, solid materials that come onshore. These types of debris can affect marine mammals and birds directly through entanglement, strangulation, and digestive blockage (reviewed by Derraik 2002, U.S. Environmental Protection Agency 2011, Ryan et al. 2009). Marine debris can transport invasive marine organisms, which have the potential of causing ecological and economic impacts. In addition, marine debris is unsightly and can be a negative effect for visitor experience.