Appomattox Court House National Historical Park Commemorates the 152nd Anniversary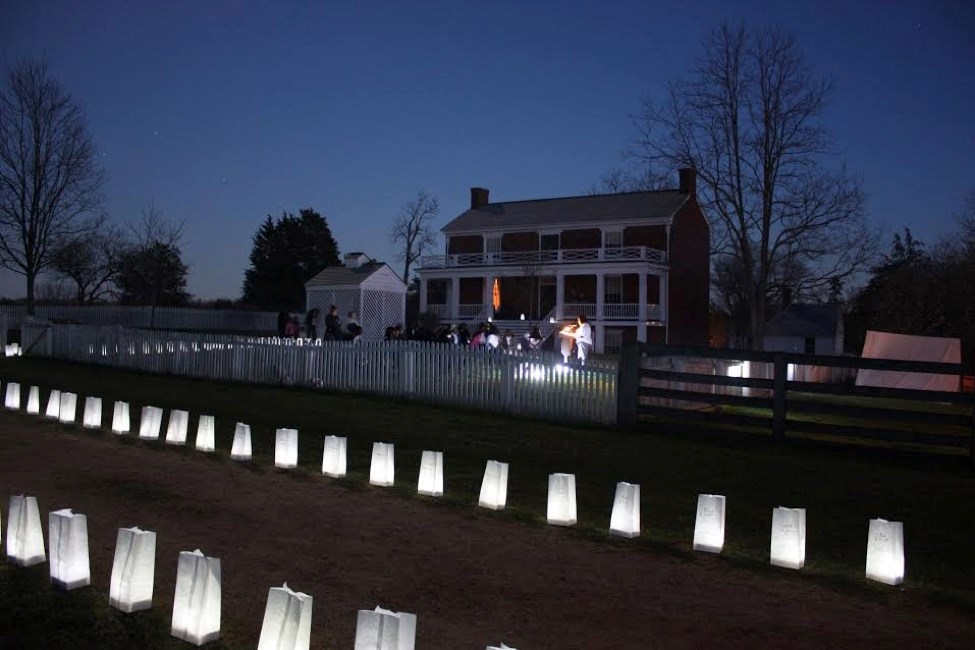 Nearly 5,000 visitors participated in the six-day anniversary event from Friday, April 7 through Wednesday, April 12. This year's program schedule followed exactly the events 152 years ago, as April 9 fell on Palm Sunday for the seventh time since 1865. Visitors participated in 37 ranger and VIP led programs, parole printing demonstrations, black powder demonstrations, and the stacking of arms throughout the weekend. More than 200 re-enactors and volunteers provided 4,900 hours of service for the event, including nine local high school students who participate in a student exchange program in the park annually.

The third Annual Luminary Program honored the 4,600 enslaved people of Appomattox County who were emancipated as a result of the surrender meeting. Luminaries illuminated the names of all 3,840 enslaved persons whose names were known. Through a partnership with the Appomattox Black Civil War Legacy Museum, the names of the emancipated were discovered using the 1870 census and death records. Throughout the day on April 8, the names were read aloud, with some names shared by descendants of the emancipated.

For the first time, the park conducted a Real Time Twitter program tracking historical events related to the surrender beginning March 25 through April 15 (the date of Lincoln's death). The program included nine historical characters specifically chosen to give unique perspectives of the surrender in "real time" reacting to events as they occurred exactly 152 years earlier. The project drew 60,000 impressions for the 22-day event. Also for the first time, the park created 24 videos (each two to four minutes) that were recorded at the critical places along the Appomattox Campaign and released on the park's YouTube page in "real time" from March 25 - April 15. The videos will remain available after the anniversary and will be used as training tools for future staff.
Last updated: January 11, 2018