Andy Otten - Project Specialist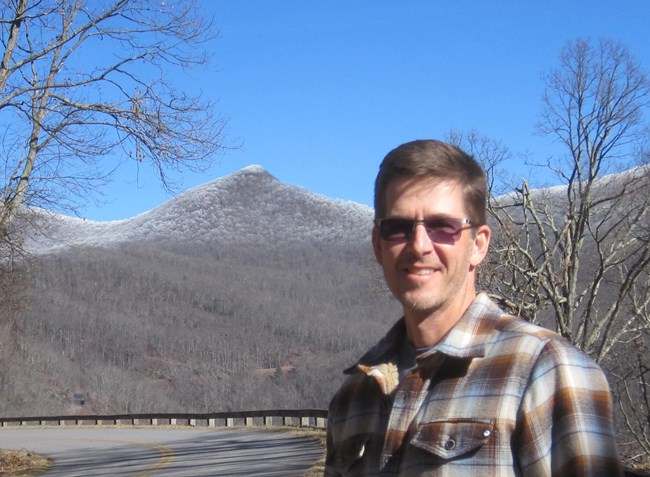 What is your job title? Project Specialist for the Denver Service Center Transportation Division; duty-stationed at Blue Ridge Parkway, NC/VA.
What experience and education do you have? I have both a graduate and undergraduate degree in Landscape Architecture. I'm also a registered professional landscape architect in State of North Carolina and I've been practicing in landscape architecture for about 19 years (10.5 private sector, 8.5 government).
What is a typical day like? In my current role, I primarily represent the Blue Ridge Parkway and the greater National Park Service (NPS) interests in the design and construction of projects funded through the Federal Lands Transportation Program. I work closely with NPS staff and Federal Highway Administration (FHWA) engineers through all project phases including program prioritization, project agreement, scoping, design and compliance, construction and close-out. While I am occasionally involved in projects located in other parks, the vast majority of my energy is focused on Blue Ridge Parkway projects.
The majority of my time is spent between design and construction review and communication with the Park and FHWA. At 469 miles of mainline parkway, there is always a wide variety of projects in-progress covering the entire project spectrum. Projects at Blue Ridge Parkway fall into three categories:
Road
Structure and
Geo-technical
Road projects typically involve pavement preservation, pavement repair/rehabilitation, or full road reconstruction. Work on associated road features is included with these projects, such as that on historic stone guard walls and drainage features.
Structure projects primarily include repair and rehabilitation or reconstruction of bridges and tunnels. The Blue Ridge Parkway is home to 10% of all NPS road bridges (176 bridges,) and 37% of all NPS road tunnels (26 tunnels). Many of these structures are contributing resources to the park's eligibility for the National Register of Historic Places. With this many structures in the park, there are usually several ongoing projects at any given time.
Given the rugged terrain, age of construction (80 years in some sections), and harsh winter conditions, the Blue Ridge Parkway is occasionally impacted by geologic instabilities, particularly landslides and rock falls. There is never a dull moment at Blue Ridge Parkway!
What career advice would you give to someone who wants to follow a similar path?
First, early in your career, put yourself into situations/find positions where you will be exposed to construction. The practical knowledge of how things are built and exposure to the synergy that can occur between designer-owner-contractor to solve problems in the field is critical to being successful in this position.
Next, as simple as it sounds, communicate, communicate, communicate. Always keep in mind that you are the eyes and ears on the ground for the park and DSC. Keeping them up-to-date on progress and any significant changes is key to your success.
Lastly, appreciate the wealth of knowledge and experience that surrounds you and cultivate it. Be the beneficiary of the wisdom that can be gained from contractors, fellow professionals and park staff. Be tenacious in your curiosity.
What is one of the bigger projects you are working on and what about that project might surprise people? It is not necessarily the biggest project that I am currently working on, however, the Linn Cove Viaduct Repair and Rehabilitation (pdf) is a very important project that is scheduled to begin construction this spring. This iconic bridge is the first post-tensioned concrete segmental bridge to be built by uni-directional cantilever in North America and is a well-known landmark for the Blue Ridge Parkway as well as the entire NPS. The scope of the project includes removal and replacement of the existing deck waterproofing system and asphalt deck overlay, repair to the post-tensioning anchorage system and several other minor repairs.
Surprising to some is the fact that the interior of the structure, a concrete box girder, is an artificial cave and provides habitat for several species of bats. One of the species is the federally-listed Virginia Big Eared Bat and the other is the NC listed Eastern Small Footed Myotis. Specific mitigations are included in the specifications to protect the bats and the habitat conditions inside the structure during and after construction.
Last updated: March 15, 2018