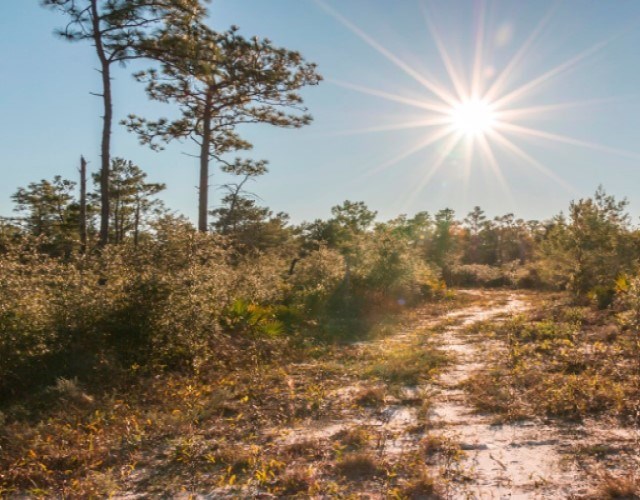 You might not realize this, but when you hike down the Andrew Jackson Trail, you are walking on a piece of history. This trail is part of the first American road in Florida. Known by many names: the Pensacola-St. Augustine Road, the Bellamy Road, and the stump knocker to name a few. Its creation resulted in many significant moments in Florida history.
Long ago, the two major cities of Florida were Pensacola and St. Augustine. Separated by almost 400 miles of undeveloped wilderness, overland travel was unfeasible. In the early days of Spanish Colonial Florida, only a series of narrow trails connected these two cities. These trails, established by American Indians, required a guide to navigate and could not accommodate large groups or items.
When the British occupied Florida from 1763 – 1783 they learned many things. An overland route between Pensacola and St. Augustine was critical. The growing deer fur trade and the resources required to sail around the peninsula prompted action. The British prepared a map to establish a road. However, British occupation of Florida ended before construction began.
When the United States gained Florida by treaty in 1821, they too realized the need for a road. The following year territorial citizens requested Congress authorize a survey for a road connecting the two cities. The request was approved, and in 1824 the two-year construction of the road began. This road opened up the inaccessible interior of Florida. For the first time anyone could travel between the cities without a guide. This led to homesteaders encroaching on American Indian lands. Increased contact and tensions surrounding disputed lands resulted in the Second Seminole Wars from 1835-1842.
The Pensacola–St. Augustine Road was the first major federal highway in Florida. This road acted as a catalyst for great and rapid change across the state. Monumental changes include the establishment of the city of Tallahassee and removal of the American Indians from Florida. On September 28, 1998, the National Register of Historic Places added the Andrew Jackson Trail for its significance. Today visitors to Gulf Islands National Seashore can walk a remnant of the original road.

"Andrew Jackson Trail Hiking Trail, Gulf Breeze, Florida." Hiking Project, REI Co-Op, www.hikingproject.com/trail/7038597/andrew-jackson-trail.

"Asset Detail." National Parks Service, U.S. Department of the Interior, 28 Sept. 1998, npgallery.nps.gov/NRHP/AssetDetail/4731112c-367c-4b76-9029-f5a10f12e0ac.

"Florida Hiking Trails." National Parks Service, U.S. Department of the Interior, 11 Mar. 2020, www.nps.gov/guis/planyourvisit/florida-hiking.htm.

Hunt, Brian. "The Stump Knocker: Bellamy's Road - HOME: Living in Greater Gainesville." Home Magazine, 16 Nov. 2015, homemagazinegainesville.com/the-stump-knocker-bellamys-road/.

Parker, Susan. "Nation's Oldest City: Importance of Corridor Not Well-Known." The St. Augustine Record, The St. Augustine Record, 25 Aug. 2013, www.staugustine.com/article/20130825/NEWS/308259949.