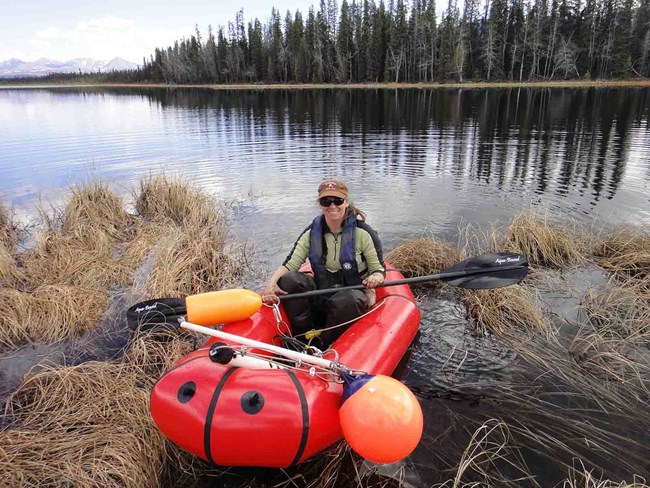 Amy S. Larsen, Ph.D.
Aquatic Ecologist/Pilot
Yukon-Charley Rivers National Preserve and Gates of the Arctic National Park and Preserve
4175 Geist Road
Fairbanks, AK 99709
907-455-0622
Amy_Larsen@nps.gov
EDUCATION
Ph.D. University of Alaska Fairbanks, Botany, 1997
B.S. University of Oregon, 1990, Psychology
PROFESSIONAL EXPERIENCE
2003-Present: Aquatic Ecologist, National Park Service, Yukon Charley Rivers National Preserve and Gates of the Arctic National Park and Preserve, Fairbanks, AK
2001-2003: Botanist, Central Alaska Network, Fairbanks, AK
1999-2003: Adjunct Faculty, University of Alaska, Fairbanks, AK
1998-1999: Assistant Professor of Botany, St. Anselm College, Manchester, NH
1992-1997: Graduate Research Assistant, University of Alaska, Fairbanks, AK
PUBLICATIONS
Larsen, A. S., D. L. Rupp, D. K. Swanson, and K. R. Hill. 2023. Cascading effects of climate change and wildfire on a subarctic lake: A 20-year case study of watershed change. Ecosphere 14(7): e4558.

Rupp, D. L. and A. S. Larsen. 2022. Surface water area in a changing climate: Differential responses of Alaska's subarctic lakes. PLOS Climate 1(6): e0000036.

Larsen, A. S., J. H. Schmidt, H. Stapleton, H. Kristenson, D. Betchkal, and M. F. McKenna. 2021. Monitoring the phenology of the wood frog breeding season using bioacoustic methods. Ecological Indicators 131: 108142.

Stolpmann, L., C. Coch, A. Morgenstern, J. Boike, M. Fritz, U. Herzschuh, K. Stoof-Leichsenring, Y. Dvornikov, B. Heim, J. Lenz, A. Larsen, K. Walter Anthony, B. Jones, K. Frey, and G. Grosse. 2021. First pan-Arctic assessment of dissolved organic carbon in lakes of the permafrost region. Biogeosciences 18: 3917-3936. https://doi.org/10.5194/bg-18-3917-2021

Larsen, A., T. Schwoerer, T. Simmons, and J. Fulkerson. 2020. Elodea: Alaska's first invasive aquatic plant continues to march across the state. Alaska Park Science 19(1): 92-99.

Larsen, A. S., J. A. O'Donnell, J. H. Schmidt, H. J. Kristenson, and D. K. Swanson 2017. Physical and chemical characteristics of lakes across heterogeneous landscapes in arctic and subarctic Alaska. J. Geophys. Res. Biogeosci., 122, 989-1008, doi:10.1002/ 2016JG003729
Campbell, M., Larsen, A., Collins, J., and Collins, M. 2014. Winterkill of Alaska blackfish (Dallia pectoralis) in methane discharging lakes of Denali National Park's Minchumina lake basin. Northwestern Naturalist 95 (2): 119-125.

Necsoiu, M., Dinwiddie., C., Walter, G.R., Larsen, A. and Stothoff, S. 2013. Multi-temporal image analysis of historical aerial photographs and recent satellite imagery reveals evolution of water body surface area and polygonal terrain morphology in Kobuk Valley National Park, Alaska. Environmental Research Letters, doi:10.1088/1748-9326/8/2/025007.

Larsen A.S. and Kristenson H. 2012. Alaska Shallow Lake Monitoring Program: Limnology of Denali National Park and Preserve. Natural Resource Data Series. NPS/CAKN/NRDS—2012/410. National Park Service. Fort Collins, Colorado

Arp, C.D. Jones, B.M., Whitman, M., Larsen, A., Urban, F.E. 2010. Lake temperature and ice cover regimes in the Alaskan Subarctic and Arctic: Integrated monitoring, remote sensing, and modeling. Journal of the American Water Resources Association 46 (4): 777-791.

Larsen AS and Kristenson H. 2010. Alaska shallow lake monitoring program: 2009 annual report. Natural Resource Data Series. NPS/AKRO/NRDS—2010/119. National Park Service, Natural Resource Program Center. Fort Collins, CO.

Larsen A. 2010. Understanding lake drainage in northern Alaskan national parks: Impacts of a warming climate. Park Science 27(2):18-20

Larsen, A., 2010. Shallow Lakes – Microcosms of Change.

Alaska Park Science

Volume 9, Issue 1: 32.