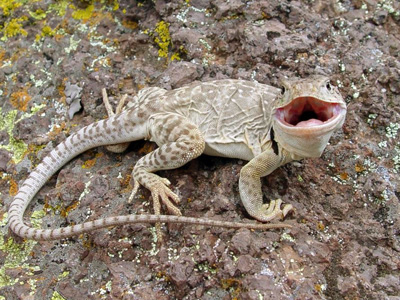 Recent surveys for amphibian and reptile species have been conducted in CHDN parks. In 2003 and 2004, the University of Arizona (i.e., Prival and Goode 2005) conducted an inventory of herpetofauna in the six parks of the CHDN– Amistad NRA, Big Bend NP, Carlsbad Caverns NP, Guadalupe Mountains NP, Fort Davis National Historic Site (NHS), and White Sands National Monument (NM). Little was known about reptiles and amphibians in some of the parks prior to the University of Arizona inventory. The primary objectives of the inventory were to document herpetofauna species, map the distribution of the species found, and determine an approximate relative abundance for each species. The inventory results will aid in future monitoring in the parks. A summary of the results of the project are presented below.
Other efforts to document and/or study the reptiles and amphibians in the CHDN parks have also taken place. In some of the parks inventories had been conducted prior to those in 2003-2004, and some parks had existing species checklists. Such information available for the parks includes:
a checklist of species at Carlsbad Caverns NP (2007);
a study of the herpetological community at Rattlesnake Springs (Carlsbad Caverns NP) and an assessment of the abundance of the native Rio Grande leopard frog and the introduced bullfrog (Krupa 1998);
a study of the distribution of anurans in the Big Bend region and an examination of how abiotic and biotic factors shape the composition and structure of anuran communities (Dayton 2005);
a checklist of amphibians and reptiles at Big Bend NP (Easterla 2002);
a study to reassess a lizard survey at Big Bend NP (Leavitt 2007); and
a checklist, with notes, of herpetofauna at White Sands NM (2002);
information (with photographs) on herpetofauna at White Sands NM based on observations made from 1971-1977 (McKeever 2009).
some older inventories at various parks (e.g., LoBello [1976] at Amistad NRA, and Grace [1980] at Guadalupe Mountains NP).