American Indian Influence in the Old Northwest Territory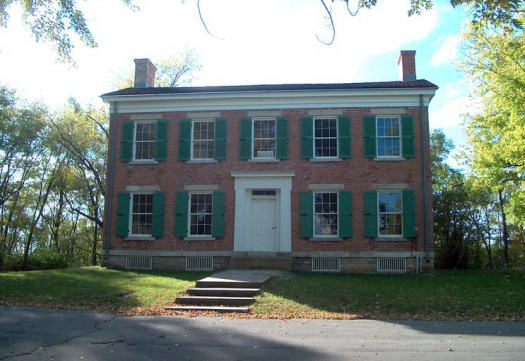 The Akima Pinšiwa Awikii (Chief Jean-Baptiste de Richardville House), Fort Wayne, Indiana, is a rare example of a treaty house remaining in the U.S. that was constructed as the direct result of treatymaking between American Indians and the U.S. government. Built in 1827 as part of the terms of the 1826 Treaty between the Miami (Myaamia) and the U.S., the Pinšiwa
Awikii was the primary residence and the locus of Pinšiwa's activities as a sovereign leader in Miami negotiations with the United States government during the years 1818 to 1841.
The Akima Pinšiwa Awiiki is nationally significant under NHL Criterion 1 as it is associated with events that made a significant contribution to, and is identified with or outstandingly represents the broad national patterns of United States history and from which an understanding and appreciation of those patterns may be gained. Pinšiwa adroitly weathered the political changes wrought by the westward expansion of the United States, the waning
of European influence in the Great Lakes and the changing United States policy towards American Indians. He profoundly affected the political landscape of his people, the state of Indiana, and the Old Northwest Territory of the United States.
The Akima Pinšiwa Awiiki is also eligible under National Historic Landmark (NHL) Criterion 2 because the house is the most important place associated with Pinšiwa, the akima (civil chief) of the Miami. The Akima Pinšiwa was a nationally significant American Indian statesman and leader. Under his strong leadership, the Miami were able to achieve tribal consensus and maintain their cultural identity. His efforts resulted in treaties that shaped the Old Northwest Territory and that allowed for more than half of the Miami to remain in their traditional homeland, even after much of the territory was ceded to the U.S.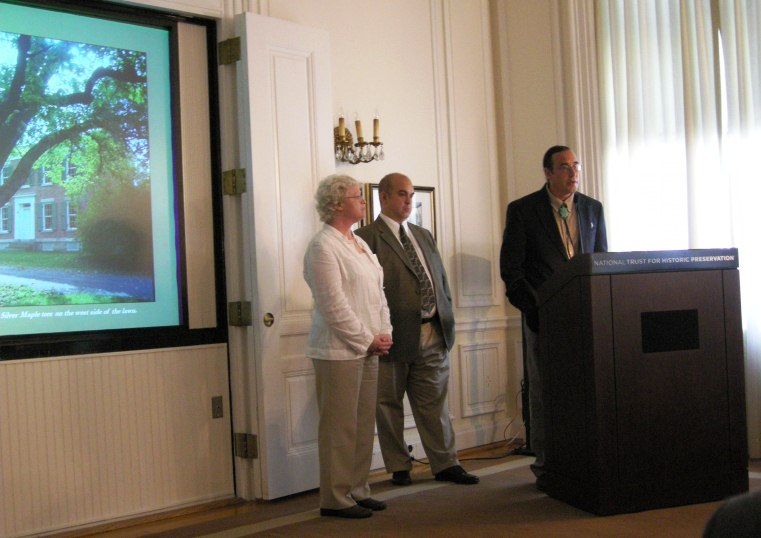 The most enjoyable aspect of developing this nomination was working with inspired historians, Angie Quinn and Michael Galbraith, of ARCH, Inc., Fort Wayne, Indiana, and cultural heritage professionals from the Myaamia Project, Daryl Baldwin and George Ironstrack, at Miami University in Ohio—all of whom provided the enthusiasm, knowledge, and scholarship necessary to incorporate the Miami viewpoint into the nomination. Michael McCafferty, Algonquian Linguist, Second Language Studies, Indiana University, and member of the Historical Landscapes of the Miami Committee of the Myaamia Project, provided invaluable assistance with the nomination. The Myaamia Project, created in 2001, is a
tribal initiative to advance the Miami Tribe of Oklahoma's language and culture.
Dani Tippmann, the Educator at the Awiiki in Fort Wayne, and George Strack, Miami Tribe of Oklahoma Tribal Preservation Officer, contributed significantly to the understanding of
Miami cultural traditions. Tippmann, Strack, and Ironstrack are descendants of the Akima Pinšiwa.
The Akima Pinšiwa Awikii nomination contributes to a better understanding of the Akima Pinšiwa, the history of the Miami, and the history of the Old Northwest Territory because of the dedicated effort by the above identified partners to incorporate the language, and perspective of the Miami into the nomination. In addition, the nomination provides an impetus for further scholarship in the field of American Indian history in the Old Northwest Territory.
---
Originally published in "Exceptional Places" Vol. 6, 2011, a newsletter of the Division of Cultural Resources, Midwest Region. Written by Michele Curran.
Last updated: June 22, 2018