American Chestnuts in Rock Creek
The American chestnut was once a dominant tree of the eastern U.S. known for its rot resistant wood and ample production of wildlife-supporting chestnuts. While it was nearly wiped out by disease, survivors still exist today in Rock Creek Park.
A Deadly Disease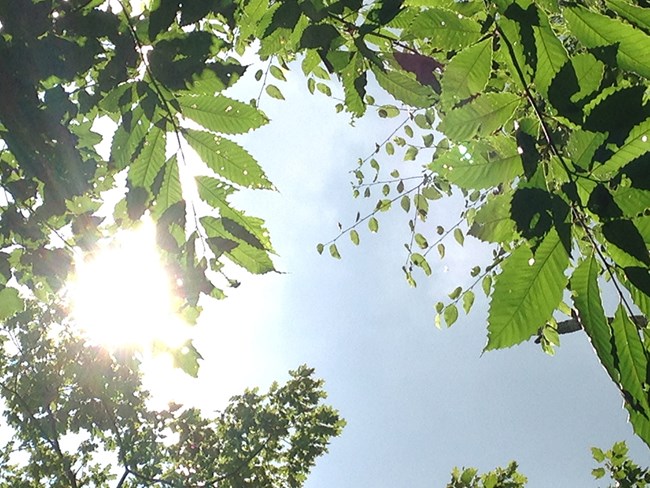 The American chestnut tree (
Castanea dentata
) once occupied forests as far south as central Alabama, west through Tennessee, and as far north as Maine and southern Ontario. In some forests, they made up more than half of the biomass.
In 1904 however, the non-native chestnut blight fungus (
Chryphonectria parasitica
) was introduced and quickly spread through forests of the eastern U.S. By 1950, almost all American chestnuts in their native range were dead.
However, because the blight fungus does not kill the root system of trees, American chestnuts persist today in natural areas as re-sprouts from blight-free root systems. One of those areas is Rock Creek Park.
Looking for Survivors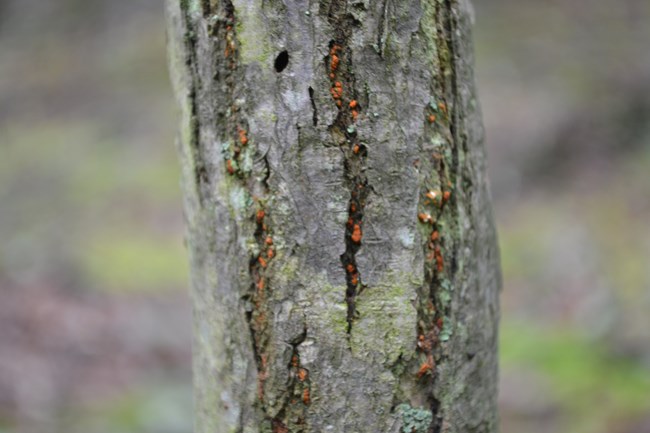 Because of its ecological function, historical importance, and the fact that the National Capital Region (NCR) is part of its native range, many people are interested in bringing American chestnuts back to NCR forests.
To better understand their current status, National Park Service staff from the National Capital Region Network, Inventory & Monitoring (NCRN I&M) program inventoried American chestnuts in eleven NCR parks in 2014. We collected location information for each living tree, measured diameter at breast height (dbh) of all stems greater than 1 cm dbh, estimated height for the tallest stem, classified each tree's position in the forest caonpy, and recorded the visual presence of blight symptoms and reproductive structures including flowers and fruit.
20 Trees, but no Flowers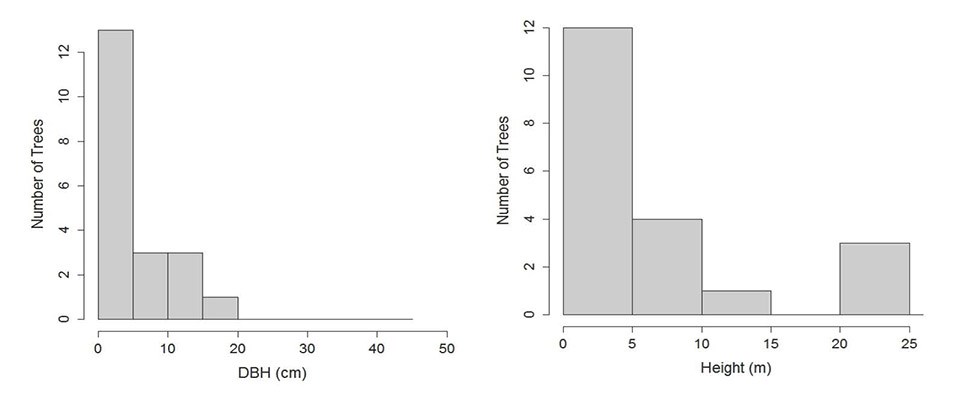 In Rock Creek Park, we found 20 living American chestnut trees. Most were small, with dbh values ranging from 1.5 to 42.5 cm (an average of 7.3 cm) and heights ranging from 1.4 to 23.9 meters (an average of 6.8 meters). These trees are understory trees classified as "overtopped," meaning that the tree's crown is entirely below the level of the canopy and receives no direct sunlight.
No flowers or fruit were found with the trees in Rock Creek Park, meaning that the trees have not reached reproductive stage. Two of the 20 individuals found showed symptoms of the blight.
In surveys of Rock Creek and 10 other National Parks in the NCR, 234 American chestnut trees were found. A total of 91% were classified as "overtopped" trees that did not reach the tree canopy. Eleven percent of the trees had at least one visual symptom of chestnut blight.
Complete results from the 2014 American chestnut inventory are available at
https://irma.nps.gov/App/Reference/Profile/2217458
.
Hopes for Restoration
Restoration of American chestnuts to long-term, self-sustaining and naturally reproducing populations is still a far-off goal. Since the near devastation of the blight, university scientists, non-profit organizations, and others have worked to create hybrid, blight-resistant chestnut trees and to find naturally resistant survivors.
In 2009, NPS signed a memorandum of understanding with the American Chestnut Foundation (TACF) allowing parks to "assist TACF in its goal of restoring American chestnut to the forests of the eastern United States" and giving preference to NPS as a "most favored recipient" of chestnut trees offered by TACF.
Learn More
To help protect natural resources ranging from American chestnuts to bird populations to water quality, the National Park Service has a staff of scientists who do Inventory & Monitoring (I&M) work in parks across the country. The
National Capital Region Network, Inventory & Monitoring
program (NCRN I&M) serves national parks in the greater Washington, DC area.
Last updated: December 27, 2017