807th Battalion History, part 3: Attu and Misc.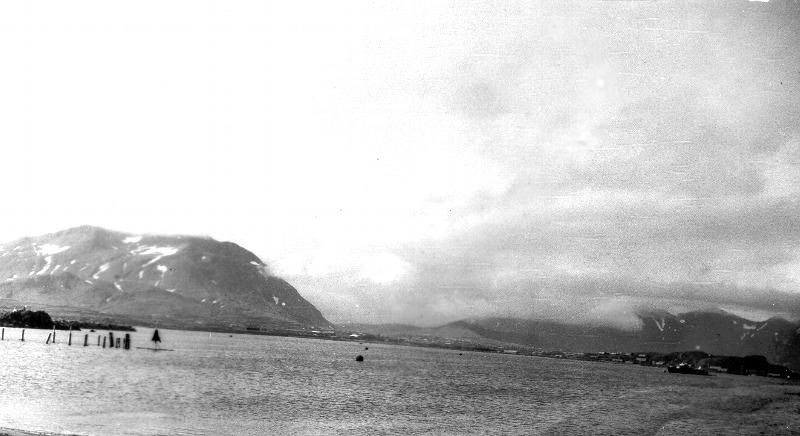 Attu
1. General.
American task forces attacked Attu Island, western-most of the Aleutian Chain, on 11 May 1943. Massacre Bay on the southeast end of the Island was soon in American hands and a suitable site found for advance airfield on Alexai Point, a small peninsula on the east of the Bay. A week after the American landing this unit received an urgent message to send a reinforced company of the battalion, fully equipped to build a fighter field in a hurry on the point. On 20 May, Company "A" and a detachment of H&S Co totalling 8 officers and 211 enlisted men were ready to sail 36 hours after the first notice. To accomplish this required the full energies, day and night, of the entire battalion to collect, check and load for water shipment all the equipment and supplies to accomplish the mission.
2. Movement.
On 23 May the company reached Massacre Bay aboard a passenger- cargo liner. Equipment arrived on the 28th aboard two LSTs, the first modern amphibious equipment assigned to this unit for movement of heavy equipment. In the 5 days prior to arrival of the equipment camp had been set up, the ship unloaded, and preliminary surveys for the airfield completed, all by company personnel. On 29 May all heavy equipment was on the beach and earth movement well underway.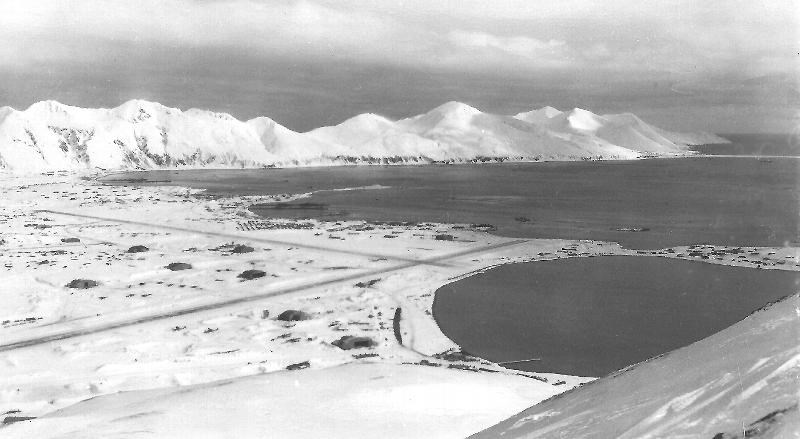 3. Construction.
The primary mission was to construct a landing strip, steel covered 100 feet by 3000 feet long, for fighter aircraft. One sizable lake had to be drained, soft tundra up to depth of 8 feet removed, and backfill made with beach sand and gravel. As many as three tractors were required to pull a scraper ordinarily handled by one machine in average construction. The first runway steel arrived 3 June, a reclaimed pierced plank which again was in poor condition, through former use, for rapid laying. However, some grade was ready and laying of steel commenced 4 June and was completed for a distance of 3000 feet on 8 June. On that date the first land-based plane landed on Attu Island. An AC-53 transport plane rolled smoothly to a stop at 1400 only 11.5 days from the time of first earth movement. On 10 June, with P-40 fighter planes arrived to give the first land-based air cover. Work was pushed until a runway 150 feet by 5000 feet long and a cross runway 100 feet by 3000 feet were in operation together with access roads, taxiways and standings for aircraft, sites for personnel housing, gasoline drum storage areas, and bomb storage pits. A total of 450,000 cubic yards of earth was moved and 1,625,000 square feet of steel landing mat laid. In laying the landing mat some assistance was furnished by a company of the 50th Engineer Regiment. The company and detachment rejoined the parent organization at Adak 12 September 1943, less than four months since departure from that station. In that period it accomplished what the Japanese had not been able to do in a year of occupation of Attu and had the satisfaction of not only providing air cover for our forces but of witnessing the use of the field at Alexai Point for one of the first bombings of Japanese homeland territory, the Kurile Islands 750 miles to the west.
A message of congratulations was received by the Commanding General on Attu from General Marshall on the rapid execution of the airfield mission, a copy of which is attached. Lt. Col. Whitesell, referred to in the message was commanding officer of the 807th Engineer Aviation Battalion at the time. Captain Gerald Seibert, C.E. was in charge of the company and executed the mission on the ground.
Miscellaneous
1. Tanaga Island. While the unit was stationed at Umnak, its commanding officier Lt. Col. Carlin H. Whitesell, C.E. (then Major) made a reconnaissance of Tananga Island, some 450 miles west. The flight was made in a Navy PBY through territory then being patrolled by Japanese Zero type planes on pontoons, stationed at Kiska.

2. Ogliuga Island. In January 1943, Lt. Col. William J. Niemi, C.E. (then Major) and present commanding officier of the unit, made a reconnaissance of the Gareloi Group of Islands west of Adak and selected an emergency airfield site on Ogliuga Island, some 150 miles from Japanese held Kiska. The field was later built by Navy forces.

3. Agattu. During the fighting on Attu, Lt. Col. Carlin H. Whitesell, C.E., then commanding officer of the unit, made a reconnaissance of Agattu Island, some 40 miles southeast of Attu for possible airfield sites.

4. Shemya Island. Lt. Col. William J. Niemi, (then Major) was attached to the staff of Brigadier General Copeland on the occupation of Shemya Island, 35 miles east of Attu in May 1943. He accompanied the advance party of officers and Alaska Scouts and acted as advisor on the layout of runways and taxiways, as well as training in layin gof steel landing mat. The work was accomlished by the 18th Engineer Regt 9C), formerly on AlCan highway to Alaska. This regiment had no previous airfield construction experience.

5. Decoration. Lt. Col. Carlin H. Whitesell, C.E., (then Captain) was awarded the Legion of Merit for his part as resident engineer at Umnak Island during construction of the secret field. Master Sergeant Edmund A. Vogel was awarded the Legion of Merit for vehicle and equipment maintenance at Adak. Six enlisted men, Tec 4 Guy P. Derico, Tec 5 Roy C. Nicolson, Tec 5 Reuel A. Rolens, Tec 5 Herbert H. Wilson, Pvt Joseph D. Lomedico, and Pvt Fred O. Wilson were awarded the Soldiers Medal for heroism in saving lives of comrades.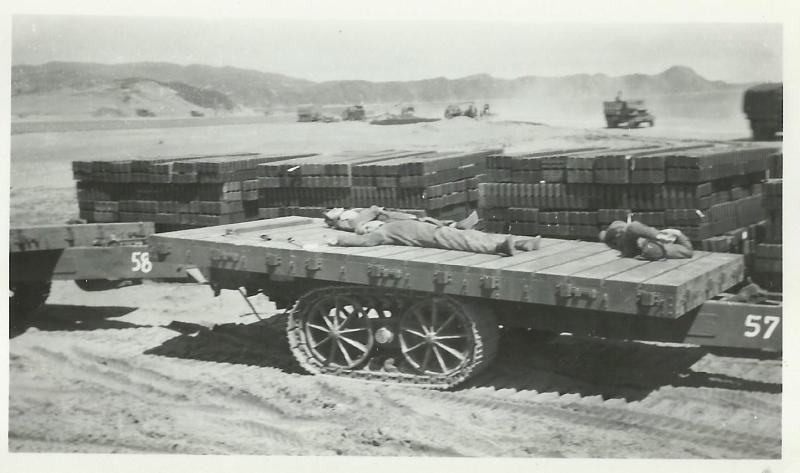 6. Service.
Over one hundred men of the unit served in isolated stations under severe weather conditions and hard work for a period of 30 to 44 months without furlough.
Over 600 men served 26 months under the same conditions without furlough.
The battalion accomplished its mission in the Aleutian Islands, handicapped by lack of equipment and trained its own personnel, on the job, in the early days of the war.
Approximately 65 percent of the original enlisted and officers are still with the unit on Okinawa in the Ryukyus Islands [at time of writing].
HEADQUARTERS LANDING FORCE
APO #726
NUMBER 6 D-A-I-L-Y B-U-L-L-E-T-I-N June 12, 1943
SECTION I - OFFICIAL
E-X-T-R-A-C-T
* * * * * * * * * * * * * * * * * * * *
2. The following message from General Marshall to General Landrum, and General Landrum's reply are published to the command:
"I WISH TO OFFER MY PERSONAL THANKS AND CONGRATULATIONS TO YOU AND YOUR MEN FOR THE VICTORY THEY HAVE GIVEN US, AND FOR THE GREAT FIGHT THEY PUT UP UNDER VERY VERY DIFFICULT CONDITIONS OF HARDSHIP AND DANGER TO WIN FOR US A STRONGPOINT IN REACH OF JAPANESES HOME WATERS. THE ENGINEER OFFICER RESPONSIBLE FOR THE RAPID COMPLETETION OF THE FIGHTER STRIP AT ALEXAI POINT AND HIS MEN ARE TO BE CONGRATULATED ON THE ENERGETIC MANNER IN WHICH THE STRIP WAS RUSHED TO COMPLETION AND MADE AVAILABLE FOR OUR FIGHTER PLANES."
"I AM CONVEYING TO MY SPLENDID TROOPS YOUR MESSAGE OF APPRECIATION FOR THEIR ACCOMPLISHMENT. YOUR MESSAGE HAS BEEN DELIVERED TO LT COL CARLIN H. WHITESELL, THE OFFICER RESPONSIBLE FOR THE ENERGETIC ACCOMPLISHMENT AT ALEXAI POINT, AND I HAVE THANKED HIS MEN FOR THEIR OUTSTANDING CONTRIBUTION."

* * * * * * * * * * * * * * * * * * * *
By command of Major General LANDRUM:
/s/ A J Salisbury
/t/ A J Salisbury
Major, AGD,
Adj Gen.
A CERTIFIED TRUE EXTRACT
/s/ Russell R. Claar
/t/ RUSSELL R. CLAAR
Capt., C. E.,
Adjutant.
Series: 807th Battalion History
Last updated: November 7, 2017