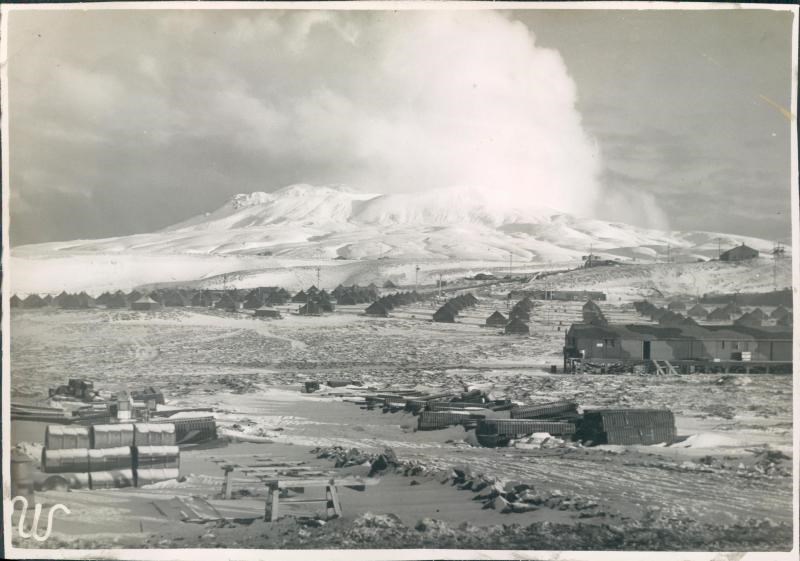 Adak Island
1. Movement.
The race for bases between Kiska Island, 650 miles west, where the Japanese were entrenched in force, and Umnak Island was on. The three months old battalion, less Company 'B" and Headquarters Company Detatchment which was on a mission at Port Heiden, was designated as the only engineer troops to accompany the task force on the initial landing on Adak, some 400 miles westward. Chernofski Harbor was the rendezvous point for the Engineer convoy which was to proceed ahead of the task force due to its slower speed. Early in August one company of the unit proceeded to Chernofski Harbor to prepare tugs and other floating plant for the voyage. Modern amphibious equipment for engineers such as LSTs were unknown. Small and medium open fish scows obtained from Alaskan Canneries, some now open deck barges of larger capacity from the Pacific Coast, an old waterlogged seagoing barge of unknown vintage, a four masted codfishing schooner without auxiliary power, and a few small harbor tug boats comprised the engineer fleet.
Defense against air attack required assembly, training of crew, and mounting of 20 mm weapons on tugs and barges. Steel landing mat, much of it bent and damaged in shipment, was inspected sheet by sheet and loaded. Vehicles, tractors, motor fuel and oil, lumber, coal, and all odds and ends of engineer supplies and equipment were somehow stowed and lashed down on the open barges. The hold of the codfish schooner was fitted with wooden bunks for troops but all efforts failed to remove the ingrained odors of codfish from the saturated inner hull of the vessel. Life rafts were constructed from empty oil drums since immersion in the Arctic waters for more than 20 to 30 minutes meant certain death from freezing.
Preparations were completed on 26 August 1942 and the unorthodox engineer fleet sailed at sundown into the Bering Sea, in the teeth of a rising gale and at the magnificent top speed of three knots. White spray soon obscured the towed barges from view. The five man gun crews assigned to them fought to save their meager shelters and supplies of food and water from washing overboard. The more fortunate who had vehicles aboard found the drivers cab a haven for living and sleeping during most of the 5 day voyage.
A circuitous route, well up into the Bering Sea was taken to avoid enemy aircraft and submarines lurking along the Aleutian Chain. During the night, some tows would become separated and lost and the five destroyer escort had a busy time locating and bringing back the wanderers. Finally on 31 August land was sighted. The convoy headed into Kuluk Bay, Adak Island, only to have heavy fog close in just as the entrance was gained. Careful herding by destroyers delivered the fleet to sheltered waters. One barge load of steel landing mat and aviation gas was lost at sea in a storm which sprung its seams and flooded it.