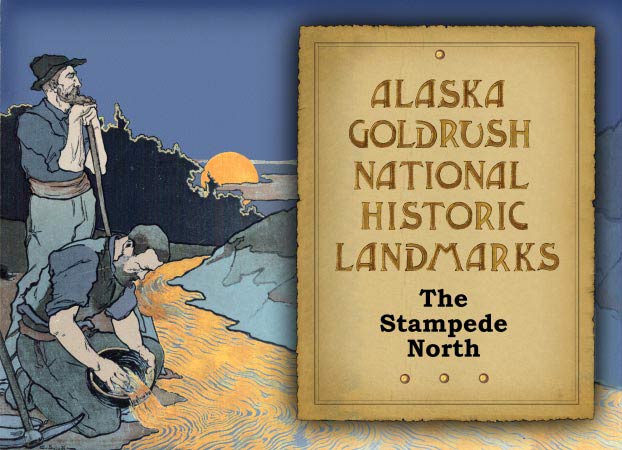 The National Park Service administers the National Historic Landmark (NHL) Program for the Secretary of the Interior. The NHL Program focuses attention on historic and archeological resources of exceptional value to the nation as a whole, by recognizing and promoting the preservation efforts of private organizations, individuals, and government agencies. Designation of NHLs also furthers the educational objective of the Historic Sites Act of 1935, by increasing public awareness and interest in historic properties. NHLs are our nation's most important prehistoric and historic cultural
resources. Of the only 2,200 NHLs nationwide, 47 are located in Alaska. They are an irreplaceable legacy.
NHLs evolve from theme studies or surveys of properties related to an aspect of American culture. The NHLs described in this brochure all represent a range of national themes including: exploration and settlement, military, and industrial development. The five NHLs also have one theme in common, The Alaska Gold Rush, which traces part of the history of searching for gold in the state and neighboring Canada from 1897-1904. Most of the Gold Rush NHLs are privately owned and preserved. However, the National Park Service and Parks Canada manage some of the structures and lands involved with these NHLs.
On August 5, 1998, after 30 years of planning, Canadian First Nations representatives and Canadian and United States officials dedicated the Klondike Gold Rush International Historical Park. The 13,000 acre park is a combination of the Klondike Gold Rush National Historical Park on the U.S. side and the Chilkoot Trail National Historic Site on the Canadian.
This designation celebrates the shared history of the United States and Canada and recognizes the efforts of both nations to preserve Klondike history. Artifacts and historic archeological sites are an important part of our national heritage and are protected by federal and state laws. It is illegal to excavate, damage, remove, sell, or transport archeological and historic resources located on Federal or State land without proper permits. Please enjoy our national heritage, but leave all archeological and historic material where you find it so others can enjoy it as well.
Visit https://www2.cr.nps.gov/nhl/ for more information on the National Historic Landmark Program. For more information on the Klondike Gold Rush National Historical Park, visit our website at https://www.nps.gov/klgo/. For information on the Parks Canada Chilkoot Trail National Historic Site visit http://fas.sfu.ca/parkscan/ct/.