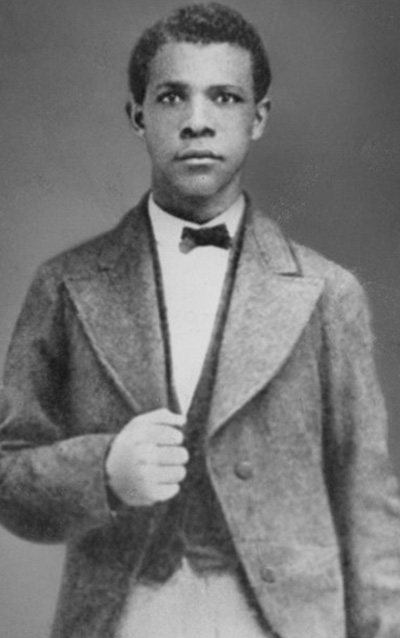 During the postwar Reconstruction period, the federal government attempted to guarantee the former slaves those rights enjoyed by other American citizens. The Freedmen's Bureau, established by Congress in 1865 to assist the recently emancipated slaves in their transition to freedom, distributed food and clothing, offered medical services and educational aid, and worked to protect the freedmen from serfdom and violence. The Civil Rights Act of 1866 declared that African Americans are U.S. citizens entitled to equal treatment before the law. The 14th Amendment forbade the states to abridge the rights of any person without due legal process. An 1867 Reconstruction Act forced the former Confederate states to extend the franchise to African Americans. Racial discrimination in granting the vote was prohibited by the 15th Amendment in 1870. The final attempt at Reconstruction legislation was the Civil Rights Act of 1875, providing for "the full and equal enjoyment of the accommodations, facilities, and privileges of inns, public conveyances on land or water, theatres, and other places of public amusement . . . Applicable alike to citizens of every race and color, regardless of any previous condition of servitude."

These federal actions to extend the privileges of citizenship to freedmen were met with bitter resistance in the South and apathy in the North. Freedmen's Bureau activities were condemned as unjust interference in private affairs. White Southerners especially detested black participation in the reconstruction of state governments. To discourage African American political activity, they formed secret terrorist societies, such as the Ku Klux Klan, to intimidate those blacks attempting to exercise their rights. The federal government legislated against such tactics, but it was largely unsuccessful in enforcing measures to protect the freedmen.

Perhaps Reconstruction's greatest shortcoming was its failure to anticipate the economic needs of freedom. Millions of ex-slaves, possessing little more than the ragged clothing on their backs, were at the mercy of their former masters for survival. Amid the general poverty of the South at war's end, wages paid to freedmen in 1867 were lower than those paid earlier for hired slaves. Under the sharecropping system in which the agricultural worker received life's bare necessities and a share of the crop in exchange for his labor, blacks, as well as poor whites, became permanently indebted to the landowner for their maintenance. The Freedmen's Bureau tried to help by leasing and selling land to blacks and by supervising labor contracts, but Congress discontinued the Bureau's activities in 1872.