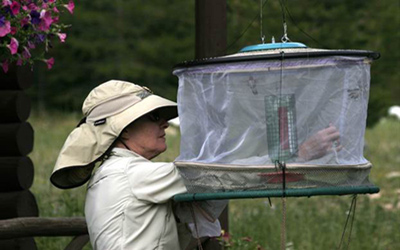 A 2003-2012 survey set out to collect data on the hummingbird populations and habitats in Rocky Mountain National Park through the use of a volunteer Citizen-Science inventory and monitoring program. Looking at hummingbird populations on the east and west sides of the Continental Divide, information on demographics for breeding and transiting, timing of nesting and migration, rare species presences, nesting area patterns, and site fidelity and longevity was analyzed and reported to provide a well-documented record for the use of the national parks. While seasonally observed at all elevations, the hummingbirds seemed to prefered montane valleys.
Annual survival of female broad-tailed hummingbirds (Selasphorus platycercus) was relatively constant over the 9 years but male survival varied greatly. The reason for the high year-to-year variation in male survival is still not understood. Nesting and fledging, or production of young, also varied, but were more successful in years with average precipitation and cooler temperatures. Differences in the number of migrating rufous hummingbirds (Selasphorus rufus) that were captured each year suggested that they had variable success nesting and raising their young in northern breeding areas, while migrating calliope hummingbirds (Stellula calliope) were captured infrequently.
"We captured and banded calliope hummingbirds in relatively small, variable numbers (compared to much larger numbers of broad-tailed and rufous) every year of the survey on both sides of the Continental Divide," said Fred Engleman, one of the main researchers on the survey.