A survey of hummingbirds in Rocky Mountain National Park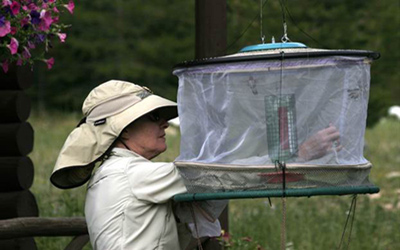 A 2003-2012 survey set out to collect data on the hummingbird populations and habitats in Rocky Mountain National Park through the use of a volunteer Citizen-Science inventory and monitoring program. Looking at hummingbird populations on the east and west sides of the Continental Divide, information on demographics for breeding and transiting, timing of nesting and migration, rare species presences, nesting area patterns, and site fidelity and longevity was analyzed and reported to provide a well-documented record for the use of the national parks. While seasonally observed at all elevations, the hummingbirds seemed to prefered montane valleys.
Annual survival of female broad-tailed hummingbirds (Selasphorus platycercus) was relatively constant over the 9 years but male survival varied greatly. The reason for the high year-to-year variation in male survival is still not understood. Nesting and fledging, or production of young, also varied, but were more successful in years with average precipitation and cooler temperatures. Differences in the number of migrating rufous hummingbirds (Selasphorus rufus) that were captured each year suggested that they had variable success nesting and raising their young in northern breeding areas, while migrating calliope hummingbirds (Stellula calliope) were captured infrequently.
"We captured and banded calliope hummingbirds in relatively small, variable numbers (compared to much larger numbers of broad-tailed and rufous) every year of the survey on both sides of the Continental Divide," said Fred Engleman, one of the main researchers on the survey. 
Honor the past
Rocky Mountain National Park has been designated as an Important Bird Area, providing a home for over 260 observed species. Detailed records of hummingbird species and their return rates had not existed - prior to the survey that is. Had it not been for the survey of hummingbird populations in the park, there would not be as great an opportunity to expand park knowledge of both summer resident and migrating species as there is now. 
Celebrate the present
Park visitors are given an excellent opportunity to witness and observe hummingbird species in their natural habitat of Rocky Mountain National Park. Provided with the correct knowledge, visitors can expand their understanding of the smallest bird species in the park as well as the importance of suitable habitat and an appreciation of the role of hummingbirds as migratory pollinators. 
Inspire the future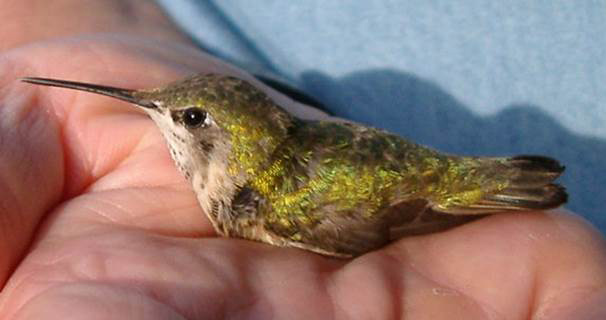 The survey's results will now help to inform park management as they work toward providing suitable broad-tailed hummingbird courtship and nesting habitat, as well as ample wildflower resources, so the birds will keep returning season after season. In particular, the researchers will be following how the control of ungulate populations, who enjoy the same tasty plants hummingbirds do, affecting the hummingbird population in the park. 
Read more about this study and others  discussed at the research conference at Rocky Mountain National Park.
Last updated: June 17, 2015