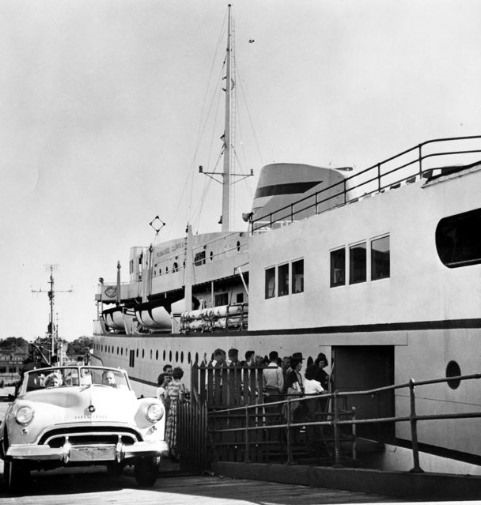 Many of our region's National Historic Landmark (NHL) owners and stewards rely on the tourism industry to secure the financial support and public interest necessary to ensure the long-term survival of their irreplaceable resources. While this may be challenge enough for any organization, for the members of
S.S. Milwaukee Clipper
Preservation, Inc., there is an even more pressing and immediate need: to secure a permanent home for their historic Great Lakes auto/passenger ferry. This year the non-profit, all-volunteer organization is negotiating with Muskegon County, Michigan, commissioners to locate the Clipper at Heritage Landing in downtown Muskegon. The location may be the last option for the
Milwaukee Clipper
, which has occupied a number of locations, under various ownerships, since she ceased operations as a cross-lake steamer ferry in 1970.
Built in 1904 and substantially rebuilt in 1940, the
S.S. Milwaukee Clipper
is the oldest U.S. passenger steamship on the Great Lakes.
Milwaukee Clipper
was built as
Juanita
by the American Shipbuilding Company for the Anchor Line of the Erie and Western Transportation Company. Before the days of unopenable airline packaged peanuts, constricted leg room, armrest elbow battles, and fears of over-burdened overhead compartments, railroad and steamboat service provided comfortable transportation options for cross-country travel in the upper Midwest. For savvy and well-heeled travelers, the steamer
Juanita
offered the epitome of first-class Great Lakes coastal maritime travel between Buffalo, New York, and Duluth, Minnesota. The
Juanita
boasted a grand oak staircase, mahogany-trimmed parlors, a music room and a writing room; and a main dining room. Below decks, state-of-the-art quadruple-expansion engines powered the 361-foot riveted steel hull, propelling the vessel at a top speed of 18 knots. Although passage of the anti-monopoly 1915 Panama Canal Act forced railroads to divest of their company fleets, travel aboard the
Juanita
continued through the 1930s under the ownership of the Great Lakes Transit Corporation.
The vessel went out of service following new regulations for shipboard fire safety in the wake of the 1934
Morrow Castle
disaster, until it was sold in 1940 and rebuilt into a safer and more modern-appearing vessel. The engines were converted to operate on fuel oil rather than coal, and the superstructure lowered one deck.