A Fire Management Program Four Years in the Making
A Fire Management Program Four Years in the Making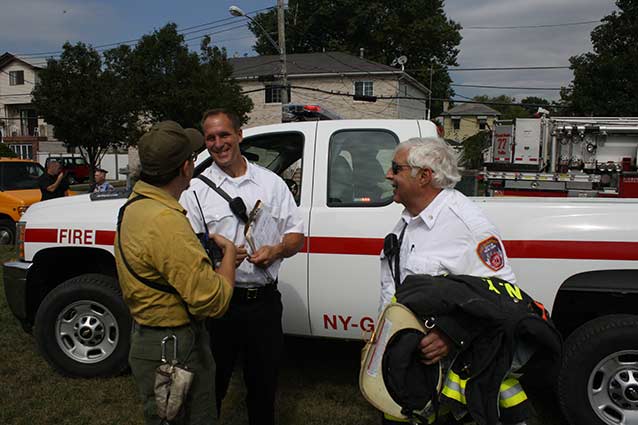 Gateway National Recreation Area (GATE), located in New York City and Monmouth Country, New Jersey, has experienced significant wildfire occurrence within its 26,000 acres of beaches, dunes, marshes and forests.  Over 1,800 ignitions have occurred in the park over its 42 years history.  In 2010, 58 human caused wildfires occurred in the park, including the largest wildfire within New York City since 1963. Most fires tend to be small due to an overwhelming response by the Fire Department of New York City (FDNY), but some fires burn tens of acres, and occasionally burn over a hundred acres.  
In response to the year-round wildfire frequency, the park and the National Park Service's Mid Atlantic Fire Management Area (MAFMA) established and filled an Assistant Fire Management Officer (AFMO) in 2011.  Additionally, hiring practices were adjusted to provide for fire staffing on a year-round basis.  Since that time, park staff has worked diligently to reduce overall fire occurrence, improve the protection of public and resources, foster and improve interagency relationships, and meet National Cohesive Strategy goals.
These efforts have resulted in a decrease of fire occurrence four years in a row.
Calendar Year          Number of Human Caused Wildfires
2010                           58
2011                           44
2012                           25
2013                           17
2014                           14
Reducing the number of unwanted wildfires took many steps and solid partnerships.  Some of the park's fire management staff actions and achievements include:
Completed the park's first Fire Management Plan (FMP)
Increased prevention and detection patrols by both the park's fire management staff and the United States Park Police (USPP).  This increased presence in high fire occurrence areas contributed to the arrest of 5 juveniles starting a fire in 2012.
Increased information sharing and assistance to FDNY and New Jersey Forest Fire Service (NJFFS).  Park fires management staff is now notified by local authorities of fire starts as they occur.
Established a fire danger notification process within the park and with the FDNY, NJFFS, and New York State Department of Environmental Conservation (NYSDEC) and other partners.
Supported FDNY on wildfires.
Improved incident communications.  The park was provided three FDNY handheld UHF radios.  The park now has the commonly used NYSDEC and NJFFS frequencies.
Assisted in the development of the Staten Island East Shore Community Wildfire Protection Plan through the collaborative effort of the NYSDEC, FDNY, NYC Department of Parks and Recreation, NYC Department of Environmental Protection and the Staten Island Borough President's Office.
Established communication and a feedback loop with the National Weather Service (NWS).
Utilization of the NWS Automated Surface Observing System weather station at Kennedy International Airport to track fire weather and establish a fire business threshold.
In the future, the GATE Fire Management Program will continue strategic planning at all management and operational levels.  This will include strengthening partnerships; participating in fuel reduction projects and prescribed fires that protect the Wildland Urban Interface; increasing training opportunities for park staff and partners for safety, preparedness and response; participating in annual interagency wildland fire meetings attended by the National Park Service (NPS), USPP, US Fish and Wildlife Service (USFWS), NWS, FDNY, NYSDEC, NJFFS, New York City Office of Emergency Management; and increasing visibility in the community to provide fire prevention messages and deter unwanted fires.  In summary, there is a lot of work ahead for staff to implement an adaptive and safe fire management program at GATE.
Last updated: September 10, 2018