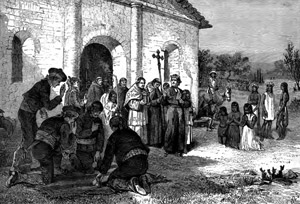 This is an essay from the Spanish Missions of the Southwest Travel Itinerary  
Known as the Custodio y Conversión de San Pablo, the newly appointed prelate of the New Mexico mission field Fray Alonso de Benavides arrived with the supply caravan of 1626. Accompanied by twelve Franciscans, they joined fourteen missionaries, already residing in New Mexico. Benavides' arrival signaled a new beginning for the New Mexican missions. The tireless friar, who held the titles of Father Custodian and Commissary of the Holy Office of the Inquisition, toiled in the expanded mission field and promoted it with his prolific quill. Written for the Pope and Spanish king, his Memorial of 1630, and a revised version in 1634 were published in five languages before the end of seventeenth century. An offshoot of the colonial Mexican Church, the New Mexico missions were not unlike other mission provinces in the Americas. In his Memorial, Benavides offered a composite, albeit romanticized, view of "the pious tasks of the friars in these conversions."
Of a day in the life of a missionary, Benavides, seeing through the eyes of a colonial missionary, wrote a description of a friar's daily routine that could be applied anywhere in the Americas during the Spanish colonial period. Benavides' Memorial embellished the successes of the New Mexico missions and brushed off the American Indian view—in particular that of anti mission Pueblo Indians. Their view was often expressed as a rejection of the missionaries. When passive resistance failed, the Indians turned to armed rebellion. Despite their goals, the friars ultimately settled for imperfectly converted Christian Indians who integrated Christianity, native beliefs and spirituality into their customs and traditions. The missionaries had satisfied the Spanish government's objectives to pacify the frontier, and the church's quest to save souls and spread Christianity.