The Chesapeake & Ohio Canal, built on the north bank of the Potomac River in Maryland, was constructed by Irish and German workers, not enslaved workers in spite of the fact Maryland was a slave state. There are occasional references to slaves working on the canal after its completion. Frederick, a slave at Ferry Hill Place across from Shepherdstown, was hired out by his owner, John Blackford, to work as a boat crewman.
"Master Lincoln, he's a great man, and I am a poor negro; but the negro can tell master Lincoln how to save the money and the young men. He can do it by setting the negro free." Harriet Tubman
A Route to Freedom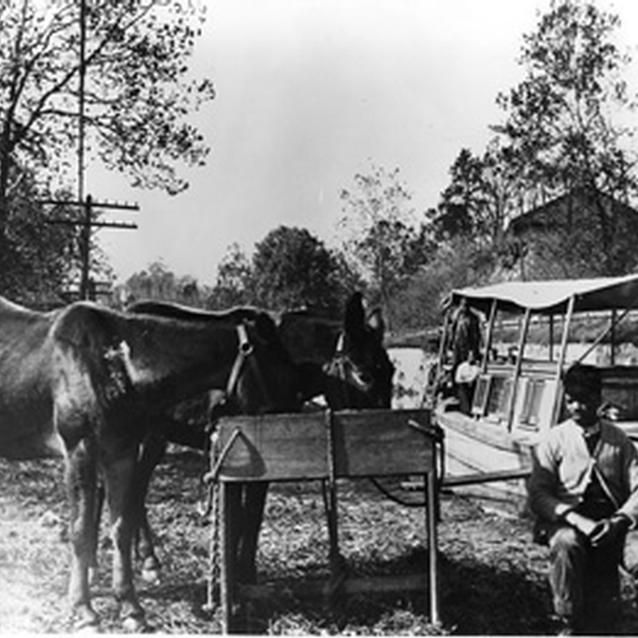 Many free African Americans worked the canal. Pic and his son, Little Pic, were crew members on the Caroline of Williamsport just before the Civil War. Pic was first mate for Captain Coss and Little Pic led mules. Before and after the war Henry Williams and Andy Jenkins served as boat captains, though both were stripped of their titles because in 1857 a Canal Company ruling briefly barred "free Negroes or slaves upon the canal as masters of boats."

Coal, wood, cement, and grains were the primary goods transported along the canal, but newspaper advertisements also show runaway slaves used the towpath as a route to freedom, traveling along the canal until they reached a mountain ridgeline, such as Catoctin Mountain or South Mountain, where they fled north to free states and beyond.

Accounts of the passage of runaways along the canal are elusive, but stories can be found in newspapers of the time. The National Intelligencer tells of Jerry, a runaway, who in 1830 is believed to have fled "from Washington pass up the Canal." In 1852, another runaway, Ben, supposedly "left for Cumberland by way of the Canal." In the 1830s, there were accounts of runaways from Virginia who were all last seen on the towpath. One, a runaway named William was seen with his father George Soloman, a freeman who worked on the canal.
Harriet Tubman
Tubman was born a slave on a plantation on the eastern shore of Maryland in 1822. She escaped slavery in 1849, and with aid from free blacks and Quakers, eventually reached freedom by traveling through Delaware to Philadelphia.

After hearing that her niece and children would soon be sold, Tubman arranged to meet them in Baltimore and lead them to freedom. It was her first trip as a conductor on the Underground Railroad, but it was not her last. Tubman made at least eleven trips into the South and led approximately seventy people to freedom.

A powerful speaker and a person of incredible will, Tubman helped the Underground Railroad to grow and pushed for the abolition of slavery. Famous in the abolition community and safe in the north, she again accepted great risks by serving as a spy, scout, and nurse for the Union Army during the Civil War.
Series: Born of Earnest Struggle
Last updated: August 14, 2017