9-11 Day of Service at Ellis Island
By Jerry Willis

On a beautiful September morning the ferry bringing visitors to Ellis Island pulled into the dock. It quickly became clear that this boat was not carrying the usual complement of tourists. About a hundred passengers all clad in blue tee shirts seemed to disembark with an unusual sense of purpose. They all looked as if they were on a mission. They were.

The Mission Continues, a national nonprofit that empowers veterans who are adjusting to life at home to find purpose through community impact, teamed up with the National Park Service for a 9/11 Day of Service Project have Ellis Island. It was the second year of a new partnership. Last year was such a success, and the Ellis Island project was so popular with the veterans, the volunteer roster had to be increased this year from 80 slots to 115 to accommodate the demand.

There was much to accomplish. Soon after arriving The Mission Continues volunteers were picking up tools to get the job done: Brushes and rollers to paint exhibit rooms and the towers in the National Museum of Immigration; Pry bars, saws, and sledgehammers to demolish a wooden entrance ramp that had outlived its purpose; Pitchforks and rakes to lay down much-needed mulch around trees and planting beds on the island. Others used loppers and scythes to mow down an invasive weed on a section of the island.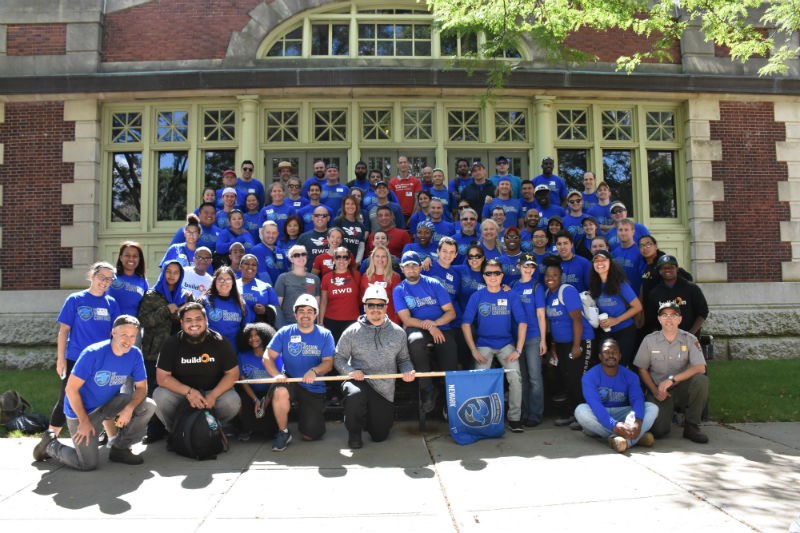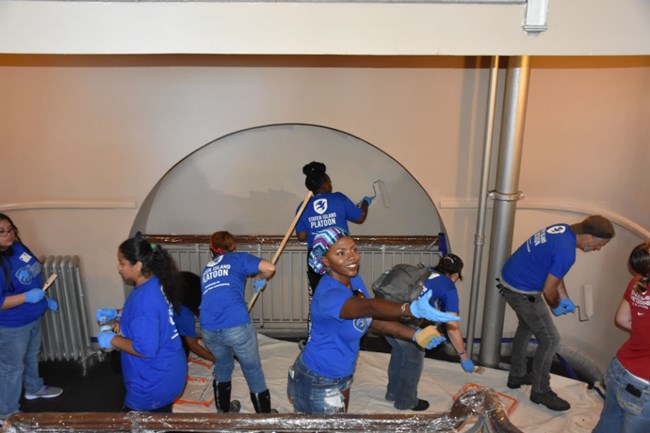 In an explosive burst of effort and determination, the volunteers made quick work of their assignments, and in a short four-hour window, they had completed the day's mission. The former host of Comedy Central's
The Daily Show
, Comedian Jon Stewart, jumped in to lend a hand, and he was no joke on the business end a 4-foot crow bar, quickly dispatching a section of a wooden ramp his crew was assigned to demolish. A long-time supporter of The Mission Continues, he addressed the gathering of veterans telling them how personally gratifying it was to work side-by-side with them. Mr. Stewart went on to say that "having a chance to volunteer on Ellis Island was a moving experience because my grandparents had immigrated through these doors to the United States. They were part of a wave of immigration that made this country so great."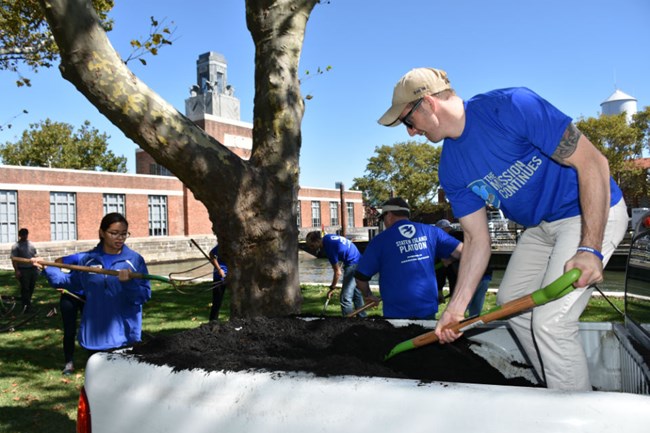 "The chance to hold a 9/11 Day of Service on Ellis Island is very special to us," said Marvin Cadet, Project Specialist for The Mission Continues. "To be able to feel the history here and look across the water to see the powerful symbols of the World Trade Center and the Statue of Liberty really underscore some important reasons why many of our veterans stepped up to serve. We are grateful for the partnership we have developed with the National Park Service and hope that it will continue well into the future."

"We are immensely proud to partner with the Mission Continues," said Statue of Liberty National Monument and Ellis Island Superintendent, John Piltzecker. "We are all so impressed by their dedication, drive, and professionalism. It is difficult to express in words the gratitude and respect we hold for these volunteers, their service to the nation, and for continuing The Mission in our National Parks."
Last updated: October 24, 2017