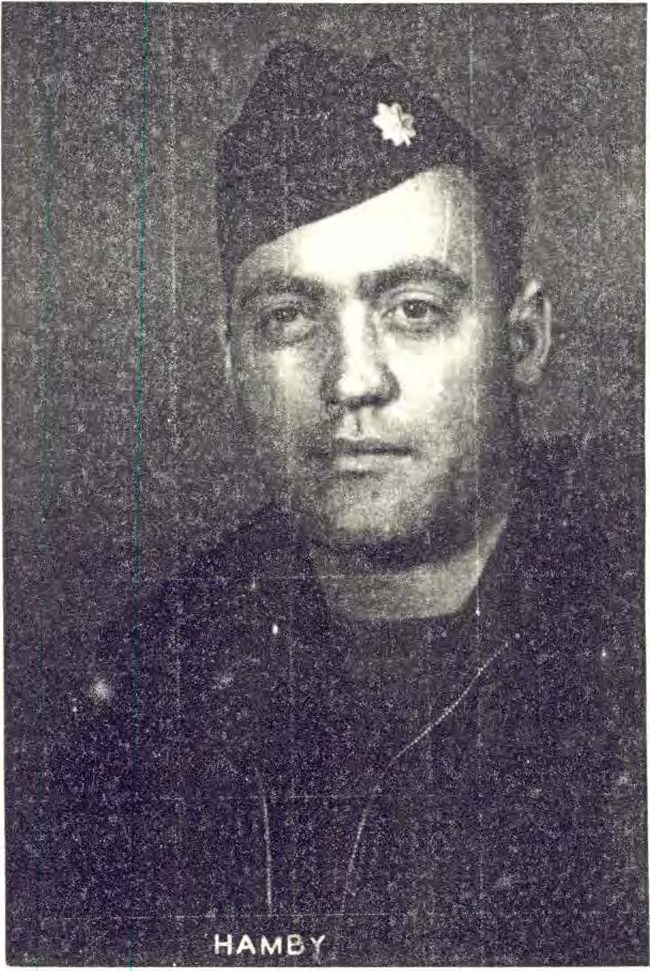 FOREWARD
Presented herein is the history of the 77th Bombardment Squadron (Medium) for the period 15 January 1941, to 31 December 1943. The mission of the squadron during this period is three-fold.
1. Training and orientation to northern flying.
2. To attack and destroy enemy shipping in and around the Aleutians, and attack enemy installations on Kiska and Attu.
3. Following the movement of part of the Squadron to Attu, our mission was extended to include attacks on shipping in and around the Kurile Islands.

As we enter our fourth year of existence, we find courageous achievements behind us, and we can look forward to more in the future. We find new faces among officers and enlisted men. It is well these changes are taking place, because only through new blood can any organization continue to gain strength and make new accomplishments.

[signed]
ROBERT S. HAMBY
Major, Air Corps.
Commanding
HISTORIAN'S FOREWARD
This is a history of a squadron, one of many in the Army Air Forces today. A squadron who started with too little, too late, and has built itself to a[sic] organization second to none.

This is also a story, a story about men and airplanes whose common purpose is the defeat of our enemies. A story about the joys and sorrows, the triumphs and failures, of men living and dead, who have given their all for the victory this nation will win.

In writing this history numerous records were not available and the Morning Report was relied on to substantiate many statements. For the benefit of continuity; personnel changes, morale, health, housing, and welfare have been included in section III, under the heading of "Missions and accomplishments."

[signed]
Bailey K. HOWARD
2nd. Lt., Air Corps.
Squadron Historian.
Section I: Activation of the Squadron
On a dreary afternoon, the 15 of January 1941, the 77th Bombardment Squadron (Medium) was activated as part of the 42nd Bombardment Group (Medium) 2nd Air Force, at Fort Douglas, Salt Lake City, Utah.

The original personnel was obtained by the transfer from the 22nd Bombardment Squadron, 7th Bombardment Group, 4th Air Force, and formed under T.O. 1-127 dated 1 July 1940, for Medium Bombardment Squadrons. The original cadre consisted of one (1) commissioned officer and twenty seven (27) enlisted men. The officer, 1st. Lt. Elbert O. Meals, was the first commanding officer. In the months from January 1941 until September of 1941, the enlarging of the 77th Bombardment Squadron was in progress.

The Squadron left Salt Lake City and moved to Gowen Field, Boise, Idaho on 3 June 1941, and at this time the Squadron personnel consisted of six (6) officers and one hundred and seventy four (174) enlisted men and 1 B-18A airplane. Prior and during this time, training activities were in full swing.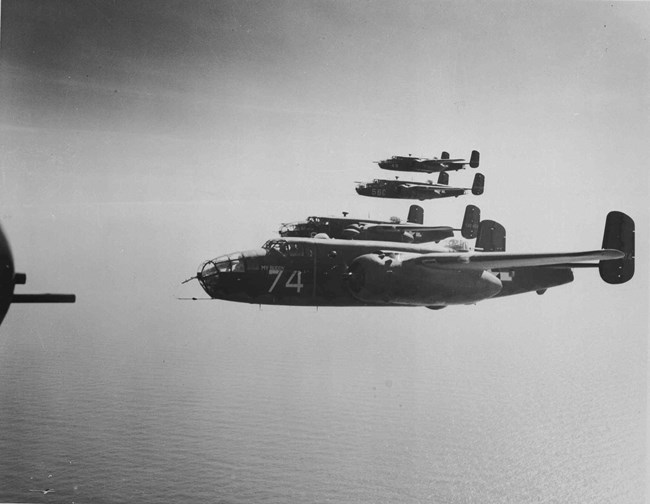 Section II: Formative Stage
Recruits were transferred in from different fields and, it was at Gowen Field, Boise, Idaho, the 77th had one of its famous Squadron Commanders, Major Harry Wilson, one time West Point All-American half-back, known to the sports world as "Light Horse Harry," and rated by the immortal Rockne as the greatest halfback of all time. Later in the summer of that year (1941) Major Robert O. Cork took over the assigned duties of the Commanding Officer, with Major Wilson going to the 16th Reconnaissance Squadron. By this time the Squadron was growing, adding a B-18A and a PT-17 to the fleet, making a total of three (3) airplanes. The first new flying officers joined the Squadron in September 1941.

During September 1941, the Squadron departed from Gowen Field, Boise, Idaho, to Ontario Airport, Ontario, Oregon, to participate in field maneuvers which began 23 September 1941.

Arrangements were made in advance at Ontario for the Squadron, and the high school gymnasium was used for billeting the troops, and a Japanese community hall used for messing facilities. The ground echelon was moved by truck, and two (2) B-18A airplanes were used to fly the combat air crews to the maneuver area.

The Command Post was established at Ontario Airport and actual combat conditions were simulated as far as possible. Trucks and tents were dispersed and camouflaged, but no attempt was made at false installations. Chemical defense was made routine by the constant carrying of the gas mask, and a series of attacks employing smoke and CN gas were made. On the first attack twenty (20) men were without gas masks and were immediately declared casualties.

The air training consisted of two (2) three (3) hour flights daily, and one (1) three (3) to five (5) hour night flight, under simulated war conditions. The Squadron had only two (2) B-18 airplanes on these maneuvers, and only four (4) first pilots. The Squadron Staff Officers consisted of three (3) of the four (4) first pilots and much valuable training was received by them.

The Squadron was short on everything to successfully hold field maneuvers. Transportation, lumber and late food delivery were only a few of the difficulties encountered. Ground machine guns and side arms were not available, and the usual amount of "red tape" was experienced.

It is interesting to note that three (3) out of four (4) enlisted men who reported for sick call the first day in the field, reported for blisters on the heel of their left foot. Undoubtedly the left food was used more than the right, or, the men were not used to wearing G. I. shoes.

A large amount of publicity was given to the maneuvers by the local newspapers, and the citizens of Ontario and surrounding territory were pleased to have the "Battle of Oregon" originate from their city.
"The Latest Medium Bomber, the B-26"
In October 1941, Lieutenants Meals, Pickard and Tuma went east to the Glenn L. Martin Airplane Factory in Baltimore, Maryland, and were checked out in the Army's latest medium bomber, the B-26. These officers were among the first to pilot "the hottest plane in the world."

After the first B-26's were ferried to Gowen Field by Lts. Meals, Pickard, Tuma and Dancer, Major Cork with his pilots, combat crews, and maintenance crews, started in earnest to build a fine fighting, hard hitting, Medium Bombardment Squadron. At the outbreak of the war, our Squadron was a hustling group of men, training, flying, and developing new tactics under the guidance of Major Cork and Colonel Hart, the latter officer being the Commanding Officer of the 42nd Bombardment Group. Even though our crews were far from being well trained, two (2) days after the formal declaration of war with the Axis, the 77th was found on many fields of the west coast, from Payne Field, Washington to Murock Lake, California. Little did the men realize that of all the Bombardment Squadrons on the west coast, they would be the first to leave the States for foreign duty, to protect the rights of our Government and the ways of the American people.

On the 3rd of January 1942, the Squadron was on its first leg to Elmendorf Field, Alaska. In the following few weeks, due to severe flying conditions, short runways, and the most rugged and uncharted terrain in North American, the Squadron lost five (5) of their thirteen (13) airplanes. Slight injuries were suffered but no one was killed.

Lt. Doolittle, with three (3) airplanes, departed for Elmendorf Field, Anchorage, Alaska, 16 January 1942, from Edmonton, Canada. The entire flight made crash landings at a position N. latitude 50 52', longitude 126 03'E after losing bearings and getting involved in bad weather and darkness. Two days later the planes were located and crews were evacuated to Watson Lake, Y.T. by ski plane. It is reported that the natives of the above position named the valley "Million Dollar Valley," since the crashed planes could not be removed due to terrain.

Upon arrival at Elmendorf Field, Anchorage, Alaska, the Squadron was assigned to the 28th Composite Group. The first few months of 1942 found the Squadron training and acclimating itself to the weather and flying conditions they were to encounter in the Aleutians.

The training consisted of practice missions and patrol in the North Pacific.
Two (2) fatal accidents happened during this time. On 31 January 1942, the Squadron had its first fatal accident. A B-26 crashed on the take off from Elmendorf Field, and P.F. C. Ernest P. Everheart, 18015127, was killed. A cash donation was made by each man in the Squadron and a plaque of bronze was presented to his parents, Mr. and Mrs. Ernest K. Everheart, in honor and memory of their son with this inscription. "Private First Class Ernest P. Everheart, 77th Bombardment Squadron, Alaskan Air Force; who perished 31 January 1942 while in the performance of his duties as an Aerial Engineer. By members of his Squadron."

On 29 April 1942, a B-26 encountered a "williwaw" just off the runway at Kodiak and crashed in the mountains. Three (3) officers and two (2) enlisted men were killed.

In February of this year (1942) Lt. Meals again became Commanding Officer of the 77th, relieving Major Cork who was transferred to the Headquarters of the 28th Group (C).

Living conditions at Elmendorf Field were good; but the morale of the Squadron was low. The lack of confidence in the B-26 airplane, and the sudden change from the "USO front" to Alaska, and general confusion, had a tendency to keep the morale down.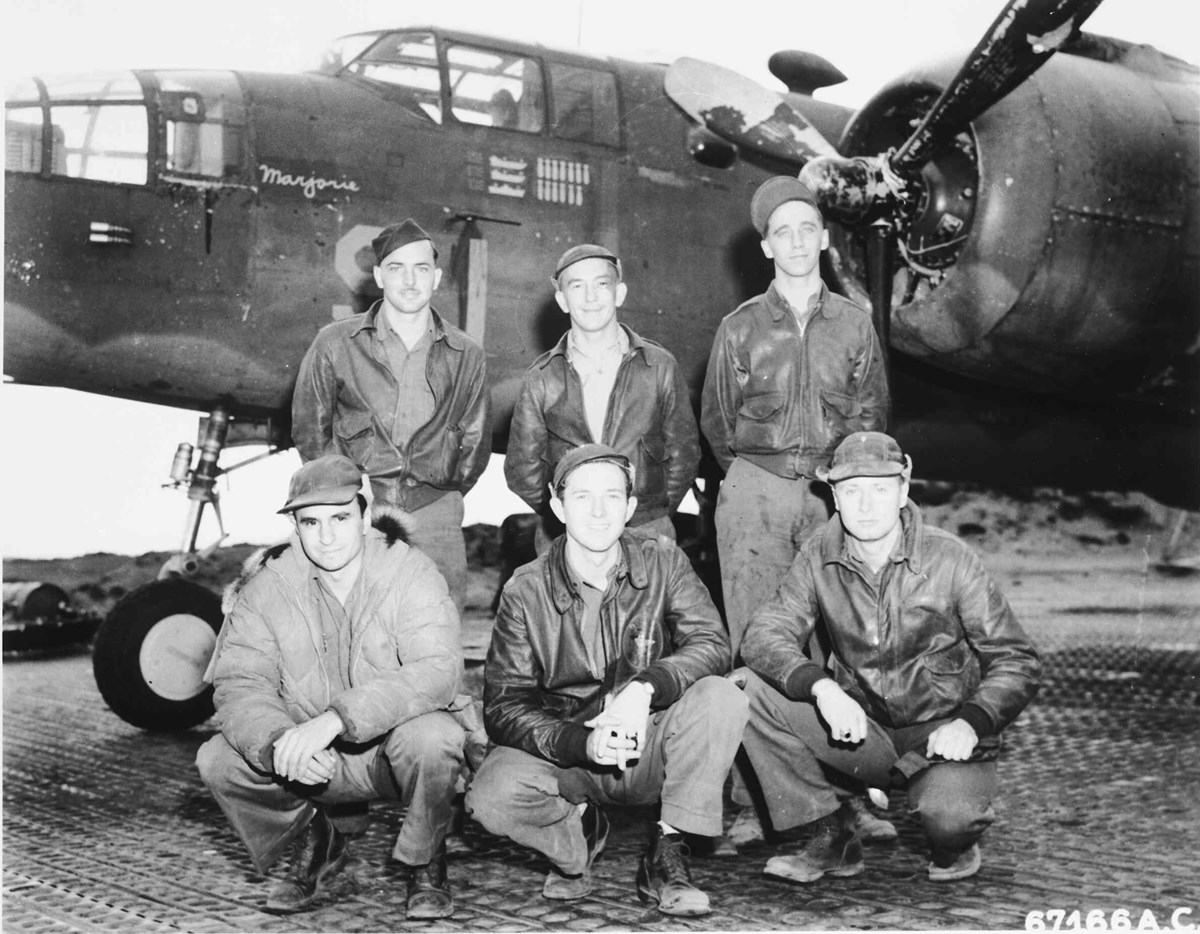 Section III: Missions and Accomplishments
Cold Bay and Umnak, Alaska
During this time landing strips were being built at Cold Bay, Alaska, and Umnak, Alaska, and on 29 May 1942, Captain Meals and 6 B-26's flew to Cold Bay, Alaska, and on the following day to Umnak, Alaska.

On the morning of 3 June 1942, a Japanese Task Force was reported in the North Pacific, and a flight of 6 B-26's went on search. No contact was made, and Captain Meals made a belly landing at Umnak; but no injuries were sustained.

On the morning of 4 June 1942, the Japanese attacked Dutch Harbor, and we sent 4 B-26's to intercept. No contact was made. The second flight of 5 B-26's were sent out to intercept, leaving Umnak at 2050W, and Captain Meals and Lt. Northamer made contact and sunk a Japanese Heavy Cruiser with a direct torpedo hit. As a result of this action, Captain Meals was decorated with the Distinguished Service Cross, and Lt. Northamer the Distinguished Flying Cross.

The weather during the entire period of 29 May to 6 June was practically prohibitive for flying. No weather reports west of Umnak were available. The weather was marked by rain and fog. Ceilings ranged from zero (0) to two hundred (200) feet maximum, with visibility seldom over five (5) miles. Flying for the most part was just above the surface of the water. Navigation was all by dead reckoning. The necessity for radio silence precluded the use of radio for homing.

Weather conditions made take-offs and landings extremely hazardous. On return from the 6 June missions, planes flew for four (4) hours over water at fifty (50) feet altitude or less, in fog. On landing, the far end of the runway could not be seen.

Both personnel and planes were maintained during the period under extremely difficult conditions. Combat crews had to set up their own tents, and until the 3rd of June 1942, cooked their own meals, operating with the minimum of facilities. The bivouac area for the crews was a sea of mud. Water covered the ground inside many of the tents. Crews were on the alert daily from dawn to dark, which at that time of year was from 0400W to 2300W. Crews went with little or no sleep for forty eight (48) hour periods.

Airplane maintenance was performed largely by the officers and enlisted men of the combat crews. Gas was pumped from barrels, and oil poured from five gallon cans. Crews had never previously loaded B-26 airplanes with torpedoes and did so under supervision of Navy personnel. The clearance of the torpedo over the steel mat runway was only four (4) inches.

During this period the danger of attack from the enemy by carrier based planes was a real hazard. On 4 June, Umnak Field, Alaska, was attacked in the morning by four (4) dive bombers and in the afternoon by nine (9) enemy pursuit planes making strafing attacks. No planes or personnel were lost during these attacks.

During the strain of this entire operation, the Squadron personnel displayed the utmost devotion to duty, indifference to danger and zeal in searching out the enemy.

The remainder of the summer months were filled with extensive training and patrol flying, and the usual adverse weather conditions were encountered.
Adak, Alaska
Orders came in early September for the Squadron to move to Adak, Alaska. The ground echelon left Elmendorf Field on 25 September, 1942 and started on its way to Adak.

The ground echelon arrived at Adak, Alaska on 2 October 1942. They went ashore in the rain and hiked two (2) miles to temporary tent quarters at the Air Base. On 6 October, unloading was complete, and the Squadron west up camp in its permanent quarters. This was done in twenty-four (24) hours, working in continuous shifts which included erection of revetted[sic] tents, tent mess hall and kitchen, orderly room, dispensary, armament, ordnance, and supply sections, as well as fox holes for personnel and six (6) M-1 machine gun positions for area defense. Complete ground facilities were ready for the use of the 73rd Squadron Air Echelon, which arrived at Adak on 13 October.

On 27 October 1942, Major Pickard took Command of the 77th with Major Meals being transferred to Provisional XI Bomber Command.

It was 4 December 1942, that Major Pickard led a flight of six (6) B-25's to Kiska Harbor and made an attack on Japanese shipping. He pressed forward his attack in the face of heavy AA fire and made a direct hit on an enemy vessel. For this action he was awarded the Distinguished Service Cross.

The first planes of the 77th Squadron landed on the field on 12 December 1943. The ground echelon furnished facilities for both the 73rd Squadron and its own air echelons from 13 October 1942 to 30 June 1943, never leaving this barren, bleak Aleutian Island during this time.

During the period 17 December 1942 to 30 June 1943, attacks were pressed against Kiska and Attu under severe weather conditions. Missions frequently encountered the dreaded "williwas." Snow squalls and poor visibility marked most of the winter flying. On several missions enemy fighter opposition was present. During the entire period, missions were continually subject to intense and concentrated AA fire from as many as ten (10) heavy AA batteries on Kiska. The low level missions against Kiska Camp and shipping were executed in the face of heavy enemy opposition. Combat crews at all time demonstrated great bravery, and total disregard for personal safety in pressing home their attacks.
Enemy Air Opposition
On 17 December the Squadron started missions from Adak to the Japanese-held Island of Kiska. Numerous flights returned to base at Adak due to weather conditions. It was on the 20th of December that four (4) B-25's and four (4) B-26's bombed north and south head on Kiska at low level and strafed installations. A direct hit was observed on a gun emplacement and on buildings in the camp area. On 30 December, an enemy cargo ship was bombed in the Kiska Harbor at deck level. This was the first time we met enemy air opposition. One (1) B-25 was shot down with the loss of seven (7) men. This plane was piloted by Lt. Jules Constantine. Lt. Constantine landed eight miles off Little Kiska and was observed being picked up by a PBY.

The PBY was then attacked by Zeros and it was not known whether the men were taken prisoner or killed. They are listed as "Missing in action."

Other battle damages on this raid consisted of rudder trim cables shot out, a total of seventy two (72) holes in the fuselage of one (1) plane and a hole in the gas tank. On the afternoon of 30 December, four (4) B-25's and four (4) B-26's again attacked Kiska and there bombed two (2) enemy cargo ships in Kiska Harbor, deck level. Again heavy enemy aircraft opposition was encountered and the tail gunner, Corporal Donald O. Murphy, 35047294, was killed by anti-aircraft fire. His head was completely shot off. Another plane had a landing gear shot out and a hole in the co-pilot's windshield. The pilot, Lt. DeBord was wounded in the right foot and the co-pilot, Lt. McNarney, was wounded in both hands. With these injuries, the men brought the plane back to Adak and made a safe landing. Another B-25 had an aileron cable shot out and two (2) holes in the pilot's windshield in front of the pilot. Two of the returning B-26's had numerous holes in the gas tanks, oil tanks and fuselage.

On the 5th of January 1943, three (3) B-25's made a deck level attack on a five thousand (5,000) ton enemy cargo ship approaching Kiska from the north. Each plane scored two (2) hits and two (2) PBY patrol planes confirmed the sinking of the ship. Minor battle damage was sustained by one (1) returning B-25 from the enemy ships AA fire.
Bailing at 2,000 Feet in the Air
One plane returning from this mission made a belly landing with everyone but the pilot and co-pilot bailing out. A member of the crew, 1st. Lt. Charles H. Back, 0-384806, was asked to write about his reactions during the time before, and after he bailed out, and the following is his story:
From this date on, weather permitting, Kiska was pounded daily by flights from six (6) to ten (10) B-25's and some days as high as three (3) missions were run, making attacks on AA (anti-aircraft) installations and the camp area.

On March 9 1943, part of the Air Echelon moved to Amchitka to press attacks on Attu as well as Kiska. Missions from Amchitka, until 30 May 1943, were conducted from the 2700 foot fighter strip which had been hastily constructed to permit the basing of fighters.

Take offs with full bomb loads and landings were often extremely hazardous due to the short runway as were the high hills rising abruptly from the west end of the runway, and the cross winds of high velocity.

It was on the 16th of March of this year that Lt. McCurdy and three (3) other planes again bombed the camp area on Kiska and Lt. McCurdy with his crew of five (5) men are "Missing in Action." They arrived over the target at 1700W and dropped all their bombs. AA fire was very heavy and Lt. McCurdy's plane was last seen in diving turn after all the bombs were dropped.
Major Richard D. Salter

It was during this time that the 77th had one of its famous Commanding Officers, Major Salter, who assumed command 7 March, 1943. The Major was born 27 February, 1917, in Angus, Texas, and, although little is known about his early childhood, it is assumed that it revolved around high kickin' horses, and the ropin' of those longhorned, Texas steers.

He attended the local grade school, and Emhouse Texas High School, where he starred at such sports as baseball, basketball, and track. After completing high school, the Major attended Texas A & M, and four (4) years later he left Texas A & M to "fly the big ones."

27 July 1940, he started flying school at Santa Marie, California, and graduated 14 March 1941, from advanced flying school, at Stockton, California.

After flying school, the Major joined the 73rd Squadron, and was one of the first in that Squadron to pilot the famed B-26. In fact the Major made history in that type of plane in October, 1942, when he successfully led an attack with B-26's against a force of enemy destroyers at Kiska, definitely sinking two (2). The Major was wounded in this action, and even though badly shot up about the face and hands, and also a piece of shrapnel in his leg, he brought the plane and his crew safely back to Adak. He was awarded the Distinguished Flying Cross and the Purple Heart for his gallantry and injuries in this action. After a brief lay up at Barnes General Hospital, he returned to the Aleutian Theatre, and, upon arrival was assigned to the 77th as Commanding Officer. Shortly after taking over the assigned duties of Commanding Officer, the invasion of Attu was about to begin and the Air Echelon of the Squadron left for the farthest and newest advanced base at Amchitka to be in on the big push when it started. The Major personally led his Squadron on all missions out of Amchitka, both over Kiska and Attu.

On the 11th of May 1943, six B-25's took off for Attu to give support to the invasion force on that Island. During the next month of May, our planes, based at Amchitka, flew daily missions, weather permitting, to support the invasion force. These flights were executed in the face of low overcast conditions which made flying through the passes and ravines of the Island extremely hazardous. Pilots exercised skill and initiative in bombing and strafing so as to afford maximum assistance to our ground troops.

After the fall of Attu, our Squadron again attacked Kiska. Flights of from three (3) to nine (9) airplanes made daily attacks, weather permitting, and the last attack on Kiska was on the 13th of August, 1943.
Airplane Maintenance
Airplane maintenance was a major problem throughout this period, and the men of the Squadron proved equal to every occasion. No spare parts for planes were available except those brought in from cracked up planes at other stations or from Elmendorf Sub-depot 1300 miles distance at Anchorage, Alaska. For two months the only tech supply for the B-25's was from parts taken from two B-25's which had cracked up at Adak. Tech Supply was housed in pyramidal tents, with mud flooring. Of one shipment spark plugs only 30% could be used, because of water damage.

Maintenance work on planes was necessarily conducted out of doors, in the severest weather. Engine changes and repair of battle damage was done in wind and storm, throughout many nights, with only flashlights and the headlights of trucks for illumination. Rain and snow, which blew in horizontal sheets, hindered the maintenance work a good deal of the time. No inspectors were at the field to give assistance. The ground crews displayed ingenuity and fortitude in their never-ending task of keeping the combat planes flying. No planes repairable, locally, were out of commission for more than 24 hrs.

The runway and plane parking areas were often covered with water from storms. During the frequent periods of high wind the planes were tied down with oil drums. Two boards and a bolt were used to keep the rudder from blowing loose, for the interval locks would not hold.
To summarize the missions flown in this period, the following is self-explanatory:

Missions

Sorties

Planes lost
in action

Planes damaged
in action

Kiska attack from Adak

33

205

1

18

Kiska attack from Amchitka

10

40

1

6

Attu attack from Amchitka

13

74

0

0

Sea search and attak

6

22

0

1

Miscellaneous

8

13

0

0

Totals

70

354

2

25
Deck level missions, included in above totals were: one (1) on enemy cargo ship in open sea (sunk); two (2) on shipping in Kiska Harbor; five (5) on Kiska Camp and AA batteries.

During much of the period covered by these operations, crews of the 77th Bombardment Squadron were standing shipping alert in their planes from dawn to late afternoon. This tedious assignment was born cheerfully by all personnel.

Numerous correspondents were with the 77th during the Kiska and Attu operations and publicity was given in national magazines such as Scribners, Colliers, Saturday Evening Post, and all of the press services were represented.

Several books have been written about the Aleutians and the 77th is included in all:
Bridge to Victory by Howard Handleman
The Pacific is My Beat by Keith Wheeler
Short Cut to Tokyo by Cory Ford
Attacking the Kurile Islands and Kiska
On the 10th of July, 1943, eight (8) B-25's led by Capt. James L. Hudelson carrying 4-500# General Purpose bombs, took off from Attu, Alaska, to attack the Japanese Naval Base at Paramushiru in the Kurile Islands. At this time this was the longest bombing mission in which land base medium bombers were used. The elapsed time of the mission was 9.5 hours. The distance between Attu and Paramushiru and return is 1600 miles. Upon arriving, the target was overcast and the results of the bombing was not observed. As a result of this action, this Squadron was the first Squadron to bomb the Kurile Islands, Tokyo lying only 1300 miles beyond Paramushiru and Hokkaido is about 900 miles range. The North Pacific route is the road to Tokyo and was opened in due time to our long range bombers.

Throughout the month of July, bombing missions to Kiska were made daily, weather permitting, and the only losses this Squadron sustained during this month was one airplane damaged beyond repair which was loaned to the 73rd Bombardment Squadron.

On the 22nd of July, 1943, our advanced air echelon moved to Alexai Point, Attu, Alaska, and our crews were on constant alert for enemy shipping.

During the month of August, 1943, bombing missions to Kiska continued, weather permitting, and it was on the 13th of August that the last mission was made.
Biggest Operational Loss
In September of 1943, the 77th Squadron Headquarters moved from Adak to Amchitka, Alaska, arriving on Amchitka the 11th of September 1943. It was on this day that the Squadron had its biggest operational loss in its history. A deck level and strafing mission was made on enemy shipping in the Paramushiru straits, Kurile Islands. Five (5) B-25's (D's) and seven (7) B-25 C's using wing and bomb-bay tanks each and a fuel load of 1212 gallons. Bomb load (4) 500 lbs. demolitions fused with M113 4-5 second delay tail only. Flight Leader Major Salter in plane #0502, Deputy Flight Leader Major Hudelson, plane #3349, Lt. Savignac, plane #0473, Captain Rhees, plane #3356, Captain Dennis, plane #4784, Lt. Standiford, plane #3354, Lt. Hurst, plane #3260, Lt. Temple, plane #9891, Lt. Harrier, plane #0171, Lt. Berecez, plane #3345, Lt. Wilson, plane #4564, and Lt. Rodger, plane #3352.

Major Salter took off at 0830W; balance of flight airborne at 0545W. The following planes returned to base: #3349, at 1735W, #3356, at 1806W, #9891, at 1815W, #4784, at 1825W, and #4564, at 1827W.

Weather out to the target was low scattered ceiling 500-3000 feet. Indicated air speed was 160 miles per hour and the altitude was 500 feet and less. Eleven (11) of the planes reached the target, Major Hudelson returning to base because of his bomb bay doors jamming. As the planes went into the target they hit a large transport, strafed barges and fishing boats and numerous small cargo ships, and then strafing everything in sight. The anti-aircraft fire around the target was intense and accurate from both land batteries and surface craft in the straights. Even small fishing boats were reported as having machine guns. A total of 20 Japanese fighters were observed. Three (3) [illegible] were made at Lt. Temple's plane from the rear and one closed [illegible] about 100 yards opening fire at about 300 yards. A Nate made a diving rear attack to about 300 yards on Lt. Wilson's plane and when breaking away, Lt. George Aamon, bombardier, hit the enemy plane with machine gun fire, and the fire from the enemy plane ceased. Capt. Dennis, while turning east after run, was attacked from rear and front quarter by two (2) Rufes and one land type Zero; three passes were made from the right side, one front and one rear to about 200 yards. A single Rufe was shot down in flames by top turret gunner T/Sgt. A.J. Olsen. All enemy aircraft observed were airborne. Three followed Captain Dennis and one Lt. Temple's plane to vicinity of Koukatan Cape.

All stayed out of range and no passes were made. Battle damage to the returning planes was as follows: Lt. Wilson, plane #4564, nose glass broken, about 40 MG and shrapnel holes right ring and fuselage mostly to the rear of the armored door; Lt. Temple, plane #9891, one hole behind armored door. Lt. Berecez was seen by Lt. Wilson attempting to make a water landing east of Cape Minimi, his right engine was on fire, upon contact with water there was an explosion and the plane sunk.

On run down the straights, a plane (identity unknown) was seen to disintegrate in the air after an explosion. Major Salter's plane was seen by Capt. Rhees to crash into the water about five miles east and somewhat north of the rally point, Cape Lopatka, Kamchatka. The following officers and enlisted men were listed as interned in Russia or missing in action:
Interned
| | | |
| --- | --- | --- |
| Richard D. Salter | Major | 0-407124 |
| Harry J. Koepp | 1st Lt. | 0-724320 |
| Edward H. Taylor | 2nd Lt. | 0-736577 |
| Kenneth I. Wair | S/Sgt | 17056622 |
| Paul U. Graham | S/Sgt | 14053511 |
| Irwin L. Lans | Pvt | 16034237 |
| Wayne A. Marrior | 2nd Lt. | 0-731617 |
| Valadimir P. Sabich | 2nd Lt. | 0-736570 |
| Albert W. Hahn | 2nd Lt. | 0-668908 |
| John A. Billingsley | S/Sgt | 37068995 |
| Joseph A. Dunwoody | S/Sgt | 19051559 |
| John T. Rodger | 1st Lt. | 0-862496 |
| Norman E. Eastmore | 2nd Lt. | 0-668908 |
| Loyal W. Fry | F/O | T-187479 |
| Clarence W. Overby | T/Sgt | 14039486 |
| Gerald J. Green | S/Sgt | 19055907 |
| Russell E. Hurst | 2nd Lt. | 0-731588 |
| John M. Taylor | 2nd Lt. | 0-736578 |
| James R. O'Dair | 2nd Lt. | 0-733347 |
| Robert W. Wilcox | S/Sgt | 27272504 |
| Harry B. Huber | S/Sgt | 13049192 |
| Charles H. Fields | Sgt | 35366493 |
| Norman R. Savingnao | 2nd Lt. | 0731675 |
| John L. Keithley | 2nd Lt. | 0-523210 |
| Harold R. Hodges | 2nd Lt. | 0-668950 |
| James A. Fawcett | S/Sgt | 12096582 |
| Grady (NMI) Vickers | Sgt | 6920610 |
Missing in Action
| | | |
| --- | --- | --- |
| Albert W. Berecz | 1st Lt. | 0-662429 |
| George W. Spuhler | F/O | T-187488 |
| Robert L. Smith | S/Sgt | 39303760 |
| Daniel R. Williams | S/Sgt | 14054073 |
| Robert (NMI) Waldo | Pvt | 16043337 |
| Quinton D. Standiford | 1st Lt. | 0-662504 |
| Vernon P. Shellabarger | 2nd Lt. | 0-738267 |
| Thomas B. Merrill, Jr. | 1st Lt. | 0-7255027 |
| Anthony H. Newsome | T/Sgt | 18033098 |
| George W. Wales | Sgt | 39165481 |
| Francis L. McEowen | S/Sgt | 15085927 |

The elapsed time for this trip was ten (10) hours and the crews returning from the mission were highly fatigued and nervous.

Several of the officers and men are still in the 77th, who were on the 11 September mission and the following is their narrative accounts of the action, and their reactions during the time over the target.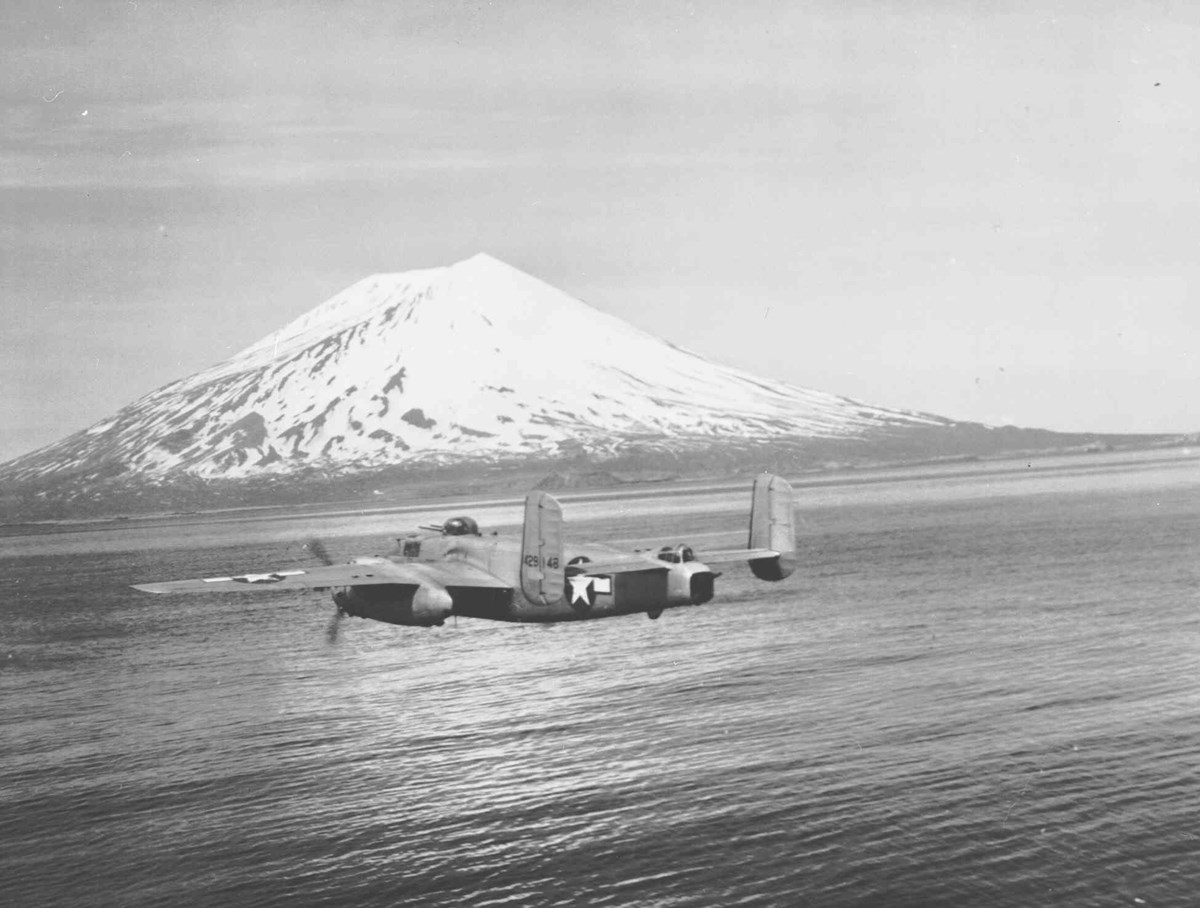 Firsthand Accounts: Paramushiru Straits, September 11, 1943
Interview about the Mission
After things settled down again after the Paramushiru mission further questioning was conducted, and every possibility was investigated to eliminate any further recurrence of 11 September.

The following is an interview conducted by Major William A. Herold, A-2 XI Bomber Command, with Major James L. Hudelson and Captain Robert Dennis [30 September 1943]:

QUESTION: Was there a synchronization of watches between the medium and heavies before takeoff?
ANSWER: I believe there was between Major Salter and Major Gash, but no synchronization of watches generally among all pilots.

Q: Did the mediums follow the heavies out?
A: Yes, we were in visual contact with them.

Q: Describe the route followed after landfall until the attack.
A: After landfall was made, the mission proceeded directly across Kamchatka at an altitude of 7,000 feet; went about 15 miles west of Kamchatka, turned south, and started letting down for the attack.

Q: Did you hear radio silence broken?
A: (Major Hudelson) My radio operator picked up a message on 5735. (A copy of the message was secured. Message sent by B-24 #891 at 1340. Radio silence broken).

Q: Did you see an enemy fighter trailing you prior to the attack?
A: No, we did not.

DURING THE ATTACK
(All question sin this section answered by Captain Dennis)
Q: What were the power settings used and I.A.S. during the attack? How long before the actual attack did you attain this speed?
A: Five miles before entering Paramushiru Straits, I started using full throttle, pulled 40 to 44 inches, (even saw 51 inches once) using full rich. My speed was 250 miles per hour.

Q: How long a time did you use these settings?
A: Between 30 and 35 minutes: All during bombing runs and during the attack by enemy fighters.

Q: What was your altitude of attack?
A: Between 10 and 50 feet.

Q: Did you see the heavies attacking?
A: No.

Q: Did you see any ship on fire or any smoke outs in the straits prior to your attack?
A: No.

Q: What was your impression of the shore lines of the straits and the general terrain near the shore?
A: I had the general impression that the shore lines were sheer cliffs ranging from 200 to 500 feet in height. The terrain generally rose very quickly to high altitudes back of the Paramushiru shore line.

Q: What AA fire did you receive?
A: We received fire from the top of the shore cliffs and I also had the impression that we were receiving fire from dug-in positions halfway up these cliffs. The last AA fire we received was from a battery on Suno Cape.

Q: Was there anything to the report we received that some 500# bombs exploded on contact?
Yes, Major Salter dropped one on a ship and there was an immediate explosion which threw my ship 200 feet in the air to the right rear. This caused the strap of the bombardier's gun to break. The gun hit him in the face and stunned him which prevented him from dropping his last two bombs. He later jettisoned these bombs. (See supplementary report by Ordnance Officer on this)

Q: Was any fire received from the easy and north sides of Shimushu?
A: Yes, we received fire from the vicinity of Suno Cape.

Q: When were you first attacked by enemy fighters?
A: We were attacked just after we turned left and left the strait. Enemy fighters dove on us from 2,000 feet, we were still on the deck.

Q: What was the duration of their attack?
A: They attacked for about 20 minutes.

Q: Did the missing planes show any evidence of battle damage or signs of distress?
A: Yes—Marrier couldn't close his bomb bay doors. One plane looked like it was hit on the left side by AA. I saw Rodgers last at Suno Cape and I believe he followed Major Salter.

Q: Did anyone have contact with Major Salter?
A: Rhees tried to contact Major Salter and Fry, Lt. Rodger's co-pilot, answered saying that Salter was hitting the water.

Q: Do you know if anyone saw Salter hit the water?
A: Yes. I saw him go down. There was a flash of flame from the leading edge of the wing and from the bomb bay but he made a good landing and skimmed along the water. No more flames were seen.

Q: Do you think there is any possibility of the missing planes having ruined engines from pulling too much mercury?
A: No, I don't think so. My plane wasn't at all affected.

Q: Did you see an enemy fighter with fixed landing gear?
A; Yes, I did. I don't know what it was. It had long, rather slim landing gear.

Q: Did you see anyone parachuting?
A: No.

Q: Did you have any communication difficulties?
A: No, none at all.
Remembering Major Salter
A lot of men were lost the 11 September, and we would like to pay homage to one in particular, Major Richard D. Slater. This writer has asked numerous officers and men to tell him about Major Salter, and what they knew about him. On every occasion the answer was, "no one knew him, no one could figure him out, all we know is he was from Texas, and one of the best Commanding Officers this Squadron ever had. Yes, he was tough, when he said dig a fox hole, he meant dig a fox hole, and the next day he personally looked to see if it was deep enough." When the officers were going to mess early and eating the bread and jam before the mess hour began, he told them the mess hours were so and so, and not to go to the mess hall before the designated time. He was tough, but he was honest. If he sent in a promotion for some officer in his Squadron, and any question came up about it he would say, "if he is good enough to be in my Squadron, he is good enough to be promoted, and if you think that he isn't worthy, I don't want him." He never asked anyone to do anything he personally did not do.

The Major was awarded the Silver Star for his gallantry in action on 11 September 1943.

As a result of the loss of Major Salter on the 11 September, Major Hudelson took command of the 77th on the 12 September 1943. The remainder of the month consisted of shipping alerts, ground school, and radar navigation and bomb trainer.
October 1943
On the 13th of October, 1943, the Japanese attacked Attu by air at 1952W. 3 B-25's were airborne; the other planes didn't get into the air because the attack was already in progress. A total of 9 bombs were dropped. One (1) fell into the water near the west end of the East-West runway, four (4) landed in the water near one of our cargo vessels and one landed on the north bank of a new road to Massacre Bay.

Causalities to personnel were three (3) slightly wounded; two (2) aboard the cargo ship and one (1) in the Sea Bee area, no other damage was received to either property or personnel. The entire raid lasted about seven (7) minutes, all enemy bombers using cloud cover for a hasty withdrawal. The Jap Bombers were "Betty's" and there were a total of eight (8). Our three (3) B-25's who took off to intercept the enemy, returned to base failing to make contact with the enemy due to weather.

In October, 1943, replacements for the crews lost on 11 of September 1943, mission arrived, and a training program covering all phases of aviation was started.
November 1943
During the month of November, 1943, the Squadron was standing shipping alert at Attu and Amchitka. One plane and crew was lost during the month of November. Lt. Roy (NMI) Robinson and crew was on an operational flight to Elmendorf Field, Alaska to attend instrument school. The plane went down between Umnak and Adak and nothing more has been heard of it. 1st. Lt. Irwin G. Price, from the S-2 Section, was a passenger enroute to Anchorage, Alaska for a much needed rest, was also lost.

Weather prohibited flying daily and training missions were flown when possible. Ground school classes were conducted including navigation, recognition, bomb trainer, and link trainer.

The transportation section was lost due to a fire that broke out on the night of 9 November 1943. Sgt. Fonder sleeping in a stout hut next to the garage was awakened when the fire broke into the walls of the hut next to his bed. He aroused the other men and Sgt. Jones called the Base Fire Department and then called Lt. Lynett, the motor officer at the time.

When Lt. Lynett arrived the garage was covered entirely by flames and the stout hut was burned to the ground. Vehicles parked near the garage were on fire and these included a command car, a 3/4 ton pick up, two jeeps, and a weapons carrier. Cpl. Batey suffered burns to his hands when he tried to drive the command car from the garage.

Three investigations were held by the Base Commander, APO 986 and the causes of the fire were determined as unknown, and the damage amounted to $5000.00.

In addition to the vehicles lost, there were loses of personal equipment to the men, a complete second echelon tool kit, welding equipment, small arms, and all the records of the transportation section.
December 1943
During the month of December, Major Hudelson flew to the mainland of Alaska to get a necessary amount of Christmas cheer for the men who would be thousands of miles away from home on this stormy, bleak island of Amchitka.

On Christmas Eve, a party was held for the officers and enlisted men in their respective mess halls, and even though everyone was thinking of home, a good time was enjoyed by all.