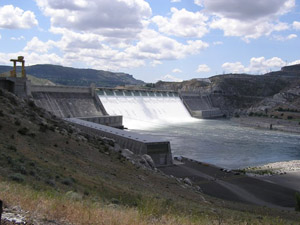 The Great Depression paved the way for some of Reclamation's greatest achievements as New Deal dollars flowed to the Bureau of Reclamation. On the Columbia River in Washington State, work began in 1933 on Grand Coulee Dam, one of the largest concrete structures ever built. Plans called for two hydroelectric powerplants – each to house nine of the largest generators ever constructed at the time. By April 1942, however, with America recently entered into World War II, only three of the eighteen generators were online.
The nation desperately needed Grand Coulee's generators to help produce the unprecedented amount of electrical power needed to make aluminum, used in the building of warplanes and ships. That same year of 1942, the President had set a goal of 60,000 new planes, a goal that would require 8.5 billion kilowatt hours of electric power. When wartime shortages prevented the delivery of additional generators to Grand Coulee Dam, the Federal government turned to Reclamation's Shasta Dam , still under construction in northern California. Two of Shasta's 75,000 kilowatt generators, sitting in storage, were hauled to Washington and installed at Grand Coulee instead. The first unit from Shasta went into service at Grand Coulee Dam on February 25, 1943, followed by the second unit on May 7.
By 1944, Bureau of Reclamation powerplants in the West had quadrupled their hydroelectric power output. By war's end the following year, Reclamation powerplants had produced 47 billion kilowatt hours of electricity, enough to make 69,000 airplanes, 7 million aircraft bombs, 5,000 ships, 5,000 tanks, 79,000 machine guns, and 31 million shells. Electric power generated at Grand Coulee was so important to the war effort that its power accounted for as much as one-third of the aluminum used in aircraft during World War II. It was power from Grand Coulee, as well, that charged reactors at the nearby, top-secret Hanford Site, which figured prominently in the making of plutonium supplied to Los Alamos for the atomic bomb.

As hundreds of thousands of people moved west in the 1940s to work in the war industries, cities grew, especially in the three Pacific Coast states, where population mushroomed by a third between 1940 and 1945. With the end of the war, surplus electricity from Federal powerplants was put to use in rapidly developing peacetime industries. Industrialist Henry J. Kaiser, for instance, turned a wartime aluminum plant into Kaiser Aluminum's Trentwood plant, which continues today to employ people in the Spokane Valley of Washington.