40th Anniversary of Lowell National Historical Park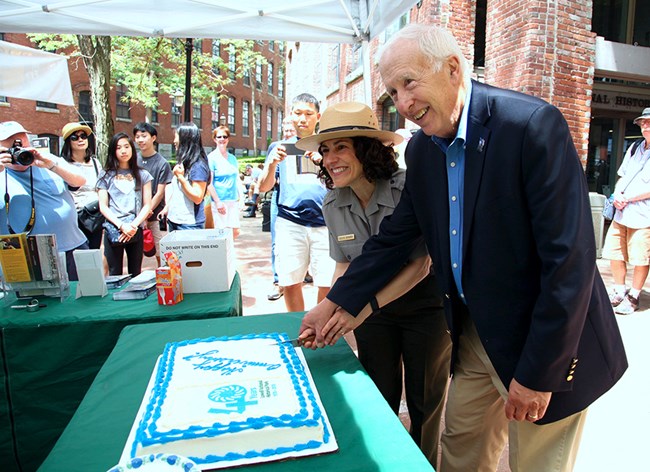 June 5, 1978, President Jimmy Carter signed legislation creating Lowell National Historical Park. On Saturday, June 9, the park celebrated the 40 years with a special day of family programs, tours, personal remembrance interviews of the park, and cake.
A special walking tour, highlighting 40 years of the park and city preservation efforts along with current projects shaping the downtown, was presented by Christine Bruins, park planner and Peter Aucella, assistant superintendent. Another walking tour offered by Resi Polixa, park ranger, provided visitors a glimpse into the Acre neighborhood and communities there historically and currently.
Family activities were offered throughout the day at Market Mills, at Swamp Locks, and aboard the canal tour boats. Park rangers and Tsongas Industrial History Center museum teachers engaged youngsters and the young-at-heart in creative and futuristic undertakings. A "Story Station" was set up to capture and record personal recollections from community members. Folklorist Millie Rahn facilitated interviews with several community members who told stories of the park's creation and impact. These stories will be cataloged and incorporated into the park's archival collections.
Superintendent Celeste Bernardo addressed a crowd for a special recognition of the park. Bernardo wove a narrative of the park's development and those involved with the park and the importance the community is to the park. City of Lowell Mayor William Samaras recognized the contributions of the park to the city and recounted his experiences before and after the park's creation to the city. Together, both Bernardo and Samaras cut and served the anniversary cake to the assembled visitors.
Last updated: June 13, 2018