"As a regiment we cannot be excelled, as men, we have only our equals, but as citizens, our motto is, veni, vidi, vici. We came as soldiers, as men we saw and acted upon, and as the noble handiwork of God, we have conquered one-half of the prejudice that has been for the last half-century crushing our race into the dust. And now . . . it affords us, I say us, for I share in common with my poor benighted race, a happy time in thinking that through the instrumentality of an all-wise Providence we are considered, by all that are lovers of the Union and Freedom, freemen."
—Private Jacob S. Johnson, Company H, 25th USCT, January 22, 1865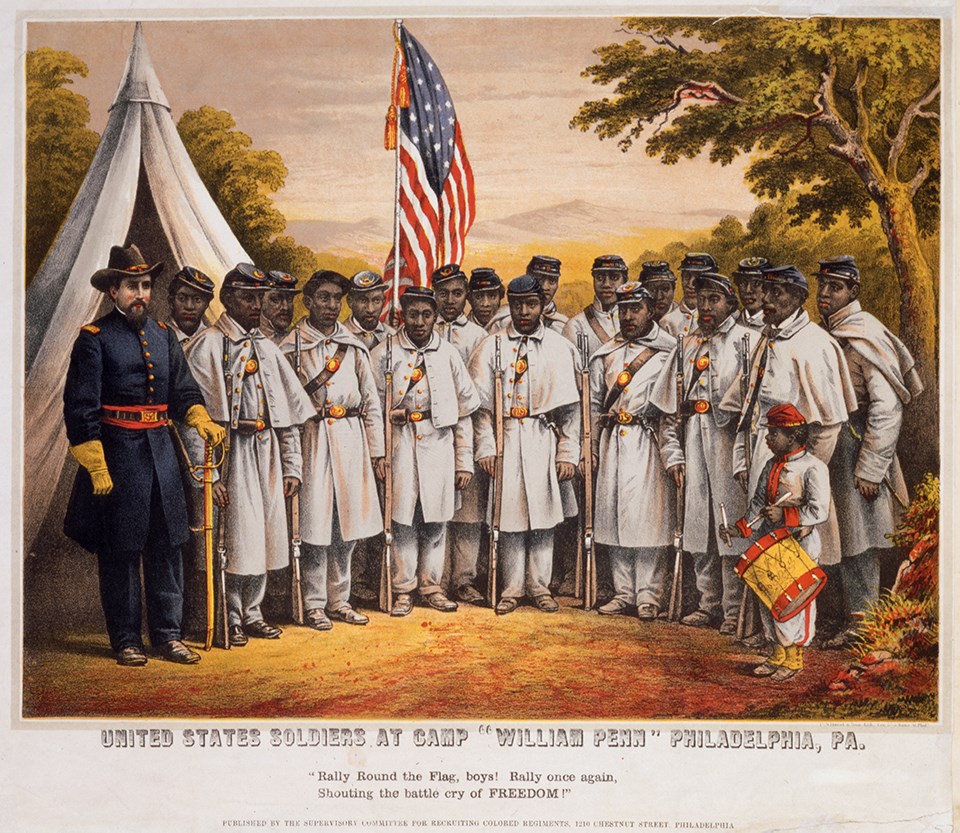 During the Civil War, men of African descent fought to preserve the nation they helped create and extend freedom to enslaved people. Black infantrymen in the 25th United States Colored Troops (USCT) carried freedom's banner into northwest Florida. From Pensacola Bay, the 25th helped save the Union, end slavery, and prepare for a new future.

Black enlistment sparked mixed reactions from a white North. Prejudice toward blacks initially resulted in unequal service compared to white troops. In time, many white Northerners outgrew their assumptions about black soldiers. They came to support black recruitment to help prevent the Union's downfall and the loss of more white lives. Through service and sacrifice, black men proved their right to be treated as equals.
New recruits traveled to Camp William Penn in Philadelphia in the winter of 1864 to join the 25th USCT. Around 1,000 men volunteered. Most who joined were freemen while some were emancipated slaves. Each recruit was expected to serve for three years or until the war ended. Black men served in enlisted positions while white men served as officers. The regiment's first leader was Colonel Gustavus H. Scroggs, later replaced by Colonel Frederick L. Hitchcock.
The regiment received uniforms, equipment, and weapons in Philadelphia. They were also presented with two flags to carry during their service. One flag symbolized the Union and the other the 25th USCT. The regimental flag depicted Columbia, the goddess of liberty, making a fugitive slave into a soldier. Everywhere the 25th marched, its flags spread freedom.
The 25th USCT left Philadelphia in March 1864 and served briefly in Beaufort and New Orleans. They arrived on Pensacola Bay in July. The regiment was split between forts Pickens, Barrancas, and Advanced Redoubt.
Sickness made life miserable on Pensacola Bay. "Scurvy has been amongst our ranks since our embarkation from Philadelphia, and many a stout heart has yielded to its influence, and passed to that bourne from whence no traveller ever returned," Private Jacob S. Johnson wrote from Fort Pickens.
At Fort Barrancas, Sergeant Daniel Thompson complained about the black soldier's pay. "The only thing that troubles the boys at the present ti[m]e is the non-appearance of the Paymaster," Thompson wrote. "We have only been paid off once, and then we only got seven dollars a month." Thompson soon learned that Congress authorized black troops to receive equal pay as white men.
To prepare their men for life after the army, officers set up schools to increase literacy. At Advanced Redoubt, Sergeant Milton Harris was impressed with one officer who gave books to the men "so that a great many of them could learn to read and write."
Many men found comfort in religion. "At present, in Fort Pickens, we are having what our brethren at home would call a revival," Chaplain Enoch K. Miller said. "There is scarcely an enlisted man in the fort who does not come out to our meetings when off duty."
Some soldiers learned more about the horrors of slavery. "I often sit down and hear the old mothers down here tell how they have been treated. It would make the heart ache," Sergeant William H. Watson wrote. "They have frequently shown me the deep marks of the cruel whip upon their backs."
Like most black regiments, the 25th did not take part in any battles during its service. White officers doubted black soldiers would fight, so USCT regiments guarded forts. The regiment had hoped to march on Mobile in March 1865 but was left on Pensacola Bay instead. "We were compelled to witness our brethren marching forth against the foe, while we remained to protect Government property," Chaplain Miller wrote.
The 25th USCT served until December 1865. Most of the men returned home but over 180 perished during the war, having given their lives so that the nation might live. The men of the 25th USCT ensured future generations had the opportunity to advance the nation's virtues.
Bates, Samuel P. History of Pennsylvania Volunteers, 1861-5. Vol. 5. Harrisburg, PA: B. Singerly, 1861-1871.
Bedford, Alexander J. "FLORIDA CORRESPONDENCE." Christian Recorder (Philadelphia), March 4, 1865.
Black Soldiers in Blue: African American Troops in the Civil War Era. Edited by John David Smith. Chapel Hill, NC: The University of North Carolina Press, 2014.
Davidson, Shayne. Civil War Soldiers: Discovering the Men of the 25th United States Colored Troops. Self-published, CreateSpace, 2014.
Harris, Milton "A SOLDIER'S LETTER." Christian Recorder (Philadelphia), December 17, 1864.
Johnson, Jacob S. "ARMY NEWS." Christian Recorder (Philadelphia), February 18, 1865.
Johnson, Jacob S. "FLORIDA CORRESPONDENCE." Christian Recorder (Philadelphia), December 3, 1864.
Johnson, Jacob S. "LETTER FROM A SOLDIER." Christian Recorder (Philadelphia), January 22, 1865.
Luke, Bob and John David Smith. Soldiering for Freedom: How the Union Army Recruited, Trained, and Deployed the U.S. Colored Troops. Baltimore: Johns Hopkins University Press, 2014.
Miller, Enoch K. "LETTER FROM CHAPLAIN MILLER." Christian Recorder (Philadelphia), May 6, 1865.
Miller, Enoch K. "LETTER FROM FLORIDA." Christian Recorder (Philadelphia), March 4, 1865.
"The Emancipation Proclamation." The U.S. National Archives and Records Administration. Last modified April 17, 2019.
Thompson, Daniel. "For the Christian Recorder." Christian Recorder (Philadelphia), December 17, 1864.
Strike for God and . . . 25th United States Colored Troops. United States, None. [Between 1863 and 1865] Photograph.
"Soldiers and Sailors Database." The U.S. National Park Service.
Watson, William H. "LETTER FROM FLORIDA." Christian Recorder (Philadelphia), March 18, 1865.