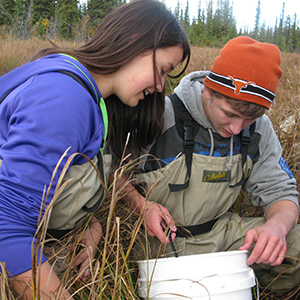 Project Coordinators: 

Robin Mayo, Wrangell Institute for Science and Environment

Glenn Hart, Wrangell St. Elias National Park 

Kate Morse, Copper River Watershed Project

Marnie Graham, Bureau of Land Management--Glennallen
The Copper River Stewardship Program (CRSP) is a place-based learning expedition designed to engage local high school students in a hands-on exploration of the Copper River Watershed. In 2015, students spent 11 days exploring the watershed and participating in research and conservation projects. 
One of the highlights of the trip was participating in a multi-day rafting trip of the Copper River, along the border of Wrangell St. Elias National Park and Preserve. During the trip, students made observational studies of the ecosystem and contribute to the area's scientific community. The students also participated in Salmon Blitz, a citizen science project that aims to identify salmon habitat for inclusion in the Alaska Department of Fish and Game's Anadromous Warers Catalog.