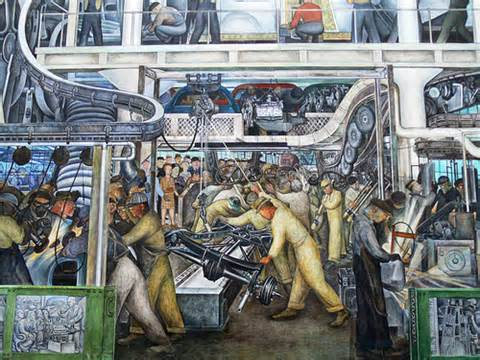 The Detroit Industrial Murals:
Detroit Institute of Arts, Detroit, Michigan
Between 1932 and 1933, Diego Rivera, a premier leader in the 1920s Mexican Mural Movement, executed the United States' finest, modern monumental artwork devoted to industry. The Detroit Industry Mural Cycle depicts the City of Detroit's manufacturing base and labor force on all four walls of the Detroit Institute of Art's garden court. Diego Rivera is credited, along with José Clemente Orozco and David Alfaro Siqueiros, with the reintroduction of fresco painting into modern art. Detroit Industry is an exemplary representation of the introduction and emergence of Mexican mural art in the United States between the Depression and World War II. This movement significantly impacted this country's conception of public art. Rivera's technique for painting frescoes, his portrayal of American life on public buildings, and the 1920s Mexican mural program itself, directly influenced President Franklin D. Roosevelt's New Deal mural programs.