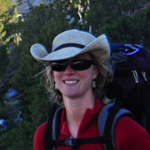 Discover Denali 2012 Research Fellowship:

Kelly Sivy, University of Alaska Fairbanks (Masters student)
Denali National Park and Preserve


Kelly Sivy is interested in using a method that does not require animal capture to determine the presence and relative abundance of furbearers, such as coyotes, red foxes, and lynx in the vicinity of Denali National Park and Preserve. In winter, she plans to survey wildlife tracks and collect scats along snowmachine transects in the Stampede Road corridor. She'll use these surveys and scat to determine if populations of these mesocarnivores change with the availability of prey such as snowshoe hares, the presence of top carnivores (wolves), and a changing climate (i.e., the amount of snow). In addition to gathering baseline data about population sizes of mesocarnivores, she will be able to test a monitoring method that is non-invasive.