Article
Case Study: Worcester County Courthouse, Worcester, Massachusetts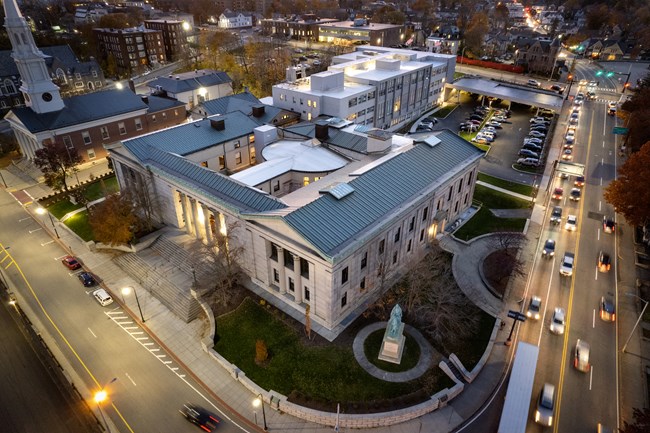 Positioned in the heart of Worcester's Lincoln Square, the former Worcester County Courthouse has remained a regional landmark since its doors opened in 1845. Conceived as an impressive Greek Revival-style two-story granite structure with a single courtroom, it was expanded over the next century through a series of building campaigns that began with an addition in 1878. The massive main block was completed in 1898, and the rear annex concluded the courthouse construction in 1957.

After municipal activities ceased in 2007 and the complex was decommissioned, the interconnected group of buildings existed as a dense and underutilized labyrinth of offices, hallways, and monumental spaces. For local leaders, redeveloping the property presented a unique opportunity to accomplish two goals: preserve a regional landmark and address an increasingly urgent need to provide new mixed-income multifamily housing. Through a public bidding process in 2017, the City selected Trinity Financial to redevelop the property.

Trinity was able to finance and implement the $57 million redevelopment by utilizing a complex mix of funding sources, including Federal and State low-income housing tax credits, Federal and State historic tax credits, municipal and State subsidies, and private contributions. Construction began in the Spring of 2019 and extended through the COVID-19 pandemic before reaching completion in the Summer of 2021. The project ultimately produced 118 rental apartments that are affordable to households at five different income levels. Unit types vary in style between lofts, townhouses, and apartments. Highlights of the rehabilitation include retention of five complete courtrooms, nine lobbies, 10 hallways, and 15 stairs. Historic furniture, including judges' benches, counsel tables and lecterns, were retained throughout the building, as well as original signage, doors and hardware, plaster ornamentation, wood trim, and terrazzo and hardwood flooring. Several prominent statues and monuments along the perimeter of the property were also restored. The project introduced a series of new, modern amenities to the building including a fitness center, game room, pet spa, and makerspace to service creative professionals.

The Major Taylor Museum, coordinated in partnership with the Major Taylor Association and the Worcester Historical Museum, honors the life and legacy of Marshall Walter "Major" Taylor in a 1,700-square-foot exhibition space. Visitors can learn about the first African American world champion cyclist, who spent most of his life in Worcester. The museum provides descriptive information panels, interactive touch screens, select memorabilia, and an interactive bike exhibit. Admission is free.

Renamed "Courthouse Lofts," the former courthouse was recently awarded the 2022 Jack Kemp Award for Excellence in Affordable and Workforce Housing by the Urban Land Institute, the 2022 Paul and Niki Tsongas Award for commitment to historic preservation from Preservation Massachusetts, the 2022 Commercial Rehabilitation Award from Preservation Worcester, and the Major Taylor Museum was the recipient of the 2022 Game Changers Award from the Worcester Regional Chamber of Commerce.

Courtesy: Alisa M. Augenstein, The Public Archaeology Laboratory, Inc.
Last updated: March 9, 2023