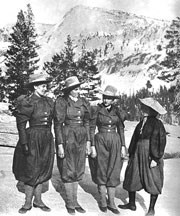 Stella, Bertha and Mabel Sweet and friend Maybel Davis ascended Mt. Lyell, the highest mountain in the park, in 1896. They were the third group of non-Native women to climb Mt. Lyell and the first non-Native group to descend into Tuolumne Canyon. Dressed in leggings, bloomers and wide-brimmed hats, these four adventurous women took a shortcut down by sliding down the glacier to descend at "a mile a minute." The photograph on the left was captured by their brother, and the San Francisco Chronicle wrote about them.
Sally Dutcher became the first non-Native woman to climb Half Dome in October 1875, accompanied by George Anderson and Galen Clark. She worked as an assistant to photographer Carleton Watkins in his gallery.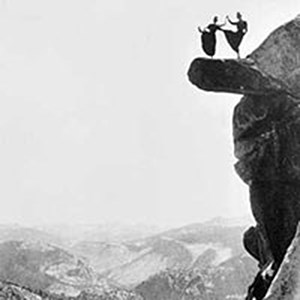 Kitty Tatch was a maid and waitress at the Sentinel Hotel in the late 1890s and early 1900s. Dressed in long wide skirts identifying her clearly as a woman, she danced and did high kicks at Overhanging Rock, 3,000 feet above the Valley, on Glacier Point with her friend Katherine Hazelston as George Fiske photographed them. These pictures were later made into postcards, autographed by Tatch, and sold for years.
In a more modern context, Liz Robbins became the first non-Native woman to ascend the Northwest face of Half Dome in 1967 with her husband, Royal Robbins. In 1973, Bev Johnson and Sybille Hectell completed the first non-Native, all female ascent of El Capitan.