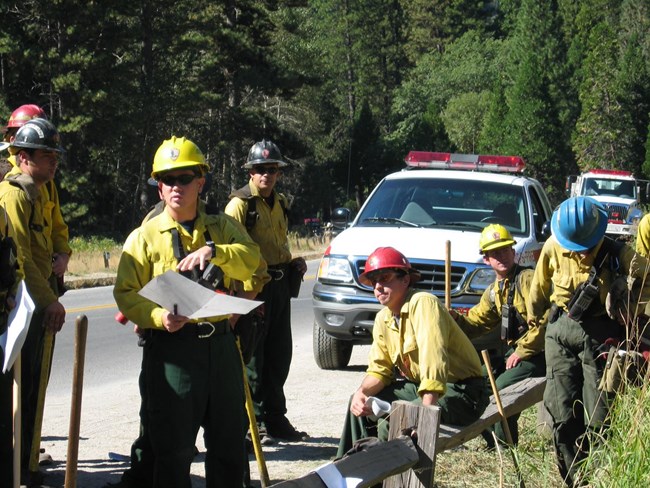 The National Park Service recently conducted Wildfire Resource Advisor training for over 600 interagency participants. Resource Advisors, or "READs", play a crucial role protecting resources during wildland fires by advising fire managers on impacts from wildfires and fire suppression efforts. The three-day online webinar reached over 600 participants and was a resounding success. Students successfully completing the post-course evaluation received credit for the National Wildfire Coordinating Group course, N-9042.
"This is the second year we have hosted the training via webinar due to the ongoing COVID-19 environment," said Cedar Drake, course organizer from North Cascades National Park. "Online training has it's challenges, but we are really pleased with the student comments and high number of people we have been able to reach."
The course organizers managed to make the most out of what could have been construed as challenges. In an in-person, brick-and-mortar environment, course participants are usually limited to 25-60 participants. This webinar allowed the training to host ten times that with participants from around the country. Attendees represented a wide spectrum of agencies, disciplines, and twelve Native American Tribes, many of whom would not have been able to attend in person.
"Virtual training can be a cost-effective way to get staff prepared for the upcoming fire season," said Nelson Siefkin, the course registrar and READ Coordinator for NPS Regions 8,9,10, and 12. "If there is one thing COVID-19 has taught us, it is that there are other ways of doing business and even after things return to 'normal' we may continue to utilize virtual means for accomplishing work as practical and appropriate."
The virtual nature of the training attracted attendees from all over. Participants logged in from as far away as Alaska to Maine. Additionally, the instructor cadre selected for the course represented an extensive combined READ expertise in teaching of this course, and brought together a group of experts that even in non-COVID-19 years would have been hard to assemble. The presenters, all of whom have worked together in the past, clearly share a philosophy, passion, and commitment to the position. They were able to come together in a positive, collaborative way that created an inclusive, warm, respectful, team environment that many participants noticed and appreciated.
One participant commented on a presentation by Jason Nez, Archaeological Technician at Grand Canyon National Park, "Jason's perspective on life and values are very inspirational and a breath of fresh air. Definitely someone I would love to work with. Thank you for your words."
The webinar was recorded, adding to the body of reference material for future use-which will extend the reach of the course even further, and allowing students to revisit key concepts or knowledge.
"In a year when many training courses are being cancelled and the need for those willing to serve in any wildland fire capacity is projected to be greater than ever, this Wildland Fire Resource Advisor course demonstrated NPS creativity, and leadership in the commitment to resource protection," said Lisa Hanson, past-chair of the National Wildfire Coordinating Group subcommittee on Resource Advising.