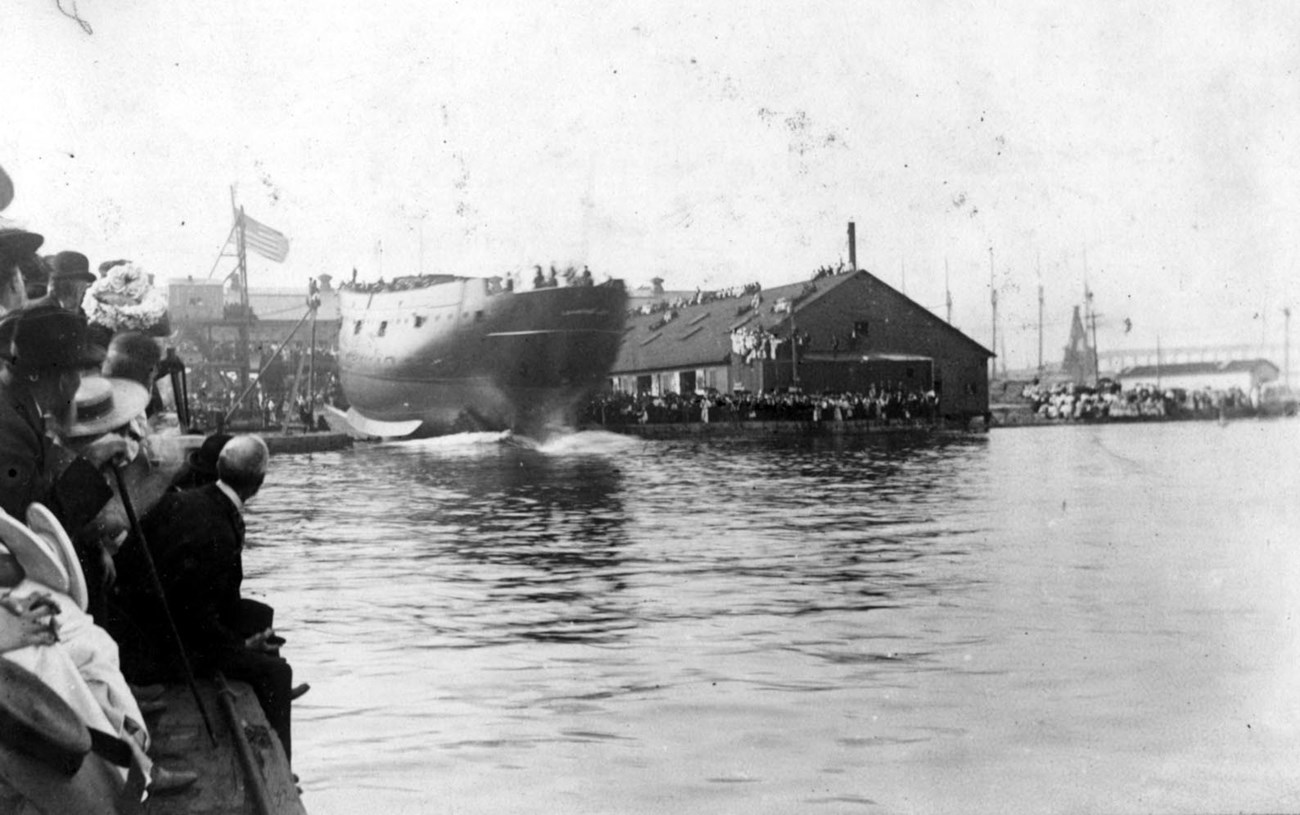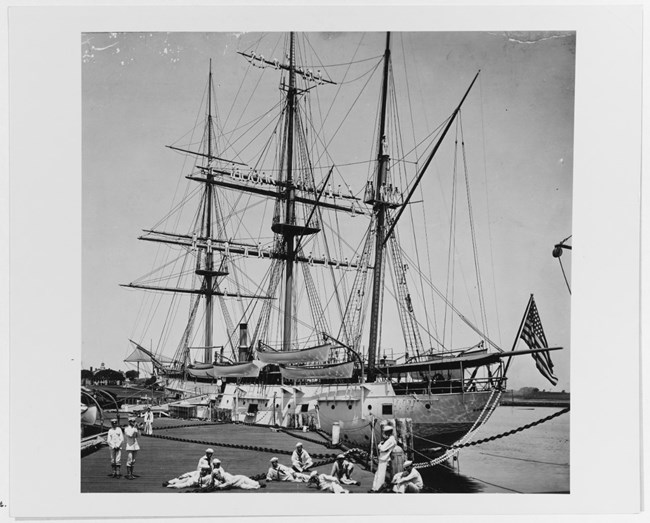 Training Ship #1
The USS Cumberland was the first steel ship built in the Charlestown Navy Yard for the US Navy. Workers constructed this ship during the era of the New Navy, which began in the 1880s with steel ships powered by steam engines.
Like every vessel in the Navy, the Cumberland still had masts and sails, but unlike other Navy ships, the Cumberland did not have a steam engine. The Cumberland served as a training ship as the Navy wanted new sailors to learn to sail a ship the old-fashioned way, without steam. The Cumberland otherwise had the same technology as any other navy vessel at the time.
The USS Intrepid, also a steel-hulled bark and designated Training Ship #2, was built in 1904 in Mare Island Naval Shipyard, the first US Navy Yard on the Pacific Ocean.
The Navy named the Cumberland for its famed Civil War namesake, a frigate that fought the CSS Virginia in 1862. This original Cumberland was built in the Charlestown Navy Yard in 1842 and it had a distinguished twenty-year career.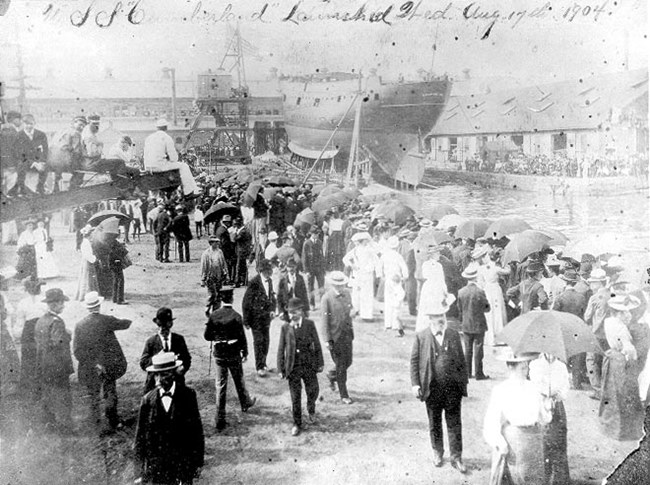 Construction and Launching
Charlestown Navy Yard workers and their supporters had appealed to the Navy to build a battleship in the Charlestown Navy Yard. Getting tasked with such a project was considered prestigious. Instead of a battleship, the Navy gave Yard workers three new projects: the USS Cumberland, two steel tugboats, and 16 wooden coal barges. Coal was still the major fuel for US Navy ships.
In August 1904, sixty-five thousand spectators came to the Yard to witness the launch of the new Cumberland. The launching date was timed to match a convention of Civil War veterans in Boston of the G.A.R. (Grand Army of the Republic).
The 1904 Cumberland served as a training ship at a number of naval stations but served longest at the US Naval Academy in Annapolis, Maryland from 1919 to 1946. The Navy disposed of the ship in 1947. Today, the US Navy no longer uses current, commissioned vessels solely dedicated to training sailors.
Sources
A. Maurice, Low, "Not for Boston: 'Twould Cost Too Much to Fit Up Yard." Boston Daily Globe. July 2, 1902, 6.
Bearss, Edwin C.. Historic Resource Study: Charlestown Navy Yard, 1800-1842, Volumes I & II, 1984.
Bearss, Edwin C. and Black, Frederick R.. The Charlestown Navy Yard 1842-1890, July 1993.
Black, Frederick, R. Charlestown Navy Yard 1890-1973, Cultural Resource Management Study No. 20, Volumes I & II, 1988.
"Building of Warships: Meeting in Faneuil Hall." Boston Daily Globe, June 13, 1902, 9.
"For the New Ship, 65,000 People Cheer." Boston Daily Globe, August 18, 1904, 8.
Hooper, Craig. "Damn the Torpedoes Add Training Ships to the U.S. Navy Shopping List." Fortune Magazine. March 21, 2019.
"USS Cumberland, Training Ship #1." NavSource Online: Service Ship Photo Archive, http://www.navsource.org/archives/09/46/46008.htm