Article
Ulysses S. Grant's Horsemanship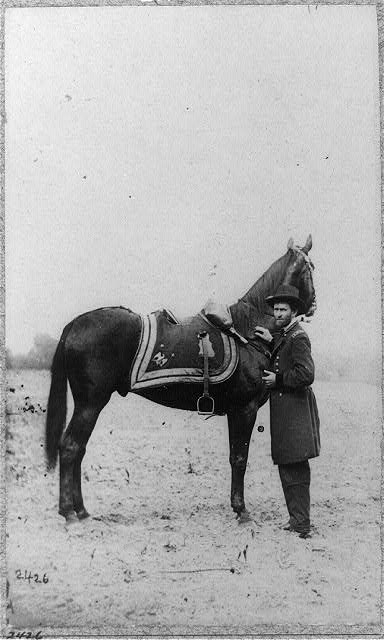 If Ulysses S. Grant had lived in the 20
th
century, he probably would not have been a famous general and president. He most likely would have been a well-known jockey or trainer. He may have been the Eddie Arcaro
1
of his time, or the Woody Stephens
2
of his day. When he graduated from West Point in 1843, Grant only weighed around 120 pounds, which is close to what most jockeys weigh today. He would have needed to lose a few pounds to ride, but it was definitely within his grasp to do so. Grant was known to ride and race horses, even in his own time. Grant purchased a thoroughbred of his own when he was a young man, and he would often race against other competitors. Grant was often invited to ride and race horses for other horsemen, and people often liked to have him visit their homes to talk about horses.
From the time Grant was just a small boy, he had a natural ability with horses. He was known to train horses for his neighbors in Georgetown, Ohio. While serving as a junior officer in the Army, he would follow horse racing where he was stationed. When he was serving in Louisiana before the start of the Mexican-American War, Grant attended the races close to his camp. In a letter to Robert Hazlitt in 1844, Grant mentions: "There were five days' races at Natchitoches. I was there every day and bet low, generally lost." Grant even hoped to be stationed in Detroit again after being sent to Sackets Harbor, New York. In 1851, Grant told one of his fellow officers, "I see from my Detroit paper that sporting is on the ascendent in your place and that some of the nags make good time. I should like very much to change back again to Detroit." Maybe Grant would have been a track prognosticator if he had lived during the 20
th
century. He could have been the Mike Battaglia
3
of his time trying to predict the outcome of each race.
Detroit had also been a place Grant enjoyed being stationed because buggy racing was very popular around the city. Grant was known for his ability to ride horses, but he could also handle the reins while driving horses in a wagon or buggy. While stationed in Detroit, Grant purchased a little horse for $200 from a local politician by the name Dave Cicotte. The horse did not look good for very much, but with Grant's training the horse became a speedy buggy racer. The horse had a natural ability as a pacer. The horse gained a reputation around Detroit as a fast horse, and many knew the horse simply as "The Cicotte Mare." According to one Detroit resident, Grant bet that his horse could carry himself and a passenger from Dequindre Street Bridge all the way to the Michigan Exchange in record time. Grant would win the $50 bet when his little horse finished with a fast burst of speed. Maybe Grant could have been a harness racer if he had lived in the 20
th
century.
If Grant had lived in the 20
th
century, he probably would have been a great thoroughbred trainer. As he got older in life, he weighed too much to be a jockey. His ability to bet on horses was not always the best, so being a prognosticator would probably not happen. However, he always could train horses with the best of them. After Grant bought
White Haven
from his in-laws, he turned the property into a horse farm. Grant was always up on the newest information for taking care of horses, and he was very attentive to the health of all his horses. While in Washington, DC, even though he was many miles away from his horse farm at
White Haven,
he made sure to send notes to his caretaker William Elrod to do the things needed to maintain the health of his horses. Grant apparently kept himself up on the latest care for horses. In 1866, Grant wrote to Alexander Dunbar: " Explaination (sic) of your system of treating the feet of horses satisfies me not only that it is the best treatment yet devised but that almost all complaints leading to lameness of the horse, though apparently in the knee, hip, shoulder or elsewhere, really exists in the foot. I have had your treatment applied, with advantage to four very valuable horses of my own and have witnessed the effect of your treatment on some of the most valuable horses in the United States."
Grant was often breeding horses on his farm for racing, and for doing work. Even while Grant was on his trip around the globe in the late 1870s, after his presidency ended, he was involved in gaining horses for his farm. During the summer of 1879, Grant wrote from Tokyo, Japan: "I see by the latest home papers that the Sultan of Turkey has carried out his design and sent me two Arab horses."
White Haven
may have become the
Calumet Farm
of its day with numerous Kentucky Derby champions if Grant had not lost the property when he was swindled by his business partner. Ulysses S. Grant could have been a Kentucky Derby, Breeders' Cup, or Triple Crown champion trainer, possibly all three, if he had lived in the 20
th
century. Grant's ability with horses could have put him at the top of the horse racing world. There's a good possibility that he would have been sitting in Millionaires Row at Churchill Downs on the First Saturday in May smoking a cigar while watching his horse win the Run for the Roses.
1
Eddie Arcaro was an American Thoroughbred horse racing Hall of Fame jockey and the only rider to have won the U.S. Triple Crown twice.
2
Woody Stephens was an American Thoroughbred horse racing Hall of Fame trainer.
3
Mike Battaglia is an American horse racing analyst and race caller.
Suggested Reading:
Dowdall, Denise M.
From Cincinnati to the Colorado Ranger: The Horsemanship of Ulysses S. Grant.
Historyeye: Dublin, Ireland, 2012.
Grant, Ulysses S.
The Papers of Ulysses S. Grant, Vol. 1 1837-1861.
Edited by John Y. Simon, Southern Illinois Press: Carbondale and Edwardsville, 1967.
Grant, Ulysses S.
The Papers of Ulysses S. Grant, Vol. 16 1866.
Edited by John Y. Simon, Southern Illinois Press: Carbondale and Edwardsville, 1988.
Grant, Ulysses S.
The Papers of Ulysses S. Grant, Vol. 29 October 1, 1878-September 30,
1880.
Edited by John Y. Simon, Southern Illinois Press: Carbondale and Edwardsville, 2008.
Perret, Geoffrey.
Ulysses S. Grant: Soldier and President.
Random House: New York, 1997.
Last updated: April 21, 2022