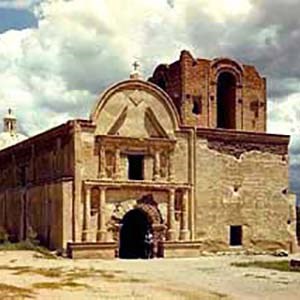 The missions of the Southwest tell the dramatic story of the first Europeans who came to southern Arizona and of the native people who lived there. In 1691, Padre Eusebio Francisco Kino visited the O'odham village of Tumacácori in the upper Santa Cruz Valley in present day Arizona. More Jesuit missionaries, Spanish soldiers, settlers, and missionaries of the Franciscan order followed Padre Kino. The missionaries created a chain of missions along the Santa Cruz Valley that included Tumacácori and nearby Los Santos Ángeles de Guevavi (est. 1691) and San Cayetano de Calabazas (est. 1756) with the aim of Christianizing the O'odham residents and turning them into Spanish citizens. The missionaries encouraged the development of organized communities in which the O'odham attended daily services and worked together on farming, building, and other community activities. Tumacácori National Historical Park includes three of the oldest missions in Arizona.
Major local and international events - like a Pima uprising in 1751, the move of the Tumacácori community across the Santa Cruz River in the early 1750s, and the expulsion of all Jesuits from New Spain in 1767 - affected the mission site. The ever-present threat of Apache raids, European diseases, and the unforgiving desert environment combined to make life very difficult for these frontier communities.
By 1800, the Franciscan missionaries were leading the Tumacácori community in building a new church. The work progressed slowly, as poverty, the new independence of Mexico, continued Apache attacks, and the loss of their last priest in 1828 stalled construction. During a particularly hard winter, following yet another Apache attack, the people of Tumacácori abandoned their community to join the O'odham at San Xavier del Bac near Tucson, ending the site's history as a mission.
Travelers remarked upon the fine state of preservation of Tumacácori into the late mid-19th century. American settlers and American troops moved into the area and established forts and homesteads. Regrettably, weathering and vandalism by passersby caused extensive deterioration of the mission church.
On September 15, 1908, President Theodore Roosevelt signed a proclamation to create Tumacácori National Monument on ten acres. The proclamation described its significance as, "the Tumacácori Mission, an ancient Spanish ruin, which is one of the oldest mission ruins in the Southwest … and in remarkable repair, considering its great age, and of great historical interest" (Proc. No. 821). The U.S. Forest Service administered the national monument until 1918, when it passed to the National Park Service. In 1990, Congress expanded Tumacácori NM into a National Historical Park encompassing the Guevavi and Calabazas mission sites.
The Park is located on 360 acres in three separate units, and is visited by 50,000 people each year. Visitors can watch cultural demonstrators make traditional crafts, sample a handmade tortilla, and take a self guided tour or join a tour led by a Park Ranger or Volunteer.