Article
Top Ten Tips For a Summer Visit to Rosie the Riveter/WWII Home Front National Historical Park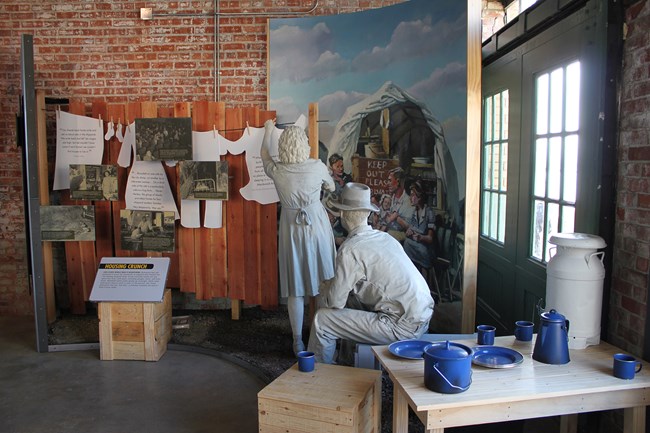 1.
Check the Weather Before Visiting
Our park website weather page can give you current temperatures and weather.
2.
Make sure your first stop is the Visitor Education Center
Rangers and docents can provide information on how you can explore the historic sites around the city of Richmond. Also, there are park films, interactive exhibits and staff who will provide a driving map.
3.
Visit the Red Oak Victory Ship
The Red Oak Victory Ship is not owned by the National Park Service, but is an important part of the Home Front History. Park staff can provide a map and directions, in addition to the website (linked above).
4. Walk the Bay Trail!
The Bay Trail is a long, scenic trail that runs along the bay. The trail also runs along the front of the visitor center. Guests can enjoy a casual stroll along the waterfront. You might need a light jacket if it's windy and cool.
5.
Visit the Rosie the Riveter Memorial
The memorial can be accessed by car or by walking from the visitor center on the Bay Trail. The walk is about 20 minutes each way.
6. Participate in a Vitrual Talk with Ranger Betty Reid Soskin
Check out our
park website Calendar of events
. Betty's program is hosted on Microsoft Teams each Thursday at 2pm - 3pm Pacific Time. More details in the event listing.
7. Wear Sunscreen
If you plan on walking along the Bay Trail or visiting various historic sites around Richmond, it would be a good idea to wear suncreen.
8. Dress Comfortably
You may be moving around the visitor center and the city of Richmond more than you realize. If you plan on walking around the sites, visiting the memorial or enjoy the trail, it's always a good idea to be dressed in comfortable attire.
9. Bring Bottled Water
There are water fountains available in the visitor center, but not in all areas of the city and sites. It's always a good idea to carry a bottle bottle with you if you're exploring outside of the visitor center.
10. Become a Junior Ranger!
Ask about our Junior Ranger program for kids of all ages. You can earn your badge at the visitor center.
Last updated: June 9, 2021