Article
Theodosius Fowler: : Revolutionary War Soldier, Successful Merchant in early America, buried at St. Paul's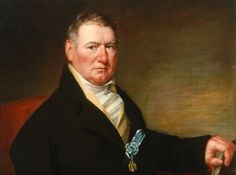 A critical choice of the correct side in the American Revolution, meritorious service in the Continental army and associations with influential leaders forged in the crucible of battle helped to establish a successful life post war life for Theodosius Fowler, who is buried in the historic cemetery at St. Paul's Church National Historic Site.
Theodosius was born in 1753 into one of the more prominent families in the Eastchester, New York community, about 20 miles north of New York City. His father Jonathan was perhaps the leading patrician in the small town, serving as a judge and militia leader. Jonathan also developed plans for the new stone St. Paul's Church edifice, on which construction began in 1763 when Theodosius was ten. Reflecting a pattern among the area's wealthier citizens -- and those who had taken an oath to support the Crown often as jurists or Anglican clergyman -- Jonathan emerged as a staunch supporter of the existing Imperial relationship in the Revolutionary ferment of 1774-6.
Judge Fowler's public profile as a conservative leader in the Revolutionary debate led to his arrest at home and imprisonment in New Haven, Connecticut by a Patriot militia band led by Isaac Sears in November 1775. Rev. Samuel Seabury, Rector of the Church of England parish that included St. Paul's, was also taken prisoner by the group of perhaps 50-60 armed men who swept through Westchester County. Through controversial writings against the Continental Congress in "Letters of a Westchester Farmer," Rev. Seabury had developed a reputation as a prominent Loyalist. Under duress and threats, Jonathan Fowler recanted his support for the Crown, one of many Loyalists who made public pronouncements withdrawing their opposition to the Patriot cause that year, although he remained suspect in the eyes of local vigilance committees.
Of particular relevance for Theodosius's political outlook, the young man almost certainly witnessed the Patriot mob carrying his father off from their Eastchester home, less than a mile from St. Paul's; yet, only a few months later, we see him, at age 23, enrolling in the Continental Army as an ensign, the junior grade of officer. While there is no documentation explaining this intra family division, it is hard to believe their divergent paths did not reflect some level of pre-existing differences between father and son. Theodosius' army enrollment in March 1776 overlapped with the origins of preparations for the defense of New York against an expected British invasion following the withdrawal of English troops from Boston. Introducing the cause of the Revolution and the intra family division to a public forum, Theodosius returned to the village green of Eastchester to recruit additional soldiers for the Patriot forces, further angering and embarrassing his father, according to a local history.
With his enlistment, Theodosius embarked on a life-altering experience as a soldier of the Revolution, which included several transfers, but invariable presence at the scenes of the major battles in the Northern theatre over the next several years. Serving with the First New York Regiment, Fowler experienced his first combat at the Battle of Long Island in late August 1776, a crushing defeat for the American forces. Following that campaign, Fowler's unit, now part of the Fourth New York Regiment, was transferred to northern New York State and joined the army that eventually defeated the British/Hessian forces at the crucial Battle of Saratoga in October 1777. After that victory, Fowler's unit was detached from the Northern army under General Horatio Gates to join General George Washington's forces in Pennsylvania. This transfer was arranged by Alexander Hamilton, acting as Washington's aide de camp, and that's probably when Fowler met the young and brilliant lieutenant colonel, beginning a connection that would continue for many years.
The officer from Westchester County survived the crucible of the Valley Forge winter, which probably strengthened his sense of identification with the fledgling nation. Fowler further enhanced his credentials as a soldier at the Battle of Monmouth Courthouse in New Jersey in June 1778, defeating the famed British regiment often called the Black Watch, the 42nd Scottish Highlanders. By the spring of 1779, Fowler had been promoted to captain, in command of a light infantry company. The unit was posted to upstate New York to join in an expedition against elements of the Iroquois Indians who sided with the British. He fought at the Battle of Newtown, an American victory over a combined force of Native Americans and Redcoats. In 1781, the 28-year-old officer, part of the Second New York Regiment of the Continental Army, joined the expedition to Virginia, fighting at the decisive Battle of Yorktown, in October. The son of a Loyalist remained with the main army until it disbanded at Newburg, New York in 1783.
This represents an impressive, admirable military resume, and Fowler says in his memoirs that over his seven years in the ranks of the Continental Army he was "not absent from the army more than 50 days," a demanding regimen. He lived another 60 years, enjoying the fruits of independence which he helped achieve. Theodosius emerged as a leading citizen -- no doubt buttressed by his profile as a war hero -- in his home village of Eastchester, largely replacing his Loyalist father, who had evacuated Westchester County as a Loyalist refugee, reaching Canada at some point during the conflict. But more importantly, Theodosius moved beyond the confines of his small town. Like many veterans, Fowler's military service introduced him to a range of challenges and experiences and formed connections with ambitious, successful comrades, leading to a transcendence of his boyhood home.
An interesting series of post war developments helps to chronicle his gradual withdrawal from the town, shifting his personal and business life to New York City. His marriage in 1784 to Maria Steele occurred at Trinity Church on lower Broadway, the leading Episcopal Church in New York City; they eventually raised a son and a daughter. Fowler's home church in Eastchester was recovering from the devastations of the war in Westchester County, and lacked a minister or an active congregation. In that light, his wedding at another house of worship is not surprising, although he is not listed among the original St. Paul's pew holders in 1787, indicating that he was already drawing distance from the parish. But, in the immediate post war years, he maintained a residence in Eastchester, and, ironically, assumed his father's role as large landowner and leading citizens of the town, serving as Overseer of Roads and as a vestryman of St. Paul's Church. The 1800 census revealed that he was the wealthiest man in town.
Yet, the former captain was generating commercial connections and building wealth that led perhaps inevitably to leaving the small town where he was raised. The 1810 census reports Theodosius had re-located to lower Manhattan, living on Water Street, near the center of the New York City's business center, and he prospered as a merchant and land speculator. A few surviving documents indicate that Theodosius used associations created during the war to advance his business interests, a common strategy among former officers who had shared challenges, dangers and hardships. In 1793, he was treasurer of the New York State chapter of the Society of the Cincinnatus, the influential brotherhood of former Continental Army officers, facilitating regular interactions with his comrades in arms.
The connection with Hamilton -- a paramount commercial and political figure in New York and the nation -- is especially illustrative. In the early 1790s, the Secretary of the Treasury, on behalf of the national government, contracted with Fowler, identified as a "New York merchant" to supply all necessary rations for soldiers serving in Army posts in the west. William Duer, an assistant secretary of the treasury and speculator in bonds, is listed as Fowler's attorney in these agreements. In 1802, Hamilton, by then in private life, borrowed $1,451 -- a considerable sum at the time -- from Fowler, with a promise to repay with interest.
Through these and other transactions, Theodosius developed a substantial business enterprise, and remained a prosperous New York City merchant for decades. A small town in upstate New York's St. Lawrence County, located on part of land he received as a bounty for his military service, is actually named Fowler, New York. Rare for American Revolution era interments at St. Paul's, Fowler's image has survived. Probably in the early 19th century, the former soldier sat for a portrait, another indication of his wealth. The unsigned painting of this son of a Loyalist -- one of thousands of people who helped achieve American independence - shows an older man with a receding hairline, broad Roman nose, pudgy chin and a stoic expression common for the period, displaying his Society of the Cincinnati medallion.
At his death in 1841 at age 89, Fowler lived in Perth Amboy, New Jersey, just across Lower New York Bay from Manhattan. Burial followed at the family burial plot in the St. Paul's cemetery, poignantly near his father, representing a full circle of a long life, returning, in death, to the home town he had moved away from -- although there is no evidence of a reconciliation between the family members who chose opposite sides in the Revolution.
Last updated: December 15, 2022