Article
The Vanderbilt 1918 Crane-Simplex Model 5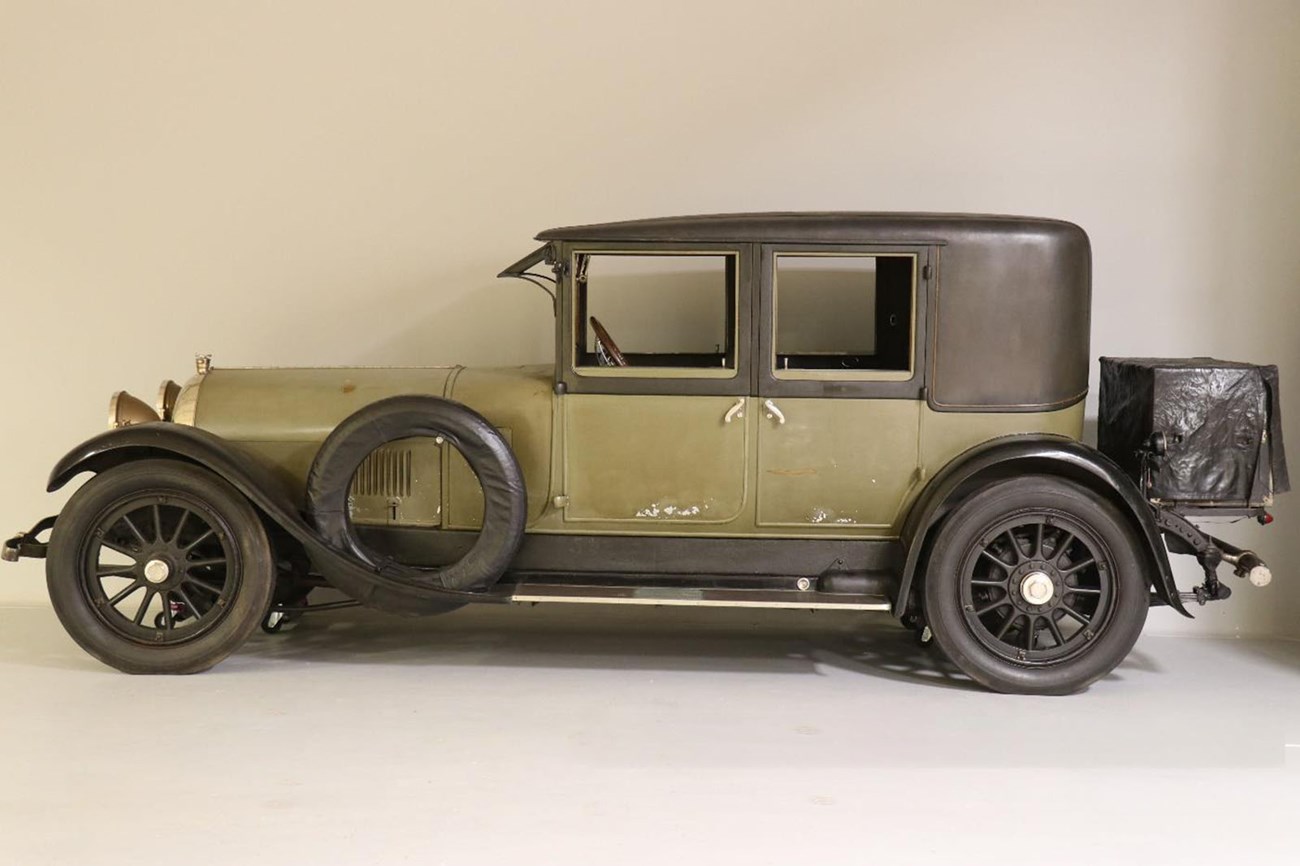 Producer of one of the finest and most exclusive luxury cars built in the USA before World War I, the Simplex Automobile Company was founded when wealthy textile importer Herman Broesel purchased the Manhattan-based S&M Simplex company in 1907. The latter had come into being in 1904 when A. D. Proctor Smith and Carlton R. Mabley set up as automobile manufacturers in order to avoid the punitive customs duties levied on the foreign makes they imported. These included some of Europe's finest: FIAT, Packard, Renault, and the Daimler-built Mercedes, whose advanced Simplex range inspired a host of imitators—Proctor Smith and Mabley included. Designed by Edward Franquist, the four-cylinder S&M Simplex was a very expensive car ($6,750 in 1904) and although the price dropped to $5,750 under Broesel's ownership, it remained within the reach of only a privileged few.
Broesel's first Simplex was another Franquist design: a 50hp 'T-head' four featuring four-speed sliding gear transmission and twin chain drive. These 50hp Simplexes were formidable competition cars—an example finished sixth in the first Indianapolis 500—but more often were seen in luxury car guise boasting extravagant coachwork by the likes of Brewster, Demarest, Healey, Holbrook, and Quinby. Following Herman Broesel Sr's death in 1912, his sons sold out to a New York-based consortium. The new management identified the need for a six-cylinder model to maintain the Simplex place in the front rank of luxury car manufacturers and took the short cut of purchasing the Crane Motor Car Company which was already building an exclusive and expensive ($8,000 for the chassis alone) 'six' at Bayonne, New Jersey. Simplex also retained the services of Henry M. Crane, whose reputation as a car designer was reinforced by his previous work in marine engineering, engines of his design and construction having powered Dixie speedboats which won the coveted Harmsworth International Trophy on four occasions.
The new model that Crane created for Simplex was very similar to the Crane Model 4 that his company had been building but on a longer (144-inch) wheelbase. Of 4.375-inch by 6.25-inch bore/stroke, the six-cylinder engine displaced 563ci (9.2 liters) and was almost identical to that of the Crane model. Cast in two blocks of three cylinders, with all valves on one side, it was claimed to develop 100-110bhp at 1,800-2,000rpm. The crankshaft ran in three main bearings of 2.75-inch diameter and the connecting rods were machined all over. The carburetor was a Newcomb design, modified by Crane, and there was magneto ignition. Drive was via a single-plate clutch and three-speed transmission to a 3.0 to 1 ratio rear axle. These attributes endowed this massive car with outstanding acceleration as well as a high top speed. Officially titled 'Simplex Crane Model 5,' the new car became the 'Crane-Simplex' in popular parlance. When introduced, the chassis price was $5,000, which was raised to $6,000 a year later, and to $7,000 the year after that.
It is evident from the serial numbers that Crane wanted his previously built cars taken into account when Simplex assigned serial numbers to its new model. Four-cylinder Simplex numbers had reached the 1500 region and allowance was made for the continued production of those cars by starting the numbers of the six-cylinder cars at 2000. However, since previously built Crane cars had been numbered from 1 to 38, allowance was also made for these, so Simplex Crane Model 5 numbers began at 2039.
In 1916, Simplex was acquired by the Wright-Martin Aircraft Corporation and its New Brunswick factory turned over to Hispano-Suiza aero engine production following the United States' entry into WWI. Automobile production was suspended for the duration of the war but never resumed, although a few cars were constructed from existing parts. By this time, fewer than 500 Crane-Simplexes had been built. Rights to the Simplex name were acquired in 1920 by former Packard vice-president Emlen S. Hare, and shortly thereafter, by Henry Crane himself, but no further cars were made. It was a sad end to a marque that, in its day, had ranked within the highest echelons of the world's luxury automobiles.
The Vanderbilts' Model 5 was delivered and originally fitted with open, touring coachwork, and according to the Vanderbilts' chauffeur, Douglas Crapser, at a cost of $8,000 new. The car featured dual cowls with the rear being a special taller screen design to ensconce Mrs. Vanderbilt when she were her tall, French hats. The special tall screen could be pulled back and folded around her with an apron that covered the space between the screen and the driver's seat.
When it was pressed into service for use as transport between their Hyde Park and Bar Harbor homes, a new enclosed body was fitted. This new body was built by New York City-based coachbuilder Brooks-Ostruk. A small coachbuilder, Brooks-Ostruk specialized in very high-end, entirely custom-made bodies for top-end machines. The unique five-passenger Prince of Wales-style divided limousine coachwork with padded top is still fitted to the car today. The original body has long since disappeared, but the special windscreen remains in the park's museum collection.
Listed among fleet of automobiles at the time of Frederick Vanderbilt's passing in 1938 and documented by a 1926 New York Certificate of Registration, the car remains in largely original condition today with only 48,063 miles indicated on the Warner TripMeter. The Crane-Simplex appears very much today as it would have when the Vanderbilts owned it—right down to the Vanderbilt monogram on the doors.
Last updated: January 11, 2021