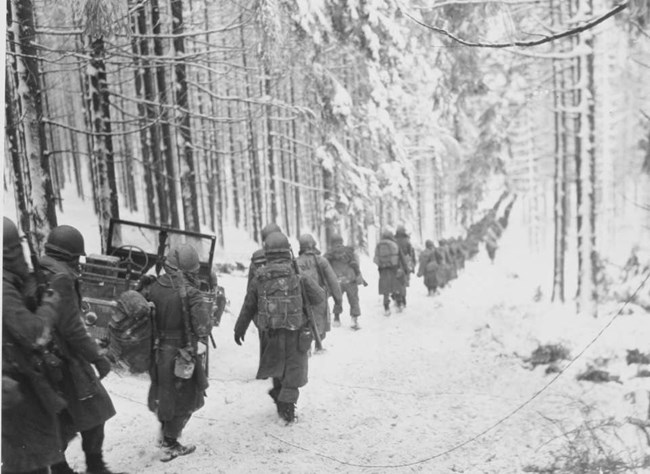 For Dwight Eisenhower and the men of the Allied Expeditionary Force, 1944 was a long and trying year. Though it had its successes, it also came with its setbacks and challenges. For every D-Day, there was a long and brutal fight to break out of the Normandy hedgerow country. For every mile gained, white crosses and burial sites increasingly populated the French countryside.
After all they had overcome and endured, in December 1944, Eisenhower and the Allied forces he led still had many challenges that lay ahead. That month, in fact, one of their greatest challenges of the war was underway.
On December 16, 1944, Dwight Eisenhower's day was supposed to be a fairly light one. He was looking forward to attending the wedding of his orderly, Mickey McKeogh, taking place at Versailles. Ike had just been promoted to the rank of General of the Army, putting him in rarefied air among Allied commanders, and among other generals in American history. He had good reason to be satisfied with where things stood for the Allies—it had been six months and ten days since they launched the campaign in Western Europe. In that time, Allied troops had travelled many miles from the beaches and hedgerows of Normandy, pushing German forces back to eastern France and the border of Germany itself. Thousands had fallen in battle up to now, but the prospects for victory in 1945 were good.
That afternoon, General Omar Bradley travelled to meet with Ike at his headquarters to discuss the slower than expected rate of replacement troops coming into the battle depleted ranks of his 12th Army Group. As Ike and Bradley met, they were notified that just that morning a strong German attack had begun in the Ardennes. Due to its dense forested terrain, as well as the broad Allied front, American forces were rather weak in the Ardennes region, as no major attack was expected there at that time. While Bradley was dismissive, Ike quickly sensed something foreboding in the news—he was right to do so.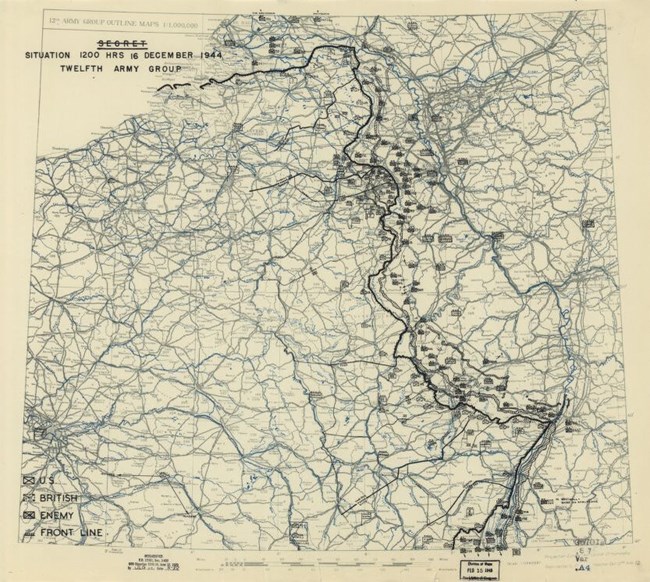 The news Eisenhower received that day signaled the start of the bloodiest battle in all of WWII for American forces. Abetted by snow and cloud cover, over 250,000 German forces were amassed to attack and break through American lines in the Ardennes. Hoping to recapture the blitzkrieg successes of 1940, Hitler was gambling this offensive as his last, best chance to arrest Allied momentum in the West. He hoped to cleave a massive gap between American and British forces in northern France and Belgium, potentially even pushing through to reach Antwerp. Hitler himself was the driving force orchestrating the assault, one of several things with Eisenhower and the Allied high command did not fully grasp in December 1944.
With the attack underway, the Germans made quick headway deep into American lines. Three German armies were chewing up American divisions that were either depleted by battle losses, or in some cases, had never seen combat before. Eisenhower was quick to respond, though, ordering reinforcements to the American lines by the night of the 16th and quickly acting to move fuel and supplies out of the way of the German advance.
By the 19th, Eisenhower held a council with his top commanders at Verdun. There, he attempted to inspire confidence, telling those gathered, "The present situation is to be regarded as one of opportunity for us and not of disaster…. There will only be cheerful faces at this conference table."
It was there, in a cold room in an army barracks in Verdun, with a quarter million Germans pouring into American lines with casualties quickly mounting that the Allied high command came up with their response. The plan was to squeeze the sides of the German salient, hitting it from the north and the south. General George S. Patton promised to attack with three divisions from the Saar region within three days—while Eisenhower was skeptical, Patton promised it could be done. At the meeting's close, Eisenhower—whose promotion to a 5-star general was to be official the following day—quipped to Patton, "George, every time I get promoted, I get attacked." Patton sardonically responded, "yes, and every time you get attacked, I bail you out."
By December 22nd, the American counterattack was underway. Eisenhower issued an order to all those fighting to stop the German offensive, noting that this was an hour of great importance for the Allied cause:
The enemy is making his supreme effort to break out of the desperate plight into which you have forced him by your brilliant victories of the summer and fall. He is fighting savagely to take back all that you have won and is using every treacherous trick to deceive and kill you. He is gambling everything, but already, in this battle, your gallantry has done much to foil his plans. In the face of your proven bravery and fortitude he will completely fail.

But we cannot be content with his mere repulse.

By rushing out from his fixed defenses the enemy may give us the chance to turn his great gamble into his worst defeat. So I call upon every man, of all the Allies, to rise now to new heights of courage, of resolution and of effort. Let everyone hold before him a single thought—to destroy the enemy on the ground, in the air, everywhere—destroy him; united in this determination and with unshakable faith in the cause for which we fight. We will, with God's help, go forward to our greatest victory.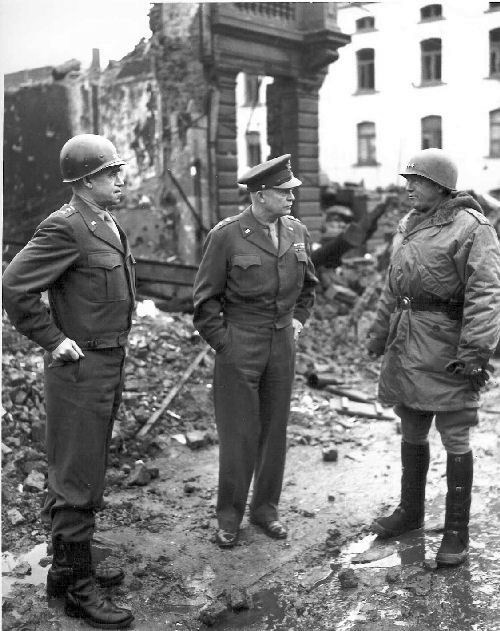 In the coming days, the weather turned bitterly cold, yet clear. American air power once again returned to the skies, no longer banished by the snow and clouds. Paratroopers of the 101st Airborne, surrounded in the vital crossroads town of Bastogne, fought valiantly to hold off German attacks. All along the American lines, soldiers braved cold and bullets alike to not only stop the German advance but turn the tide and begin reclaiming ground. Patton's men broke through the German lines and reached Bastogne the day after Christmas, delivering relief to the beleaguered 101st Airborne. And yet, several weeks of brutal winter fighting lay ahead, full of their own setbacks. Indeed, in the last days of 1944, Ike himself wrote home to Mamie, telling her, "these are trying days."
As 1944 gave way to 1945, the fight raged on, with a renewed German counterattack in the first week of the new year. With thousands of reinforcements on their way, however, the American lines held firm. By January 8, German forces in the western half of the salient collapsed, and within another week, the Germans were in retreat altogether. By the 16th—one month after it began—forces from the 1st and 3rd American armies linked up in Houffalize, encircling thousands of German forces, and signaling the beginning of the end of the fight.
The Battle of the Bulge stands as one of the great contests of the Second World War. Eisenhower and his commanders had been ill-prepared for the German counteroffensive, losing significant ground in the battle's early days. While the Americans had ultimately regained their lost positions, it came at a steep cost. Over 105,000 soldiers were killed, wounded, captured, or missing, equating to roughly one out of every ten American casualties for the entire war. At such a price, Eisenhower and his armies learned invaluable lessons in the fight, ones that they would carry with them on across the Rhine and on to VE Day several months later.
76 years ago, as Eisenhower and his men struggled to contain the German counterattack, it was a difficult end to a long and trying year. As we reflect on it, we are reminded that even in times when great victories have occurred in history, they frequently require perseverance and enduring great difficulties along the way. In his memoir, "At Ease," Eisenhower reflected on this, and all that the American soldiers overcame in those cold wintry days of December 1944:
More than the constant threat of imminent death, our men had overcome all that the unbridled elements could inflict on them in the way of snow and ice and sleet, clammy fog and freezing rain; all the pain of arduous marches and sleepless watches. They had given up their wives and children, or set aside their hope of wives and children, overcome luxuries or poverty, fought down their own inclinations to rest their tired bodies, to play it safe, to search out a hiding place.

"I believe we can always rely, even as I had to in the Battle of the Bulge and the concurrent winter fighting from the North Sea to the Italian Alps, on the willingness and readiness of Americans, including young ones, to endure greatly in their country's cause.
As we reflect on those who endured greatly in their country's cause in December 1944 and January 1945, the question arises—how can we endure in our country's cause in our time today?