Article
Teamwork Made the Dream Work at San Antonio Missions National Historical Park
Transplantation of Native Arrowhead Plant Before and After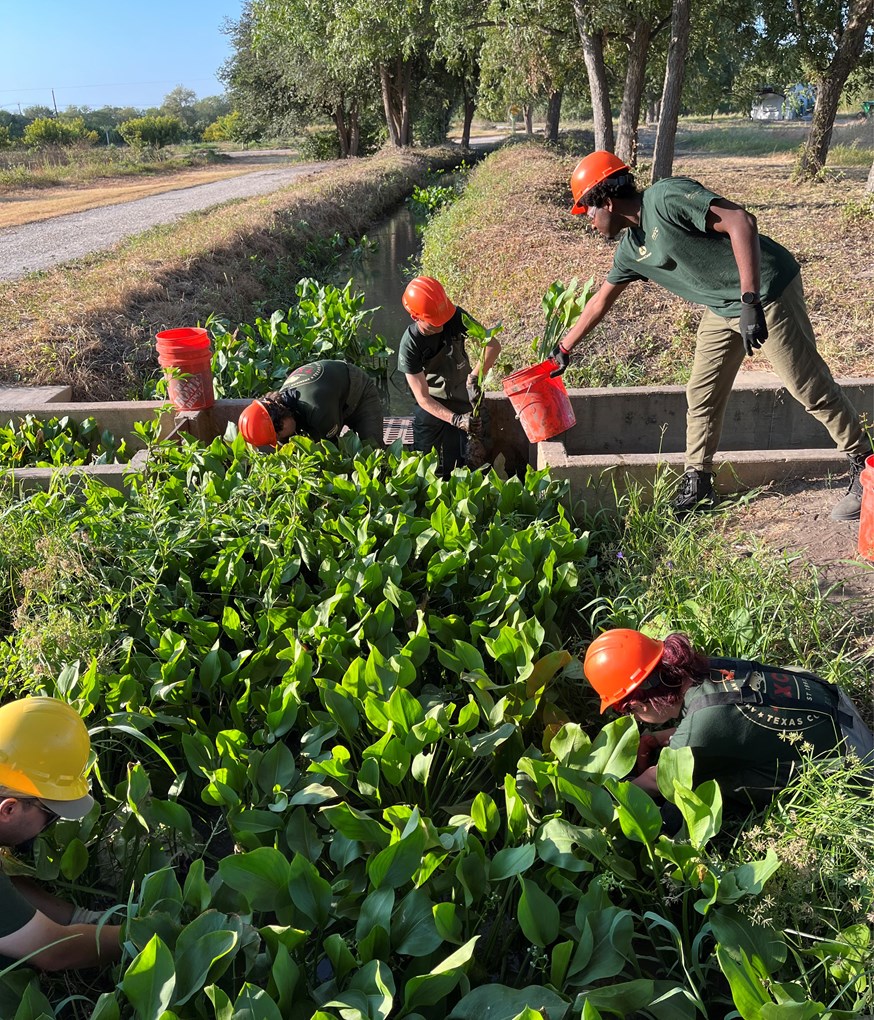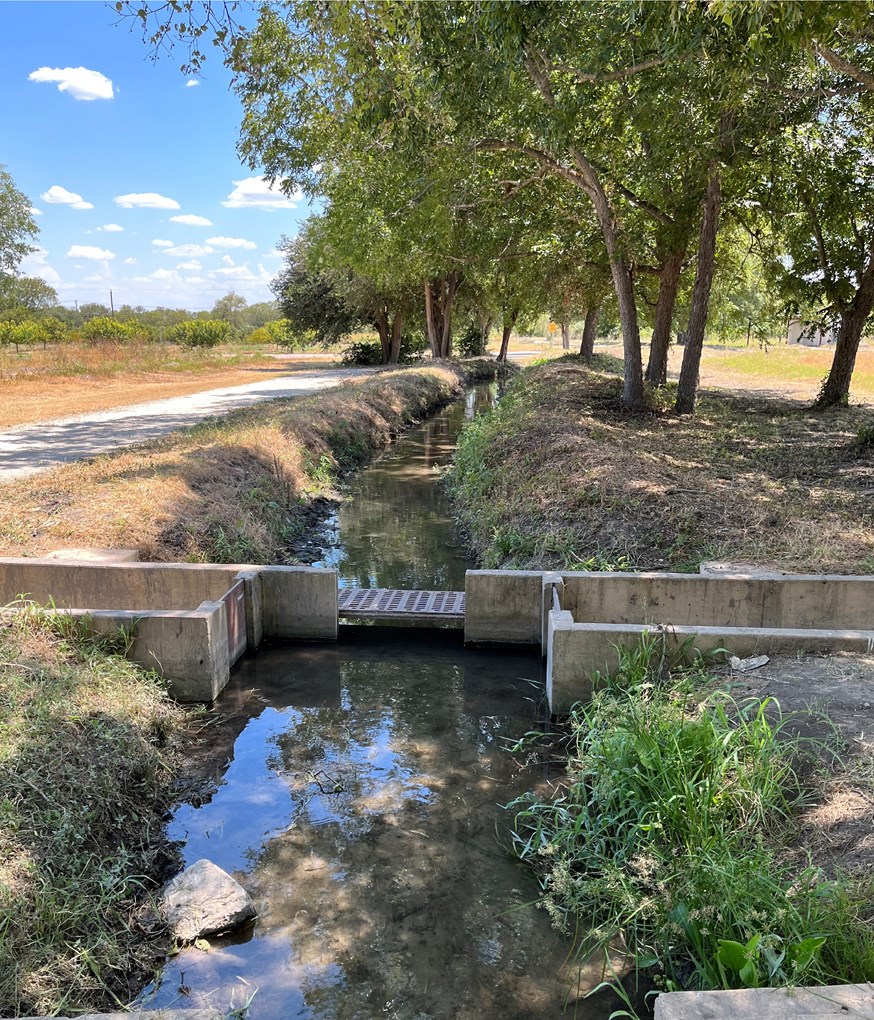 Left image
Conservation Corps crew members removing plants from the acequia or irrigation ditch.
Credit: NPS Photo
Right image
Cleared out acequia after the hard work of Texas Conservation Corps.
Credit: NPS Photo
Native Arrowhead plant that obstructed water flow gets removed from historic acequia and transplanted to benefit the San Antonio River ecosystem.
On Wednesday, August 16, 2023, the Texas Conservation Corps/SAAN Acequia Crew and the San Antonio River Authority worked together at San Antonio Missions National Historical Park to relocate Sagittaria plants from the Mission San Juan acequia to the San Antonio River for habitat restoration.
Sagittaria is a native plant species, also known as the Arrowhead plant and provides multiple benefits in natural river and stream ecosystems.
The Texas Conservation Corps crew members worked alongside employees of the San Antonio River Authority to remove the overgrowth of plants. The youth corps is funded by the National Park Service and the Land Restoration Fund for acequia preservation and is part of the Great American Outdoors Act (GAOA) Maintenance Action Teams (MAT). This crew began working with San Antonio Missions National Historical Park staff on the acequia preservation project on July 24th, 2023 and their work is funded for a 10-month period.
Great American Outdoors Act (GAOA) Maintenance Action Teams (MAT) like this one are making a difference in hundreds of national parks. These projects address deferred maintenance needs and repairs and help to improve facilities and the visitor experience. GAOA and MATs present an opportunity to reach out to the next generation of park stewards by working with youth employment programs to recruit and train diverse young adults who are interested in NPS careers.
Three full utility carts of plants were removed and transplanted with this effort.
In 2021 more than 2,000 plants were relocated with a similar effort organized by the San Antonio Missions Facilities team and a youth crew. The current effort is on-going, and more plants will be removed and transplanted in the coming weeks as the project progresses to restore flow into the national park's acequias.
This portion of the project not only supports the cultural resource of the acequias by removing plants that obstruct the water flow, but it also benefits natural park resources by preserving native plant species and habitat in the San Antonio River. Acequias, established here about 300 years ago, were the lifeblood of the mission communities and continue to be used for irrigation. They are a key cultural resource in the park and within the San Antonio Missions World Heritage Site. San Antonio Missions National Historical Park is committed to preserving these internationally significant landscape features.
The park has 13 miles of functional flowing acequias that need constant maintenance to curb significant vegetation encroachment, and other flow impediments such as heavy siltation and bank failures. Now, thanks to all the hard work, water from the San Juan Acequia where these plants were removed flows freely and is used directly by the San Antonio Food Bank through lease agreement to irrigate and farm an NPS historic demonstration plot.
Last updated: August 30, 2023