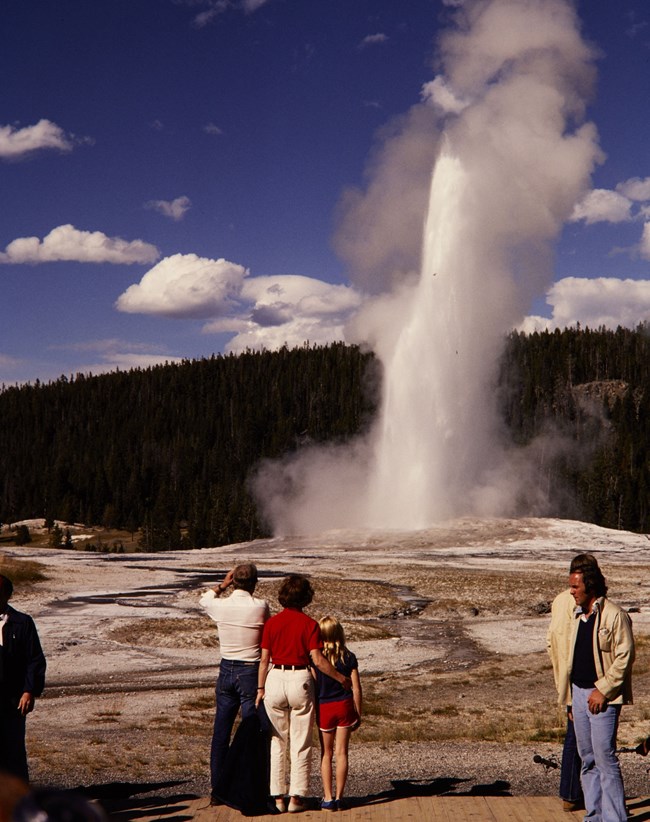 Since the creation of the National Park Service in 1916, each presidency and presidential administration has overseen changes and left their own mark in shaping the National Park System.

President James Earl "Jimmy" Carter Jr.'s administration oversaw a large increase in the number of units, commonly called "national parks" or "parks". During his administration, the National Parks and Recreation Act of November 10, 1978, termed by some as "park barrel" legislation, authorized 15 additional parks. The Alaska National Interest Lands Conservation Act (ANILCA) of 1980 created most of the national parks in Alaska, providing another significant boost in numbers, and still influences management of many public lands in Alaska today.

Explore some the parks that are part of the legacy of the presidency of Jimmy Carter, who served as the 39th president of the United States from January 20, 1977, to January 20, 1981. (Please note – Current names of parks and dates incorporated into the National Park System are used.)

Eleanor Roosevelt National Historic Site, New York
May 26, 1977: Known as "Val-Kill", the home of the Roosevelts in Hyde Park, New York, was made a park in honor of the extraordinary life and legacy of Eleanor Roosevelt. She used Val-Kill as her retreat, office, home, and her "laboratory" for social change during the prominent and influential period of her life from 1924 until her death in 1962.
Lowell National Historical Park, Massachusetts
June 5, 1978: The town of Lowell's water-powered textile mills catapulted the nation—including immigrant families and early female factory workers—into an uncertain new industrial era. Nearly 200 years later, the changes that began here still reverberate in our shifting global economy. Today the park also celebrates the rich cultural diversity that often grows in towns like Lowell.
Chattahoochee National Recreation Area, Georgia
August 15, 1978: The ancient river has attracted people to its shores and currents for more than 10,000 years. The national park preserves a 48-mile stretch that offers an ecological oasis in its urban surrounding where people can spot a diversity of plants and wildlife, hike, bike, or "shoot the Hooch" on its rapids.
War in the Pacific National Historical Park, Guam
August 15, 1978: Some sites of the pivotal recapture of Guam by Allied Forces in 1944 are preserved to commemorate the bravery and sacrifice of those participating in all of the campaigns of the Pacific Theater of World War II. The national park also conserves and shares the natural, scenic, and cultural heritage of Guam.

Fort Scott National Historic Site, Kansas
October 19, 1978: In service as an active US military fort from 1842 to 1873, Fort Scott weaves together the complicated history of becoming a transcontinental nation. The stories of many cultures and historical movements and events of the mid-19th century that shaped the "American West" come together at the fort, which was often directly or indirectly as the crossroads.
Ebey's Landing National Historical Reserve, Washington
November 10, 1978: This stunning landscape on the Salish Sea, with its rich farmland and promising seaport, lured people to Ebey's Landing for thousands of years. Today the park preserves the historical, agricultural, and cultural traditions of Native and European Americans while also offering spectacular opportunities for recreation and enjoying the nature.
Edgar Allan Poe National Historic Site, Pennsylvania
November 10, 1978: Described as horrifying, mystifying, and brilliant, Edgar Allan Poe's writing has engaged readers all over the globe. The six years Poe lived in Philadelphia were his happiest and most productive, though he still struggled with bad luck, personal demons, and his wife's illness. His humble home gives a glimpse into his life, creativity, and lasting impact on American literature and poetry.
Friendship Hill National Historic Site, Pennsylvania
November 10, 1978: One of "America's Founding Fathers", Albert Gallatin is best remembered for his thirteen-year tenure as Secretary of the Treasury during the Jefferson and Madison administrations. In that time, he reduced the national debt, purchased the Louisiana Territory, and funded the Lewis & Clark exploration. Gallatin's accomplishments and contributions are highlighted at Friendship Hill, his restored country estate.

Kaloko-Honokōhau National Historical Park, Hawaii
November 10, 1978: This was the site of important Hawaiian settlements before the arrival of European explorers and still includes coastal areas, large fishponds, and other archeological remnants from that time. The national park was established to preserve, practice, and share the culture of Kānaka maoli (Native Hawaiians) and strengthen the Spirit found at Kaloko-Honokōhau.
Maggie L. Walker National Historic Site, Virginia
November 10, 1978: Maggie Lena Walker devoted her life to civil rights advancement, economic empowerment, and educational opportunities for African Americans and women during the late 1800s and early 1900s. As a bank president, newspaper editor, and fraternal leader, Walker served as an inspiration of pride and progress. Today, Walker's home is preserved as a tribute to her enduring legacy of vision, courage, and determination.
Middle Delaware National Scenic River, Pennsylvania
November 10, 1978: A short distance from major metropolitan areas, the national park is 40 miles of river, most of which is tucked inside Delaware Water Gap National Recreation Area. Here, the river is calm and provides opportunities to swim, boat, and fish. Or to enjoy the scenic views of cliffs, fields, and forests that line its banks.
Missouri National Recreational River, Nebraska and South Dakota
November 10, 1978: One hundred miles of North America's longest river are aside as a national park for people to explore a wild, untamed, and mighty river. These two stretches in Nebraska and South Dakota offer stunning scenic views, chances to spot wildlife, and enjoy a variety of outdoor recreation like hiking, camping, fishing, and paddling.

New River Gorge National Park and Preserve, West Virginia
November 10, 1978: A rugged, whitewater river flowing northward through deep canyons, the New is among the oldest rivers on the continent. The park encompasses over 70,000 acres of land along the river that is rich in cultural and natural history and offers an abundance of scenic and recreational opportunities.
Palo Alto Battlefield National Historical Park, Texas
November 10, 1978: The prairie of Palo Alto, Texas, was site of the first clash of one of the most consequential wars in US history. The small battle that sparked the US-Mexican War led to two years of military fighting, domestic and international political changes for both nations, and a dramatic redrawing of nations' boundaries in North America.
Rio Grande Wild & Scenic River, Texas
November 10, 1978: A 196­-mile strip on the American shore of the Rio Grande in the Chihuahuan Desert is protected as a national park from Big Bend National Park to the Terrell­Val Verde county line in Texas. This free-flowing stretch of the rio, or river, winds its way through desert expanses and stunning canyons of stratified rock.
Saint Paul's Church National Historic Site, New York
November 10, 1978: Originally designated in 1943, Saint Paul's Church National Historic Site joined the National Park System in 1978. Since 1665, Saint Paul's Church played a vital role in colonial life of New York. It adjoins the former village green where an election was held that raised issues of Freedom of Religion and the Press. In 1776, the building served as a hospital following the Battle of Pell's Point.

San Antonio Missions National Historical Park, Texas
November 10, 1978: Four Spanish "frontier" missions, part of a colonization system that stretched across the Spanish Southwest in the 1600s, 1700s, and 1800s, are preserved as a national park and World Heritage Site. A complex history of interactions between different peoples in Texas, the missions' influence reshaped cultural heritage and identities for generations.
Santa Monica Mountains National Recreation Area, California
November 10, 1978: Hidden in plain sight from Los Angeles, the Santa Monica Mountains offer easy access to surprisingly wild places. The national park includes the famous beaches of Malibu, more than 500 miles of trails, many historical and cultural sites, and homes for a variety of wildlife such as its famous mountain lion residents.
Thomas Stone National Historic Site, Maryland
November 10, 1978: Like many English colonists, Thomas Stone faced a difficult decision choosing sides during the American Revolution, but ultimately became a signer of the Declaration of Independence and delegate of the Continental Congress. His home named of Haberdeventure in Maryland gives insight into the lives of people during that time period and what may have influenced their decisions.
Upper Delaware Scenic and Recreational River, Pennsylvania
November 10, 1978: More than 73 miles of river between the towns of Hancock and Sparrobush in New York make up the national park. People can enjoy the river's rapids and quiet pools as it winds its way through a valley of swiftly changing scenery. Or fish amid rolling hills and riverfront villages in one of the finest fishing rivers in the northeastern United States.

Aniakchak National Monument and Aniakchak National Preserve, Alaska
December 1, 1978 and December 2, 1980: The Aniakchak Caldera, covering some 30 square miles, is one of the great dry calderas in the world. Located in the volcanically active Aleutian Mountains, the Aniakchak last erupted in 1931. The crater, lava flows, cinder cones, explosive pits, and Surprise Lake are vibrant reminders of Alaska's location in the volcanically active "Ring of Fire".
Bering Land Bridge National Preserve, Alaska
December 1, 1978: Located on the Seward Peninsula, the preserve is a remnant of the land bridge that once connected Asia with North America over 13,000 years ago and served as a continental crossroad that greatly influenced the distribution of life in the Western Hemisphere. Today it is a vital landscape for Indigenous communities who depend on the land just as their ancestors did for many generations, as well as the wildlife in northern Alaska.
Cape Krusenstern National Monument, Alaska
December 1, 1978: North of the Arctic Circle, the monument forms 70 miles of shoreline on the Chukchi Sea. More than 114 beach ridges provide evidence of human use for 5,000 years. The Inupiat continue to use the area today. Visitors can enjoy the nearly pristine barrier islands, lagoons, and beaches abundant with wildlife and seasonal wildflowers.
Gates of the Arctic National Park and Gates of the Arctic National Preserve, Alaska
December 1, 1978 and December 2, 1980: This vast landscape does not contain any roads or trails. Visitors discover intact ecosystems where people have lived with the land for thousands of years. Wild rivers meander through glacier-carved valleys, caribou migrate along age-old trails, endless summer light fades into aurora-lit night skies of winter. It remains virtually unchanged except by the forces of nature.

Kenai Fjords National Park, Alaska
December 1, 1978: At the edge of the Kenai Peninsula lies a land where the Ice Age lingers. Nearly 40 glaciers flow from the Harding Icefield, the largest icefield solely contained within the United States. Wildlife thrives in icy waters and lush forests around this vast expanse of ice. Sugpiaq people relied on these resources to nurture a life entwined with the sea.
Kobuk Valley National Park, Alaska
December 1, 1978: Located north of the Arctic Circle, the Kobuk River is an ancient and current corridor for people and wildlife. Half a million caribou migrate through, their tracks crisscrossing sculpted dunes. For 9000 years, people came to Onion Portage to harvest caribou as they swam the river, a tradition that continues today.
Lake Clark National Park and Lake Clark National Preserve, Alaska
December 1, 1978 and December 2, 1980: Located in the heart of the Chigmit Mountains, the park contains great geologic diversity, including jagged peaks, granite spires, and two symmetrical active volcanoes. Glacially-carved lakes rim the mountain mass, some of which spawn salmon. People and wildlife still depend on the landscapes found within the park, which also provide amazing opportunities to explore the wilderness.
Noatak National Preserve, Alaska
December 1, 1978: The Noatak River basin is the largest untrammeled moun­tain-­ringed river basin in the nation. The park is a transition zone and migration route for plants and animals between subarctic and arctic environments. It is specially designated as a place for scientific study of the archeologi­cal, plant, and wildlife resources that it protects.

Wrangell-St. Elias National Park and Wrangell-St. Elias National Preserve, Alaska
December 1, 1978 and December 2, 1980: At 13.2 million acres, it is the largest park in the National Park System. The Chugach, Wrangell, St. Elias, and Alaska mountain rang[1]es converge here in what is often referred to as the "mountain kingdom of North America." The park has the continent's largest assemblage of glaciers and the greatest collection of peaks above 16,000 feet, including Mount St. Elias.
Yukon-Charley Rivers National Preserve, Alaska
December 1, 1978: Located along the Canadian border in central Alaska, the park protects 128 miles of the Yukon River and the entire Charley River basin. Old cabins and relics are reminders of the importance of the Yukon River during the 1898 gold rush. The landscapes provide opportunity for recreation in solitude or a chance to witness sled dog teams.
Frederick Law Olmsted National Historic Site, Massachusetts
October 12, 1979: Frederick Law Olmsted is recognized as a founder of American landscape architecture and one of the nation's foremost park builder. Olmsted moved his home to suburban Boston in 1883 and established the nation's first full-scale professional office for the practice of landscape design, which was continued by his sons and successors.
Pearl Harbor National Memorial, Hawaii
September 9, 1980: The park has a complex administrative history including before and after 1980. But on September 9, 1980, the USS Arizona Memorial was first incorporated into the National Park System. Today, Pearl Harbor National Memorial preserves the hallowed ground and sea from the attack on Pearl Harbor in 1941 and remembers the heroism, courage, and sacrifice witnessed that fateful day.

Vietnam Veterans Memorial, District of Columbia
July 1, 1980: Dedicated on November 13, 1982, the Vietnam Veterans Memorial remembers the American men and women who served in the Vietnam War. At the time, the memorial consisted of a polished black granite wall is inscribed with the names of now over 58,300 persons who gave their lives in the Vietnam War or remain missing. People began a tradition of tracing names onto paper and leaving gifts for their fallen loved ones and comrades.
Boston African American National Historic Site, Massachusetts
October 10, 1980: Centered on the north slope of Beacon Hill, the African American community of 1800s Boston led the city and the nation in the fight against slavery and injustice. These remarkable men and women, together with their allies, were leaders in the Abolition Movement, the Underground Railroad, the Civil War, and the early struggle for equal rights and education.
Martin Luther King, Jr. National Historical Park, Georgia
October 10, 1980: Still grieving from the loss of Dr. Martin Luther King, Jr. in 1968, a park was created to remember his life and legacy. People can walk in his footsteps through places that shaped his early life and influenced his role as a leader in the Civil Rights Movement. Museum exhibits and his gravesite also on site allow further reflection on his continuing impact on American history and present conversations.
Alagnak Wild River, Alaska
December 2, 1980: The headwaters of Alagnak Wild River lie within the rugged Aleutian Range of neighboring Katmai National Park and Preserve. Meandering west towards Bristol Bay and the Bering Sea, the Alagnak traverses the beautiful Alaska Peninsula, providing an unparalleled opportunity to experience the unique wilderness, wildlife, and cultural heritage of southwest Alaska.

Salinas Pueblo Missions National Monument, New Mexico
December 19, 1980: In 1980, Gran Quivira National Monument, created in 1909, was combined with two New Mexico state monuments named Quarai and Abo to create Salinas Pueblo National Monument. Spanish Franciscan mission and Pueblo Indian village structures continue to stand as reminders of the Spanish and Pueblo peoples' early encounters and prompt exploration of today's interactions among different people.
Kalaupapa National Historical Park, Hawaii
December 22, 1980: The isolated Kalaupapa Peninsula on the island of Moloka'i was a prison for thousands of people affected by Hansen's disease, commonly known as leprosy, beginning in 1866. Today the park has a living community of remaining former patients who choose to stay. The park also is home to many natural resources, including rare and threatened species of plants and wildlife.
James A. Garfield National Historic Site, Ohio
December 28, 1980: From his home in Ohio with a very prominent front porch, James A. Garfield launched his "Front Porch" campaign after his selection as the 1879 Republican nominee for US president. His life and presidency were tragically cut short with his assassination in 1881. The park gives a look into the Garfields' family life and the possibilities of what Garfield could have accomplished as president.
Women's Rights National Historical Park, New York
December 28, 1980: The park includes the site of the first Women's Rights Convention, held in Seneca Falls, New York, on July 19-20, 1848. It also includes several other locations in the area related to 19th-century women's rights activities, including the McClintock House where the Declaration of Sentiments was written. Their discussions of civil rights, human rights, and equality influenced eventual changes in legislation and conversations around these topics that continue today.